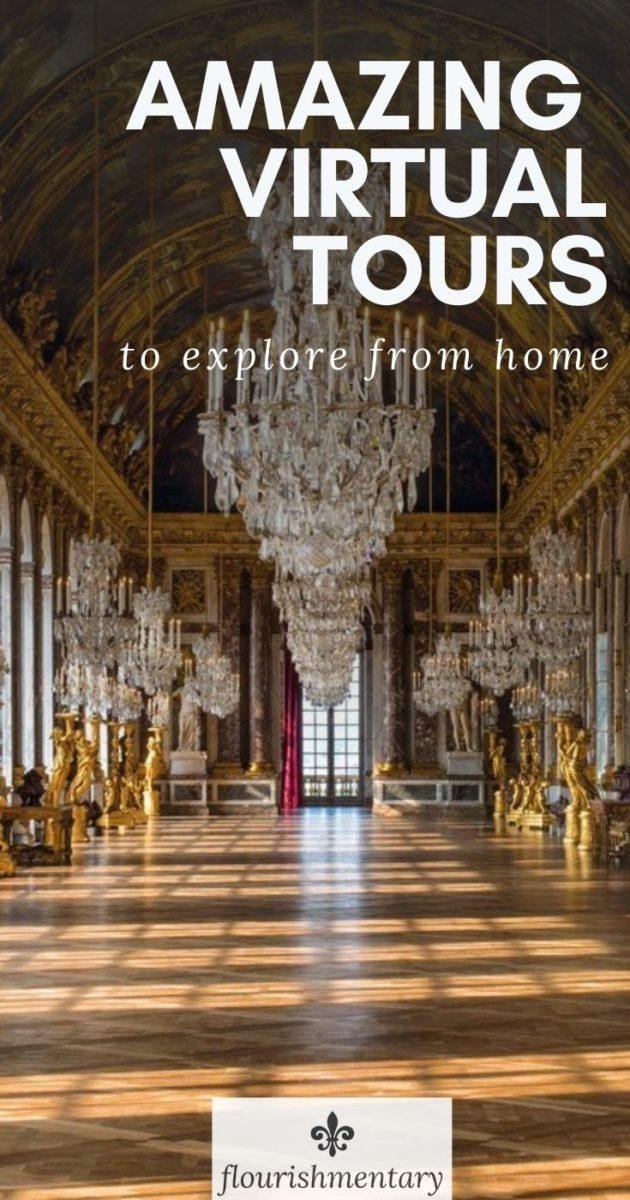 Just because it's harder to get away from home these days, doesn't mean our curiosity has gone away! One of the things I'm most thankful for these days is all the amazing virtual travel ideas that help us to keep exploring.
If you've been following along on the flourishmentary instagram page you know I love to share incredible virtual tours, that let you travel the world from anywhere!
Especially right now, so many of you have enjoyed these "armchair travel" guides, so I'm sharing a 5 of the best trips you can take without leaving home.
From the stunning Chateaus of France, to the most beautiful gardens on earth, these virtual travel ideas will help feed your wanderlust! And who knows, they may also inspired you to add a few new places to your bucket list.
The Châteaux of France are some of the most iconic structures on earth. Featured in beloved storybooks and films, these former hunting structures and country homes have captivated our imaginations for centuries!
Châteaux are the crown jewels of French history, and these virtual visits will take you inside some of my favorites. You can roam the grand halls of Versailles, and learn the scandalous history of Vaux le Vicomte from anywhere!
---
Italy is nicknamed the "bel paese", because every inch of it is covered in beautiful things to see! With its renowned architecture and amazing beaches, your eyes will be full of amazing views no matter where you look.
In this Italy virtual tour collection, I've rounded up 9 incredible video visits taking you from North to the South. See coast to coast and all the incredible sites in between, and get some ideas for an Italian vacation with this collection of virtual travel ideas.
---
Spending time in gardens has such a positive impact on our health, and these amazing virtual garden tours will take you to the most famous ones on earth.
In these virtual tours you'll find some fascinating documentaries, video tours, and virtual walking tours with eye dazzling horticulture exhibits. Even in bad weather, you can spend a sunny day in the South of France, or on the grounds of a stately English Manor.
---
Inspired by one of the coolest docuseries I've seen "Monty Don's Italian Gardens" I rounded up a list of amazing TV series that show off incredible palaces and gardens with some of the most perfect symmetry on earth.
These shows share the incredible histories of landmarks, with all the juicy dramatic details along the way. At the time I published this post, most of these BBC & PBS series were available on Netflix, but now they have moved to other platforms like amazon prime video, or youtube. Check out all these amazing virtual tour ideas that will have you cueing up a mini vacation from home!
---
You can be stuck indoors, or you can be stuck while touring the most famous residences! These incredible virtual castle exhibits let you take a private tour of the most iconic residence in the world!
This armchair travel guide will give you a glimpse of Europe's grandest palaces across England, Italy, France and beyond. These amazing cultural landmarks welcome thousands of visitors every year, and are full of eye candy!
---
Thanks so much for reading this roundup of my favorite virtual travel ideas to keep you exploring year round!
I hope you use these virtual tours as a way to get out and see the world, and to maybe add some of these amazing sites to your vacation wish list.
Are there any other virtual tour ideas you'd like to see covered on flourishmentary? If so drop me a comment below, I would love to heat where you'd like to visit next!