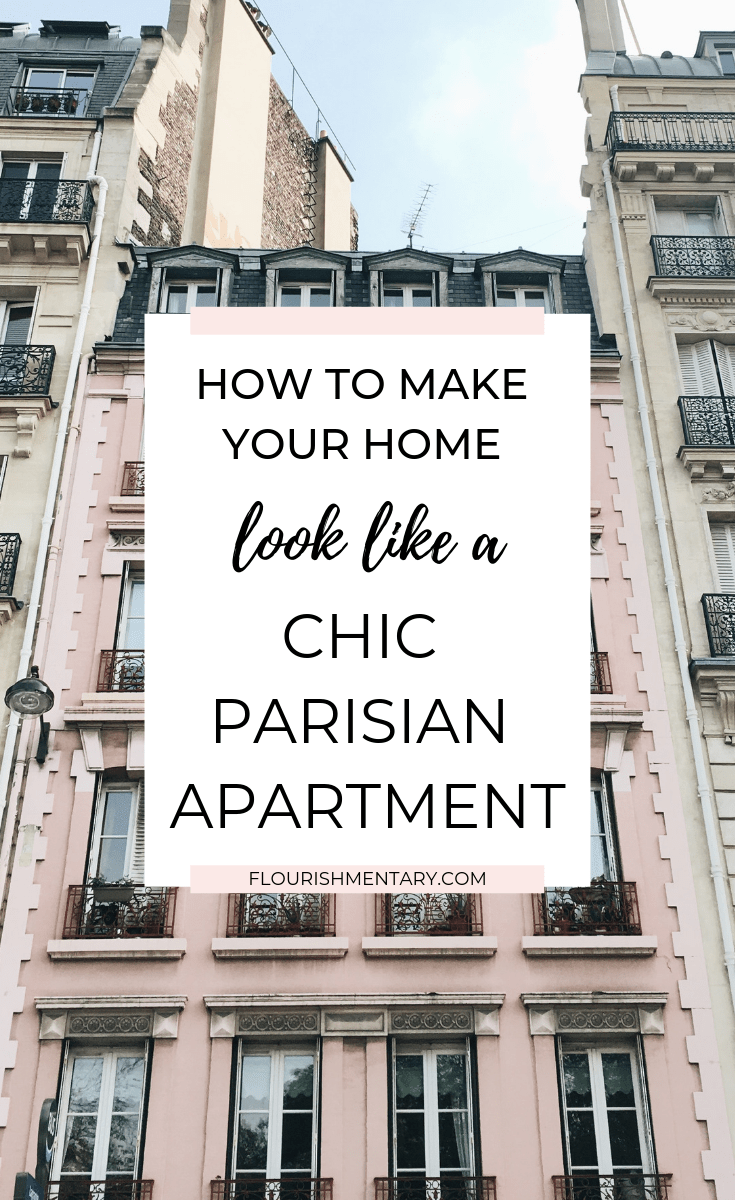 What is it about french style that's so alluring? They nail fashion like no other, so it's no surprise that Parisian apartment decor is just as spectacular.
French style apartments really are a cut above the rest. And, what makes this style so sought after? Is it the soaring ceilings and charming character? That certainly doesn't hurt. But what really sets these homes apart, is the perfect balance of elegance and comfort.
If you are hoping to get that certain je ne sais quoi at home, you're in luck. There are a few staples of french apartment style you can use to amp up the chic in your space. No view of the eiffel tower required!
Here are 5 gorgeous ways you can bring the Paris apartment decor style into your own place. Try mixing and matching these tips for a room that'll make you say "Oh là là!"
#1. Go For The Gold With A Gilt Mirror
Gold is the most regal finish, so of course you'll find it splashed throughout Parisian apartments.
A big gold mirror with a decorative finish, is a great way to get that air of elegance that the french adore.
SHOP THIS LOOK
---
#2. Embrace Tradition With Herringbone Patterns
Ah, the hallmark of a classy room: herringbone patterned floors. If you can pull off the herringbone floors in your home, by all means go for it!
If the investment of new hardwoods isn't right for you, there are other ways to get this classic look in your home. Try a herringbone patterned rug or a similar chevron design to get the same eye catching effect.
SHOP THIS LOOK
---
#3. Add Glitz With A Chandelier
The French really know a thing or two about fabulous lighting. That's why chandeliers have long been a staple of elegant decor. You'll find that many Parisian apartments feature one of these sparkling beauties.
And you'll be surprised what a big difference it makes, when you swap out a basic fixture for a dainty chandelier. The small crystal pieces really reflect the light. They make a space feel more airy- a big key for perfect parisian apartment decor.
SHOP THIS LOOK
---
#4. Architectural Elements Give Parisian Apartment Flair
You'll probably notice that all these elegant, pre-war Paris apartments have one thing in common. Those gorgeous architectural details! Luckily you can faux some of these pretty historic features in your own home.
The easiest thing to try, is a ceiling medallion above your lighting fixtures. But if you are ultra handy, you can add your own wall panelling, or crown moldings to bring the french vibes to the max.
SHOP THIS LOOK
---
#5. Use Structured Furniture To Tie The Room Together
The French pick their furnishings like they do their clothes. Structured and elegant, yet relaxed and refined.
To mimic this look in your home, look for a small sofa with nice lines. They're often called a chaise or settee, and they really make a statement. Make sure it's got a comfortable, neutral fabric to compliment the room.
And voilà , you now have your perfect space to lounge with a good book, while soaking up the french ambiance in your space.
SHOP THIS LOOK
As you can see, the french have a real intuition for styling their spaces. They really know how to strike the perfect balance between being relaxed and elegant.
But wanna know the biggest secret of a perfectly styled French apartment? Not rushing things!
In America, we have a real desire to have everything decorated immediately. Anyone else guilty of wanting to get everything finished- like, yesterday? Unfortunately old world charm, just wasn't built in a day!
You can get your home jump started with these Parisian apartment decor tricks, and let the rest of the space evolve with you over time. Just don't be surprised when you start craving baguettes!
If you're looking for more fun ways to decorate with french inspired decor, check out my roundup of 5 Easy French Country Bedroom Decor Ideas. And if you liked this post, please give it a save on pinterest or follow along on the board: Parisian Style Apartment Decor.