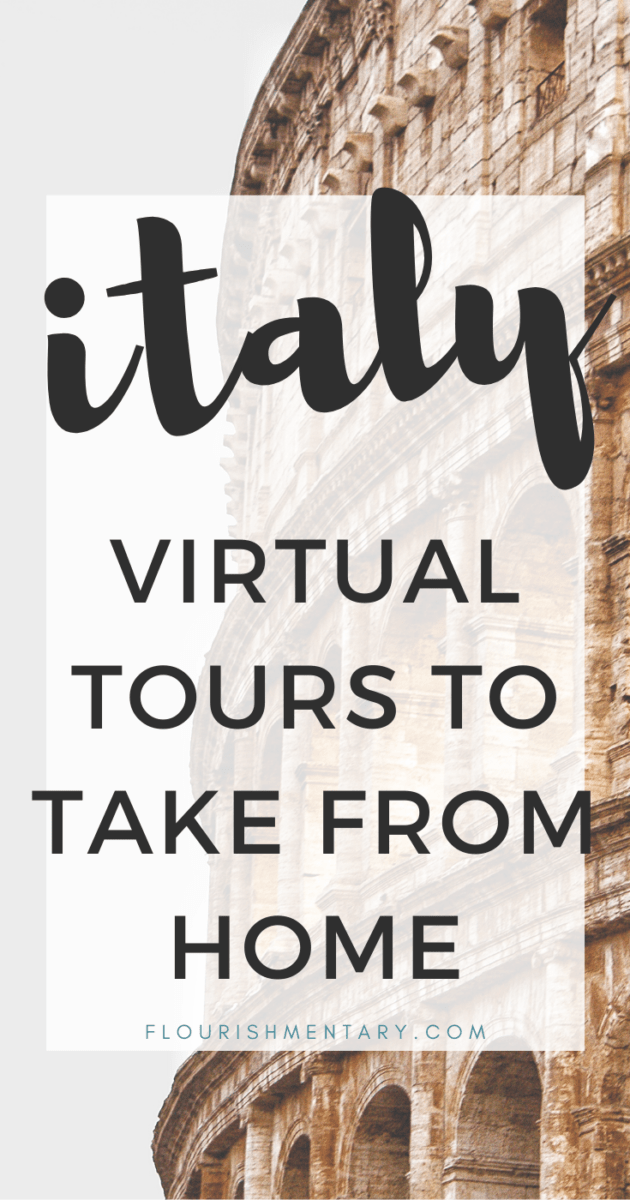 Italy really earned its nickname the "bel paese", because from north to south it's such a beautiful country! I've even teased my husband that he had an undisputable home field advantage, when we met on my 3 day trip to Rome.
The country captured my heart straight away. From the architecture, to the pristine beaches, you'll never see a bad view! And while we have to be away from our loved ones there, I've never been more grateful for virtual tours, that connect us to my favorite place on earth.
In the spirit of armchair travel, I've created this full itinerary with virtual tours of Italy! I'll take you from across the country, showing you 9 incredible places to visit through videos, hyperlapses, and aerial footage. Each stop is either a favorite of mine, or on my short list – and really captures the beauty of life in Italy.
A big thanks to all those who sent sweet & supportive messages leading up to this post, and a shoutout to all the amazing creators who captured this enchanting country at its best! Hope you enjoy!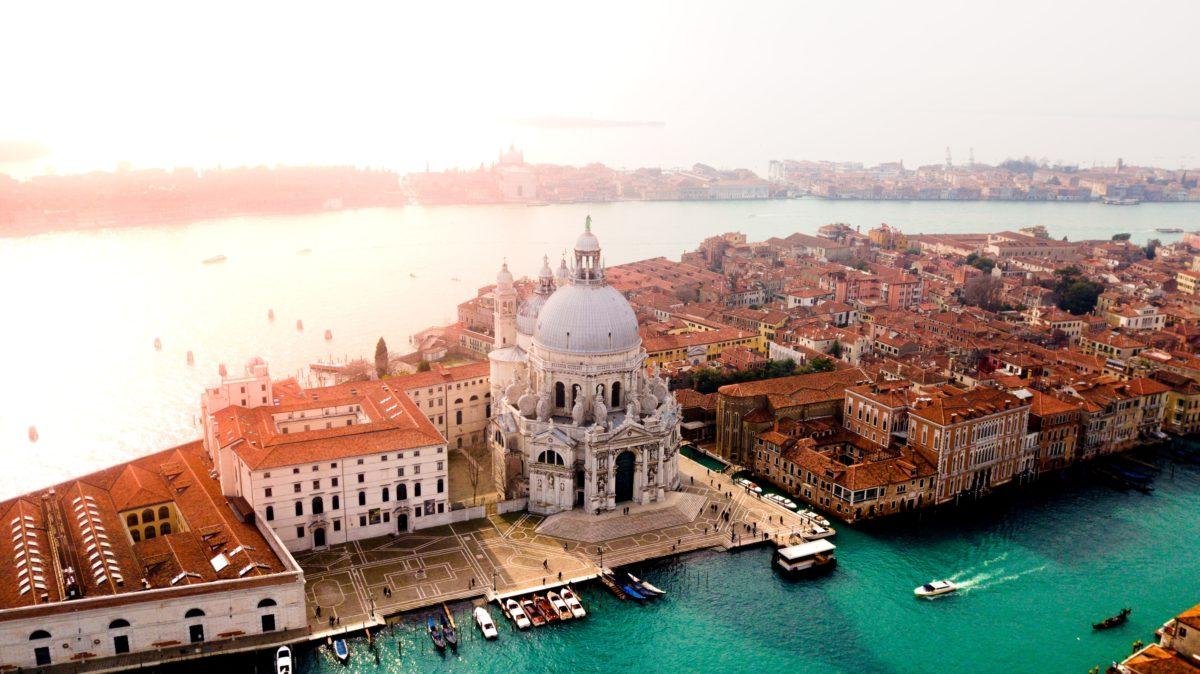 ---
1. Virtual Villa Tour Of Lake Como
From the pristine water lapping along the banks, to the graceful villas perched on its shores, "Lago di Como" is true eye candy!
This virtual tour of Lake Como highlights one of my favorite things about Italy: all the dreamy historic Villas! Be sure to check out the picture perfect views of Villa Balbianello, featured in both the Casino Royale, and Star Wars Episode II.
---
2. Hyperlapse Virtual Tour Of Milan
As the fashion capital of the world, Milan is a modern metropolis that blends old and new architectural styles in a truly unique way.
This hyperlapse of Milano shows over 19,000 frames of breathtaking Italian beauty. My favorite part is the magical glass dome ceiling in the Galleria Vittorio Emanuele – one of the prettiest shopping areas on earth!
---
3. Canals Of Venice Virtual Tour
When I visited Venice, I was blown away by the colorful architecture and charming details. Around each corner is another picture perfect frame, of canals, bridges, and the quintessential laundry dangling from clothes lines.
This virtual tour of Venice was created by National Geographic, and shows some of the most beautiful bits of this partially underwater city. It really feels like taking your own personal gondola ride around town.
---
4. Frolicking Through Florence Italy
Some of my fondest memories of introducing my family to my new Italian in laws, was the trip we took to Florence together. This city may not be large, but it has so much charm packed into every square inch!
This virtual tour of Florence will take you past all the most beautiful sites, including the Piazza del Duomo, and the place where I (must have) made a world record for most people squished into one selfie stick photo: The Ponte Vecchio.
---
5. Virtual Tour Of Trevi In Umbria
When I first met my new Grandfather-in-law, I didn't speak too much Italian. He didn't seem to mind. His eyes lit up, merrily describing to me the beauty of his home in the Umbrian countryside. And whatever he was saying, I knew he was right.
Umbria is renowned for its sweeping views, charming renaissance villages, and of course, incredible wines! For these virtual tours of Italy, I wanted to shows one of my favorite teeny towns of them all: Trevi.
We had our wedding in the nearby town of Spoleto, so Umbria will forever have a special place in my heart! I can't wait to share more about the relaxing B&B where we had our ceremony, so keep your eyes out for that in a future post!
---
6. Soar Across The Amalfi Coast
There's something so picturesque about all the coastal towns dotted along the shores of Amalfi. This video shows some of the prettiest aerial views of Positano, Sorrento, and my personal favorite, the tiny island of Capri!
The unique rock formations ("faraglioni") makes this iconic area of Italy instantly recognizable after just a glance. I can almost taste the fresh squeezed Amalfi lemonade now!
---
7. Ride Through The Streets Of Rome
When I tell people that I met my husband in Rome, they usually ask if our first date happened on the back of a scooter. Full disclosure, I would probably never get on one, considering the infamous traffic, but it's sure enjoyable to watch someone else have all that fun!
This virtual tour of Rome captures some of the most breathtaking piazzas and cultural sites, but it also shows one of the best parts of being in Italy: simply people watching.
---
8. Virtual Tour The Palace Of Caserta Gardens
The South of Italy is home to some of the best pizza, pastry, and palaces in the world. I had the best time wandering around the incredible formal gardens of the Royal Palace of Caserta, and this virtual tour is really like taking a step back in time.
Designed in 1753 with a revolutionary telescoping effect, the gardens look deceptively smaller than the two mile stretch that unfolds before your eyes. After you check out the park, take the full visit of the world's largest Royal residence with these Virtual Castle Tours.
---
9. Sail Through This Virtual Tour Of Sardinia
Leaving you here with Italy's most celebrated coastline. Sardinia, the famous Italian island, has enough insta-worthy blue sea hues to keep you enchanted for hours.
This final stop on my virtual tours of Italy, shows off all the most beautiful spots for boating, snorkeling, and my favorite thing about coastal cities: watching the ports light up at night.
---
Thanks so much for checking out my round up of ways to virtual tour Italy! These places are so unique and special, and it was a ton of fun picking my favorites to share with you all!
Whether you've visited before, it's on your bucket list, or you just enjoy some good armchair travel, I really hope you enjoyed these virtual tours of Italy! Let me know which one was your favorite of them all in the comments below!
And if you're looking for more Italian inspiration, be sure to check out some of my favorite tours and travel guides from Rome: