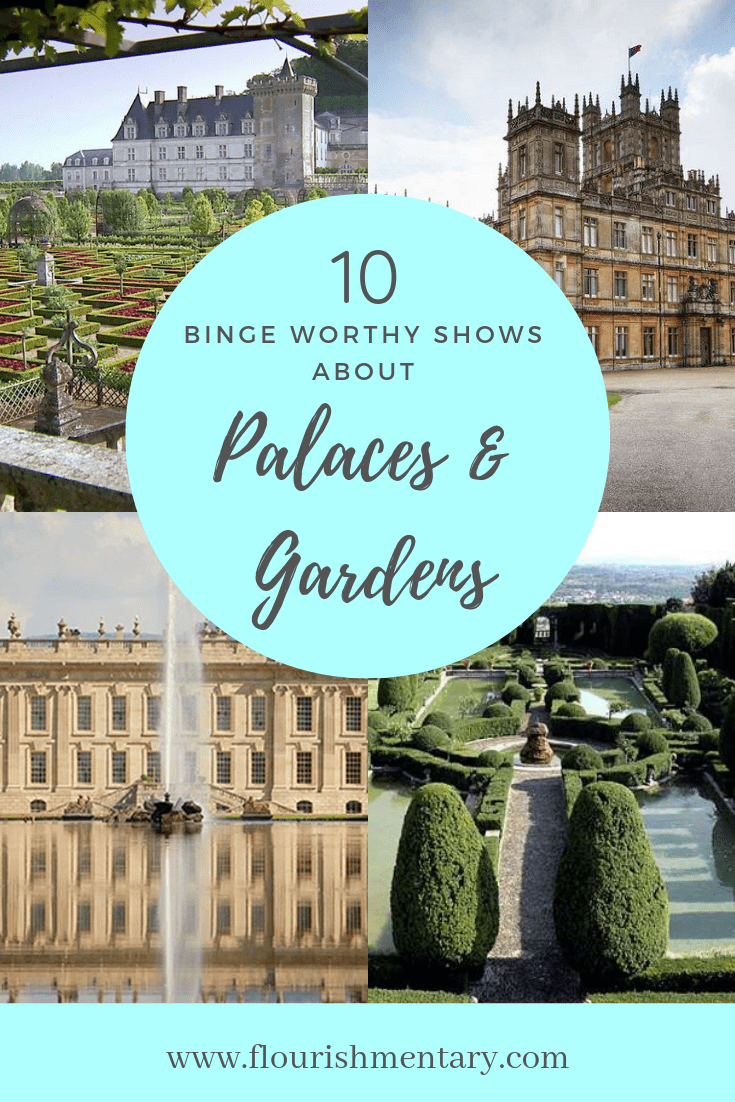 Nothing's quite as satisfying to the eye like a grand Palace. They're meant to impress and awe, and they really show off with some of the most perfect symmetry anyone's ever seen.
After falling head over heels for Monty Don's Italian Gardens, I've gathered a list of 10 wanderlust inspiring shows about Palaces & Gardens, that you can watch right now on Netflix. These docuseries uncover the magical stories of these landmarks, while spilling all the juicy historical drama along the way.
Much praise goes to the BBC & PBS for gracing us with all of these binge worthy shows. They'll have you cueing up a mini vacation right from your living room!
Sure, I'm biased (because I'm getting citizenship there!) but Italy is home to the most beautiful gardens in the world. Italians have always had a real appreciating for beauty, and an even bigger appreciation for showing off their wealth and exquisite taste.
The show is narrated by British T.V personality Monty Don, and tours the most stunning gardens and adjoining palaces in Rome, Florence, Naples, and The Lakes region of Italy.
---
I have to admit France ignited my love for historic architecture, and this tour of French Garden kicks off at the holy grail: Versailles. The first episode coves the major historic palaces, while the second and third cover gourmet gardens, and artistic gardens across France.
It really shows France's appreciation for great architecture, food, and art, through its beautiful and renowned gardens.
---
King Henry VIII is best known for his 6 tumultuous marriages, reforming the English church, and this grand palace. This docuseries explores the lavish lifestyle of King Henry, and the real life drama surrounding the reconstruction of his magnificent estate: Hampton Court Palace.
Hey, there's a reason the Tudor's show is so popular, cause these wild historic tales don't stray too far from the truth.
---
Great Britain has been a world power for ages, and this series explores the long line of amazing British Castles. Each episode takes a look at a different castle across England, Scotland, Wales, or Northern Ireland.
While they're not as lavish as some of the more modern palaces, the show is packed with interesting accounts of their construction, and what life was like during the era of battles and sieges at these incredible fortresses.
---
Any Downton Abbey fans around? If so, you probably know that this critically acclaimed period drama is filmed at the stunning Highclere Castle. It's probably more well known now than any other time in its 1300 year history, with some of the most beautiful classic english interiors still around today.
The estate is nearly this size of NYC's central park, and the show uncovers the stories of the real life aristocrats whose lives mimic those the in the TV drama.
---
If you've been known to get caught up in Princess Diana documentaries (guilty), you'll enjoy this backstory about her childhood home and final resting place: Althorp House.
This docuseries is narrated by Diana's brother Charles, the 9th Earl of Spencer and guardian of this massive historic landmark. While it's still their family home, part of the year it's open to the public as a museum showcasing the interesting lives of its previous residents.
---
This iconic London Landmark isn't just the site of the Crown Jewels. The Tower of London was once a lavish royal palace, before becoming prison and place of tourture for those who crossed the Royals.
Originally built by William the Conqueror, there's no other place with quite the mix of rebellion, murder, and romance, that'll give Game of Thrones a run for its money.
---
The Chatsworth house is one of the most beautiful grand aristocrtic residences (I mean look at that symmetry), with an estate that's the size of Washington D.C. The show covers all the intrigue, and scandal that followed the House of Devenshire, as one of the grandest dynasties in England.
It's narrated by Peregrine Cavendish, the 12th Duke of Devonshire, who shares its intersting history and why to this day it's "much more of a home than perhaps it looks from the outside."
---
If you're wondering how close the Disney film Brave got to the real thing, look no further. These spell binding Irish Castles sit on the most picturesque ground imaginable, and they are quite a sight to see.
Turns out more castles were built in Ireland than anywhere else on the British Isles combined, making for some very interesting turmoil throughout the centuries.
---
It's well known as the House of Parliament, but did you know the Palace of Westminster was a royal residence? The distinctive gothic architecture was designed after a fire destroyed the original, and sadly the two principal architects never lived to see it finished.
The adjoining renowned Westminster Abbey was the site of every coronation ceremony since 1066, and this docuseries uncovers all the famous stories held within these walls.
---
I hope you enjoyed this list of 10 binge worthy shows about palaces and gardens! Shows like these always inspire me to make some worthy additions to my bucket list, and I hope you feel the same! Now go enjoy some armchair traveling!