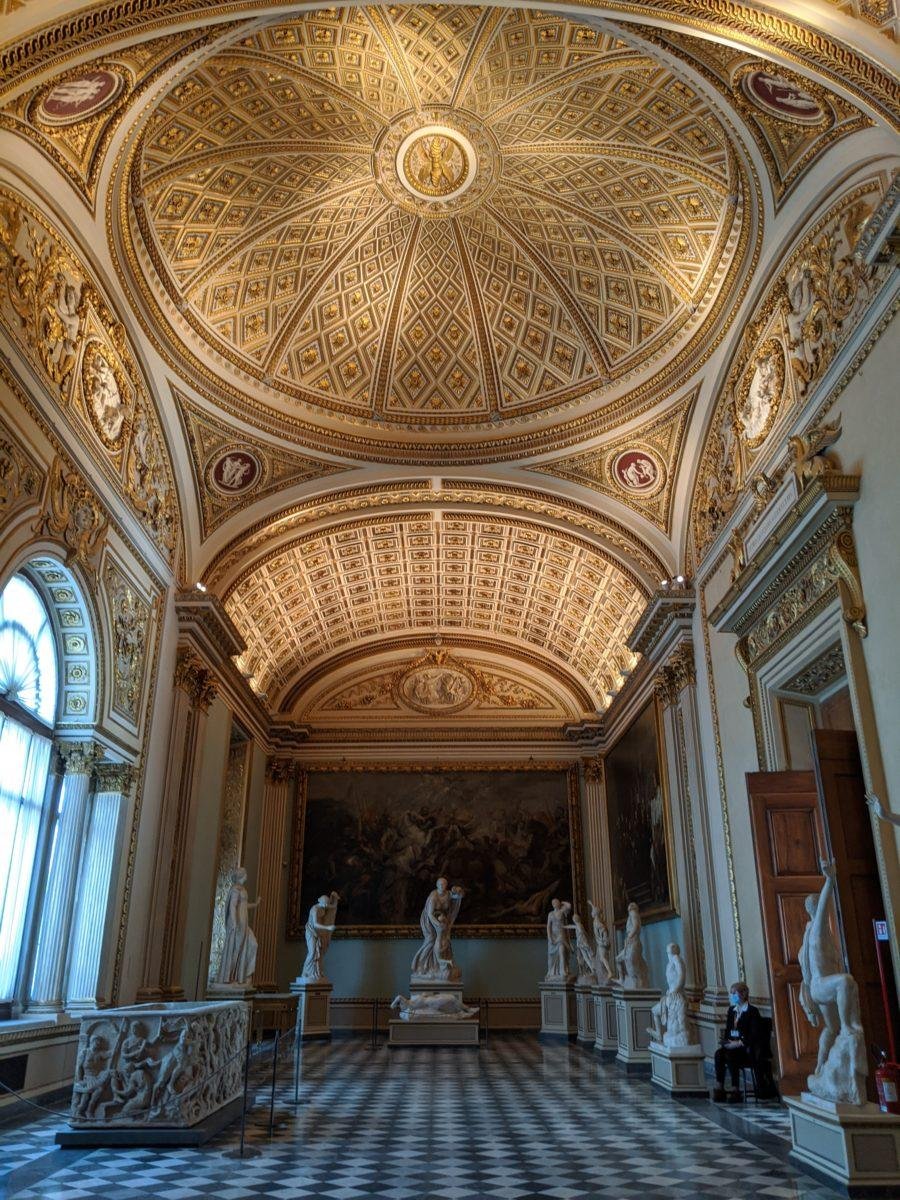 The history of Europe is so fascinating! Especially as an American, I feel like I'm always in awe of visiting places that were around long before my country was even an idea! Since many of us are delaying our travel plans, I was thrilled to be invited on a virtual tour of Europe, alongside the European Travel Commission!
As a Historically curious travel, I am always interesting in visiting historical sites, historic homes, and museums whenever I travel! In this virtual tour of Europe, I'll be visiting two places that I've never seen before, and two of my favorite cities on earth!
I'll be learning how the past shaped the present, and adding some new cultural destinations to my bucket list. Could you use a European vaycay? 🙋🏼‍♀️Well, pack your virtual bags, and come along for the ride!
DAY 1. SAN MARINO, MOUNTAIN TOUR
📍☕️First stop: A quick espresso before soaking in the sites in scenic San Marino! Did you know that this mountainous micro-state is one of the world's oldest republics?
🏰It's surrounded by North central Italy so it's loaded with charming fortresses, narrow cobblestone streets, and breathtaking views!
⛰I'll start off my day with a guided tour of majestic Mount Titano. The historic capital of @visitsanmarino is perched on the mountain slopes, with incredible vistas stretching as far as the eye can see!
🧭Can't wait to explore these iconic towers dotted along the peaks. They date all way back to the 11th century- Super fascinating! Be sure to drop by my stories on instagram for a closer peek!
---
DAY 2. SAN MARINO, MUSEUMS
⛪️Sacred Sunday! For my second day in San Marino, I'll be having an afternoon gelato (Pistachio of course 💚🍦) before taking a leisurely stroll around the the historic San Francisco Museum!
💒Annexed to the church of the same name, the Museum exhibits a really unique collection! I'm excited to see all the traditional paintings, decorative furniture, and objects that have come from Franciscan churches all over! They really tell the story of the what an important role religion has in the history of this republic.
🖼I'm also looking forward to seeing some more Modern artworks that round out the museums collection of over 1,000 peices! They exhibit a Contemporary Art Collection from San Marino's State Museum- with works created by the most renowned Italian artists of the 20th century: Renato Guttuso, Emilio Vedova and more!
🧳✈️Coming from The United States, it always fascinates me to look at beautiful objects that are so much older than my country! The level of craftsmanship and detail are such eye candy for a historically curious traveler like me!
---
DAY 3. FLORENCE, ITALY
🏁CHECKING out the finest Florence has to offer today! 📍For my next stop on my European Virtual Tour, I'm back in Tuscany getting my eyes full of one of the most beautiful cities ever!
⚜️I'm starting my morning with a stroll across the Ponte Vecchio bridge before heading to visit one of Italy's most important (and prettiest) Museums: the Galleria degli Uffizi!
🖼 The Uffizi was established after the ruling House of Medici died out, and their art collections were given to the city of Florence. Today it's one of the most visited art museums in the world! And you can totally see why, since it combines incredible architecture and mind blowing renaissance works under one roof!
⚱️Since I can't be in a museum for too long without a snack, I'm planning to stop by one of my favorite cafes for a bel risotto before heading to Palazzo del Bargello!
⏳The Bargello National Museum is set in one of the oldest buildings in Florence – dating back to 1255!
Here I'll get to see important works including the early marble David state by Donatello, and masterpieces by Michelangelo!
🎠I plan to wind down the day with a little shopping trip, and an aperitivo (aperol spritz – what else?🍾) in my favorite Florentine Piazza! And yeah, I may even end up on the carousel in Piazza della repubblica 😉💕
⚜️ I have such fond memories in Florence – I visited for the first time with my husband, and we took my whole family there after our Italian wedding! So happy to be back!
---
DAY 4. PERUGIA, UMBRIA
🏰🇮🇹Perusing Perugia today! Super excited about the next stop on my Virtual Tour of Europe, because I'm finally headed back to Umbria, Italy!
💕⛲️This region holds a special place in my heart because my husband's family lives here, and we got married in Umbria! 👰🏼‍♀️
⏳All the towns in this region are FULL of such beautiful history, wonderful people, and of course amazing food! 🍝
✈️ I can't wait to learn more about some of the most interesting places in Perugia to save for our next trip to Italy!
🏰💕I'll be visiting the House Museum Ranieri of Sorbello first – a villa full of beautiful art, porcelain and my personal favorite – frescoed ceilings!
🏺 After that I'll head to the The Etruscan Well Museum to learn all about the ancient civilization and historical roots of the city.
🍫Finally after snacking on some Perugian chocolate to keep me going, I'll end my day at Palazzo Baldeschi al Corso, feasting my eyes on their stately rooms and stunning Murano chandeliers!
📲💕Visit my instagram stories for more details, and bookmark this post for the next time you're in Italy! 🇮🇹 Very excited to be heading someplace I've never been before for my next stop!
---
DAY 5. MALTA, THE SILENT CITY
⏳Turning back time today, with a trip to Malta!
📲🏰Today I'm virtually visiting a place I've always wanted to go, and have even admired from a far for years! Does it look familiar to you?
📍🏛Malta's Mdina is one of Europe's most perfectly preserved ancient walled cities! Walking through the impressive walled gate instantly transports you back centuries – or to Kings Landing from the hit show Game of Thrones!
👑Just like in the show, Mdina was home then to Malta's noble families. These influential rulers were descendants of the Norman, Sicilian and Spanish overlords who ruled in Mdina since the 12th century.
🏛🏰💕I love seeing the mix of medieval and baroque architecture, and getting lost in the timeless atmosphere. Looking forward to wandering around the impressive palaces lining the charming streets of the Old Capital & Silent City!
---
DAY 6: MALTA, ĠGANTIJA TEMPLES
🏛Megalithic Temples of Malta! It's not everyday you get to come across something that's even older than the pyramids in Egypt!
🗺I spent my Labor Day wandering around something so old, large, and incredible that locals once believed they were created by giants!
⏳The Ġgantija temples (meaning "Giantess" in Maltese) date all the way back to to 3,600 BC! You'll find them spectacularly situated in the heart of Malta's green Gozitan countryside!
💕I loved taking a virtual visit to this UNESCO World Heritage Site – and one of the most important archaeological sites in the world! A big thank you to Visit Malta for the amazing experience taking a virtual tour of your amazing cities!
🙏🏻I also want to say a big thank you to the European travel commission for inviting me on this fantastic tour, where I got to be historically curious everyday!
🌏I loved learning so much more about the places I've enjoyed before, and cities that have always been on my bucket list!
---
I hope my virtual tour of Europe inspired you to add new places to your list and to look forward to the days ahead when we can all explore the world together again! Thanks so much to you all for being the best virtual travel buddies!
Looking for more Virtual Travel Fun? Check out these ways to armchair explore from home!
5 Virtual Travel Ideas To Keep You Exploring From Home
9 Virtual Tours Of Italy To Explore The Magical Country From Home
11 Beautiful Virtual Garden Tours That Bring Nature To You
Visit The Most Incredible Castles In France With These Chateau Virtual Tours
How To Take A Virtual Tour Of The World's Most Famous Castles