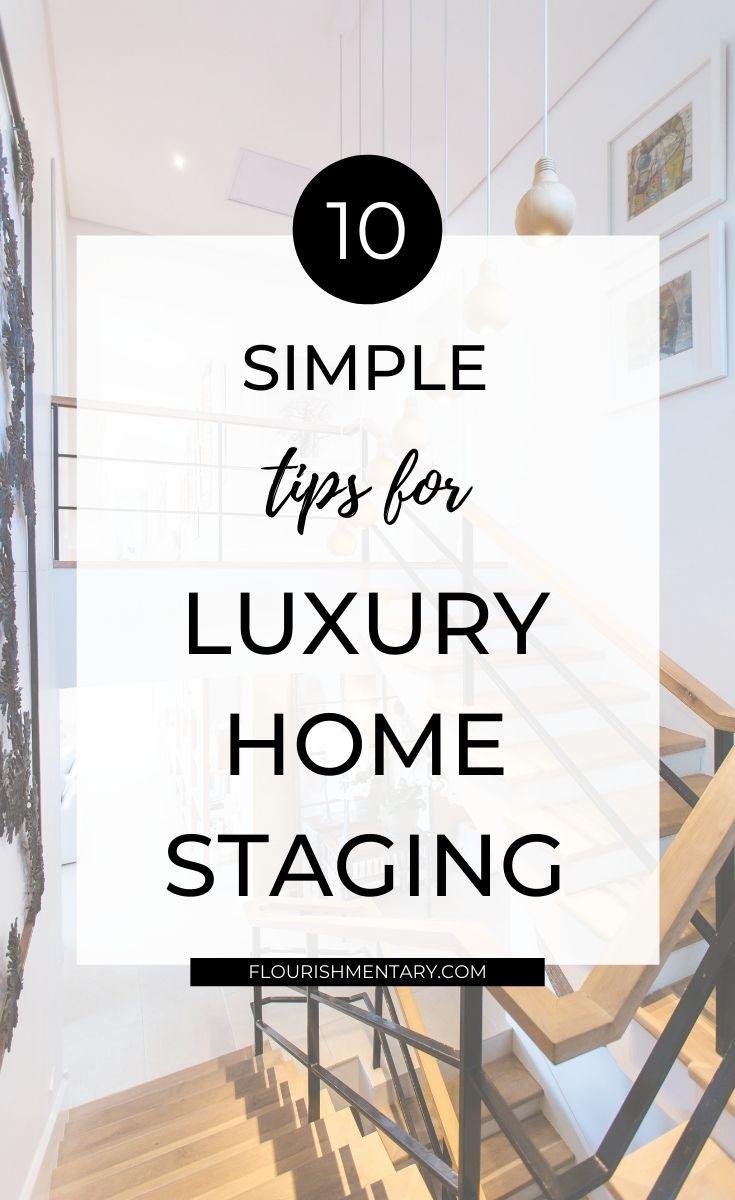 If you love real estate TV shows like I do, you're amazed at home makeovers that happen before listing properties. Using a few luxury staging ideas, can really helps a prospective buyer feel right at home.
Putting your home up for sale soon, or just want to spruce up around the house? These high end staging secrets will help give your space a clean and welcoming look.
I've taken a few of my favorite luxury home staging ideas from my experience working in estate management and luxury hospitality. These are simple and easy to follow tricks that anyone can use at home!
Use these ideas for things to do before taking real estate photos, or as ways to give your home a makeover anytime of year.
1. Swap Out Your Light Bulbs
Nothing is more jarring during a home tour, than walking through warm lighting in the dining room, and suddenly stumbling into blue fluorescent lights in the kitchen.
One of the simplest ways to make your home feel cohesive is to change out your light bulbs for the similar types. Choose bulbs with a warmer color temperature for all tableside lamps, wall sconces, and chandeliers.
This will make your home feel like it flows together, and make your real estate photos look so much better!
---
2. Edit Your Furniture
Chance are you have at least a room or two that could use with a little less!
Try removing any extra pieces of furniture that are making a room look too cramped (like an extra desk in a small bedroom, or multiple end tables next to the couch.
Likewise if you have an empty room, consider staging it as a home office or at home gym letting prospective buyers use their imagination.
Make sure each room has the right ratio of furniture to space to creates a better flow for your visitors. This really helps them picture their belongings in your space!
---
3. Light Some Luxurious Candles
That thing about having the smell of fresh baked cookies in your home during a showing? That's a little old fashioned these days. Instead you should use one of my favorite luxury staging ideas: high end candles.
Having a subtle and uniform scent throughout your home can cover up any unpleasant odors from renovations, pets, or cooking. It also helps set a beautiful ambiance in each room, that will make visitors feel at home. My favorite are simple white candles with attractive labels that won't distract from your decor.
---
4. Stage Your Kitchen With Style
It's no secret that kitchens sell homes, and chance are your kitchen is going to be item number one for a potential buyers. Make sure you show off the best assets in your kitchen by decluttering, decluttering, decluttering.
Make sure all appliances are out of the way, and be choosy about what you leave in plain sight. At most you should leave out one or two kitchen items, nicely folded kitchen towels, or some fresh florals on your counter space.
---
5. Makeover Your Bedding
Another thing people tend to focus on when looking at potential homes is the size of the bedroom. You should always do everything you can to help it feel more open and airy!
Swap out any dated or heavily patterned bedding for crisp clean white sheets and duvet covers. This style is a favorite used for luxury hotel decor because it instantly helps a room feel more relaxing.
---
6. Open Up Your Windows & Doors
This may be one of the simplest luxury staging ideas because it costs nothing, and you can do it in just a moment. That's right, all you have to do is open up your doors & windows.
When taking real estate images your nice windows are an asset, and help the outdoors feel like part of a room. Open up patio doors, bedroom doors, and bathroom doors to take images.
Keep interior doors open, and exterior doors if the weather is nice during a home showing. It can make a space feel more open, and luxury homes use this trick to encourage you to move around the space!
---
7. Tidy Up The Bathroom
One of the worst offensinses in home staging is when a beautiful bathroom is covered in clutter. The only things that should be on your countertops is hand soap, folded towels, and florals if you have the space.
Put away all personal products in storage containers, including in the shower! No one will want to see your hair dryer or kids bath toys when deciding on your home!
---
8. Organize Your Storage Space
Storage is a top concern for most buyers, and the last thing they want to see when they open a closet is stuff falling out!
Make sure you have an organized pantry, closets, basement, garage and storage areas that aren't stuffed to the gills.
Declutter by boxing away excess items and storing them somewhere that won't distract your potential buyer. This will ensure they can really see how much storage there is in your home!
---
9. Make Your Living Spaces feel cozy
Use neutral throw pillows and blankets to make your living spaces feel cozy. Whether it's a living room, den, or other lounge space, using layers can help the room feel more put together
Make sure to use neutral colors that don't clash with your existing furniture. When in doubt, white, beige and gray are always safe bets.
---
10. Dress Up Spaces With Fresh Florals
My final favorite luxury staging tip to borrow from high end listings, is to use fresh florals throughout the rooms.
Pick flowers without a strong smells like hydrangeas, and soft colors like white and blue that won't compete with your decor. Another trend in home decor is to use dark green floral fillers like Eucalyptus for a low maintenance modern arrangement.
Use these tips for making cut flowers last longer, and you'll be surprised at how quickly it makes a room feel "magazine worthy". You don't need them in everywhere, but especially in the entryway, kitchen and bedrooms it will make all the difference.
---
I hope you enjoyed these luxury home staging ideas that will help you bring out the best in your home. Try these tips before you take any real estate pictures when selling your home, and it will really help the best features shine!
If you're looking for more ways to give your home a luxury look in the meantime, check out a few of my favorite tips, right here!
Luxury Hotel Decor Ideas To Try At Home
Beautiful Bathroom Wall Decor Ideas With Luxury Style