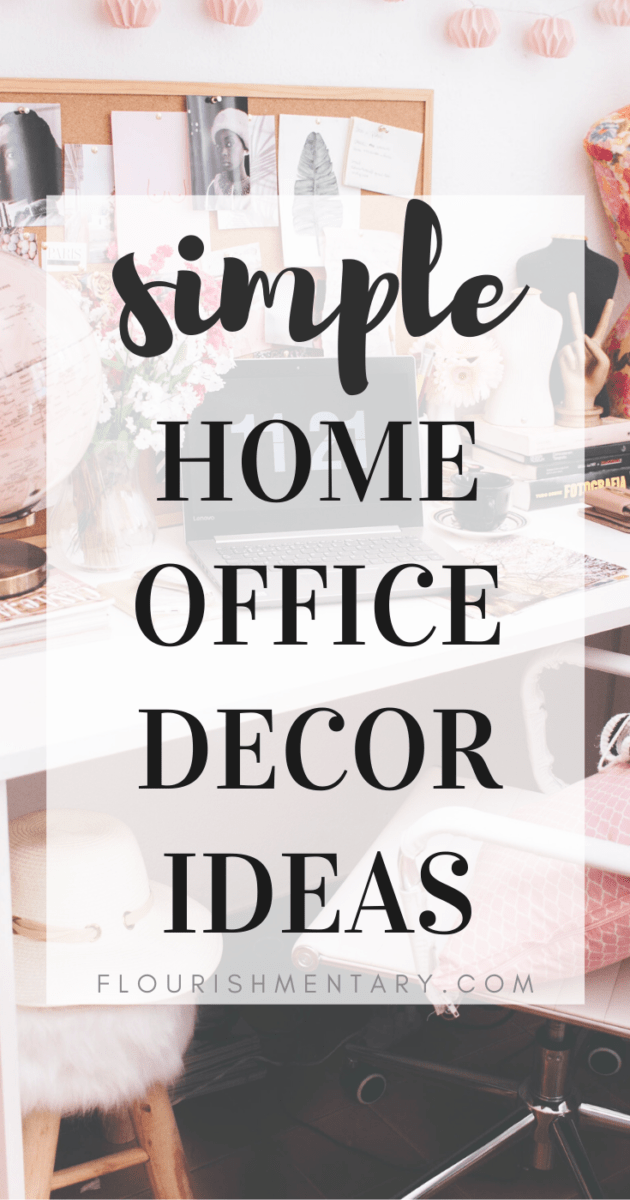 Looking for simple home office decor ideas to give your workspace a makeover?
After working from home often the last five years, I really learned how important it is to make this space your own. With so many people spending the majority of their day in a home office, it makes sense to give it a little extra love.
These easy home office decor ideas will help you revamp your workspace, so that you can't wait to "commute" there in the morning. Keep reading for lots of inspiration to help you boost your productivity and creativity while working from home!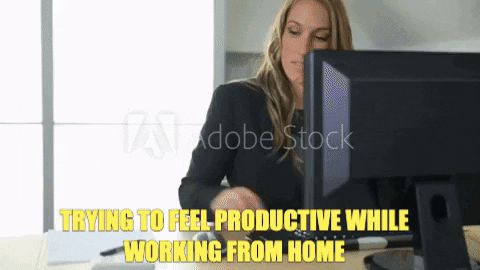 1. Make Your Own "Command Center"
Visual organization boards are the best! Why am I such a big fan?
They help you keep your important things front of mind and can be a piece of art on their own!
At home, I use a memo ribbon board as my "command center" next to my desk. Not only is it really adorable, but it hold my weekly calendar and other documents I use often for work. I also added some personal photos and mementos related to work that add an extra splash of color.
Use a bulletin board, magnet board or pin board to create your own "command center" at home. They're super useful, and really easy to change the look of when you get bored with your board ?
Home Office Command Center Ideas
---
2. Add Some Stylish Office Seating
No, I'm not talking about your desk chair- (although I recommend something with an armrests)! I'm talking about adding an extra special place to take a load off in your office.
Having a place to "chill" is a crucial piece of home office decor, because it'll give you a place to switch gears during the work day. I pop over to my small sofa to take a short break (and helps me avoid extra trips to the kitchen)!
I found a great compact sofa bed that works perfectly for hosting visitors (they all love the sightseeing in L.A)! But if you're pressed for space, adding an oversized chair will really help create a cozy nook in your home office. Add a bunch of throw pillows for fun (though I can't get my dog gigi to stop snorfling them onto the floor ?)
Home Office Seating Ideas
---
3. Fix Your Neck & Free Up Space With a Mounted Monitor Arm
The desk mounted monitor arm was one of those home office ideas that I was skeptical about at first. Was this really going to make a big difference? Once I had it set up, I wanted to smack myself for not using one sooner. They're a total game changer.
Like most people who love the laptop life because it's easy be mobile, my neck as happy with that. Enter the desk mounted monitor arm.
It clears up space on my desk and brings my eyes to the right level. I just added a bright pink external keyboard and mouse, and now I can easily have that desktop feeling with my macbook.
Monitor Arm Desk Mount Ideas
---
4. Offices Are Perfect For Framed Poster Art
Home offices are a great place to use more informal art works, like watercolors, travel posters, or my personal favorite film posters. They're an easy way to add color, without costing an arm and a leg!
In my his and hers home office, I wanted to add artwork that both my husband and I liked. Since we live in LA, we decided to decorate with our favorite vintage film posters.
My pick was Breakfast at Tiffany's, he chose from Fellini films. I found posters with similar black and white color tones, so they all look cohesive all together. Try drawing inspiration from your environment and interests for poster ideas.
Live in the mountains? Get inspired by cool nature prints. Potterhead? Try some Harry Potter decor! Fan of travel? There are tons of cool travel posters, that will help you feel inspired as you work from home!
Home Office Poster Artwork Ideas
---
4. Use Curtains To Make The Space Feel Bigger
Another often neglected home office decor idea is the window treatments. Windows treatments are like the eyebrows of a room – you know bad ones when you see them!
Making the most of the windows in your office can make the biggest difference. Try making small windows look bigger with this hack, and make sure you choose drapes that are right for your space.
Have ultra bright direct sun? Try light filtering curtains. If you can't get enough sunlight, lightweight sheers offer some privacy while still letting rays in. To help you hang them perfectly the first time, use this video as a guide.
Bright Home Office Curtain Ideas
---
4. Ottomans Can Work Wonders
I've had a pretty pink ottoman in my home office for years, and I think they make the perfect accessory for your WFH situation.
Why are ottomans so great for your workspace? They can serve so many purposes!
I use mine as a footstool, and for some additional storage. I've even used it as extra seating, and as a table top surface from time to time. You'd be surprised how many uses you'll have for an ottoman once you have one around.
Storage Ottomans & Footstools Ideas
---
5. Try Small Office Storage Solutions
Is real estate at a premium in your home office? If so, you have to be clever with some a small footprint furniture.
In my office, I have a three tiered drawer for storing paperwork, and a small table for my printer. They balance out on either side of the couch, and they work dual purpose as end tables.
Tall and narrow filing cabinet, and decorative fancy boxes for are other unique solution to make the best of a small home office space.
Low Profile Office Storage Ideas
---
6. Tidy Up With A Desk Organizer Set
There is something so satisfying about seeing all of your stuff neatly tucked away on your desk. Especially inside eye catching storage containers!
Although I'm not going through pens as fast as I was in some of my previous jobs, I use my desk organizer set to stash everything from post it notes to hair ties.
Try finding a desk organizer set that goes well with your desk colors. I mixed and matched shades of pink and brown for my organizers, and love them!
Cute Desk Organizer Set Ideas
---
7. Add A Throw Pillow & Blanket To Your Desk Chair
Looking for a simple office makeover idea to fix up a drab desk chair? You can give a basic computer chair an upgrade, with the help of some cute accessories.
Adding a throw blanket and pillow helps keep you cozy, and they're a great opportunity to add some personality and color to your home office.
I use my favorite cheetah print throw and teal pillow, which work perfectly with my desk organizers. Don't be afraid to go bold with a bright color that will make you smile when you get seated every day.
Office Chair Throw Pillow Ideas
---
8. Go Green With A Home Office Plant
Have you heard that studies prove house plants have a positive psychological effect on us? They are also proven to help with indoor air purification.
All the more reason to find the perfect place for some green in your home office! Potted plants can add a fun texture, and some cheer to your corner.
Be sure to consult this handy list to find a plant that will work for any amount of light you have in your home office.
Home Office Indoor Plant Ideas
---
9. Use A Rug To Define Your Space
Nothing can help define the personality of your space like a statement rug. You can either use a larger one throughout the whole space, or a small rug under the desk area.
This visual segmentation of the room can help make the space feel bigger, and a rug is another great place to tie in other colors from the room. Remember, low piles rugs are a great choice if you've got an office chair with wheels!
Don't be afraid to have fun with your favorite colors, but calming shades will keep the room feeling energizing instead of chaotic.
Energizing Office Rug Ideas
---
Thanks so much for reading this round up of home office decor ideas to help you give your space a makeover!
Mix and match these tips, and you will be well on your way to creating a productive workspace that makes you happy to get started every day.
Have you tried any of these techniques to give your home office a makeover? If so, tell me how things worked for you in the comments below!