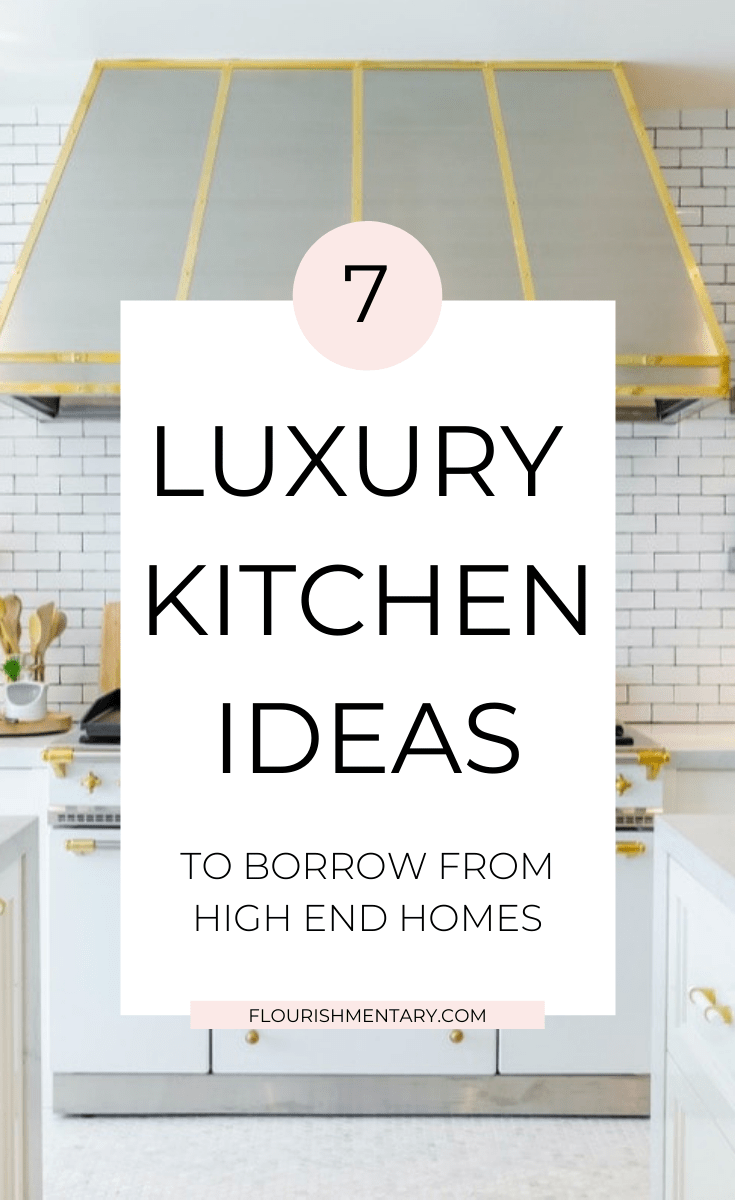 There is nothing like walking into a luxurious kitchen that works up your appetite for a beautiful dinner, or make you want to kick back with loved ones. If you are thinking about upgrading your cookspace, these luxury kitchen ideas are simple ways to give your home a custom feel.
In my industry, I've been lucky to spend lots of time visiting and researching the latest in high end homes and vacation rentals. These luxury kitchen ideas are some of my favorites that I see in the most expensive properties – and best part? You can borrow any of these tips to give your home a high end look!
1. Waterfall Kitchen Island
Waterfall islands are a luxury kitchen trend that isn't slowing down, and I see them in a ton of high end homes.
The idea is that the same material used on the counter material continues down the sides for a "cascading look". While most homes add the waterfall effect to both ends, you can try it one end, or on a peninsula.
Some of the most common materials for waterfall kitchen islands in luxury kitchens are stones like marble and granite, or woods with a unique grain like walnut.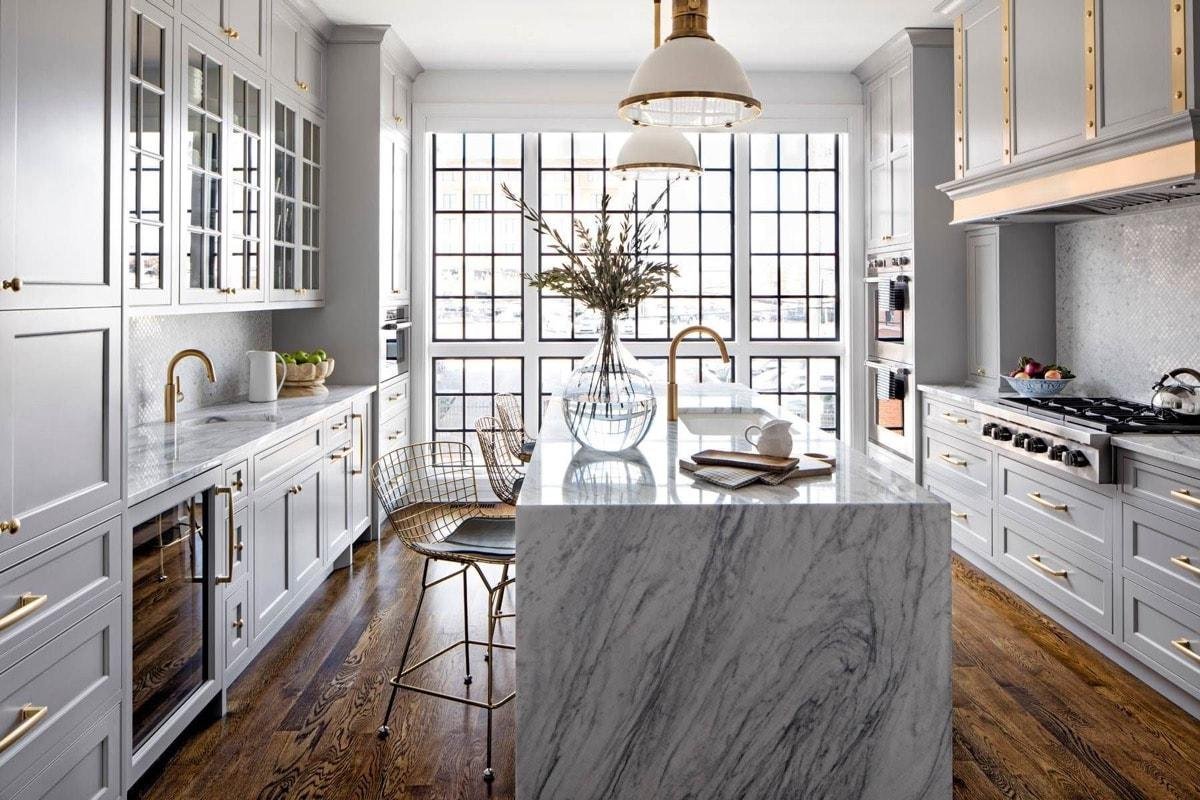 ---
2. Black Kitchen Window Trim
Another beautiful luxury kitchen idea that makes a big impact, is black trim to frame out your kitchen windows.
Black iron, and painted windows are popular throughout high end homes, because even without window treatments they give off a "finished" look.
Try black trim in a kitchen with light colored walls, for a high contrast visual resulting in a clean modern look.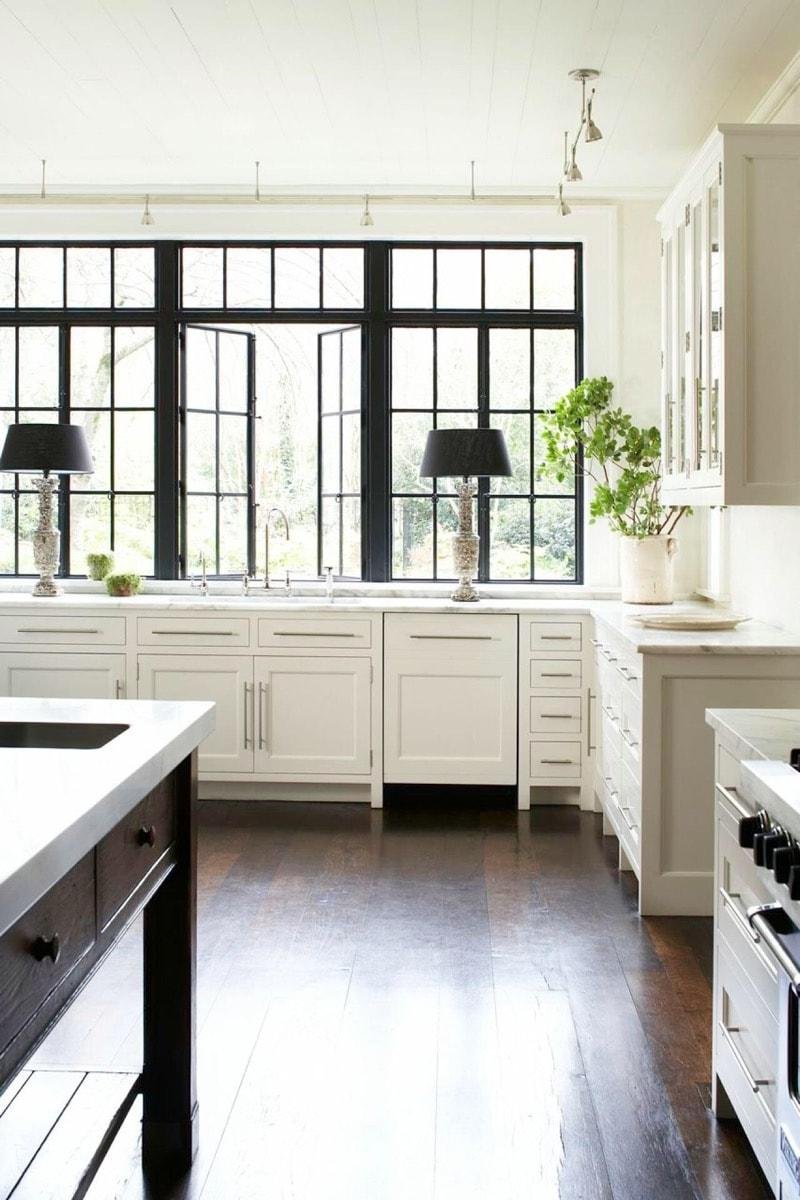 ---
3. Copper Kitchen Sinks
As an added jewel to the kitchen, a copper sink is one of my favorite luxury kitchen ideas. A copper sink can make your kitchen a real show stopper, but did you know they also help keep your kitchen cleaner?
Yes – copper is actually the first solid metal that is EPA confirmed to possess antimicrobial properties. These make copper effective in against harmful bacteria living on surfaces and helps keep that "sink smell" at bay – a win win!
When shopping for a copper sink, keep in mind the higher grade the copper, the better the antimicrobial effect. They get a lovely patina over time with age, or you can clean them regularly to maintain a shinier finish.
Copper farmhouse sinks and apron front sinks are all the rage for a more laid back kitchen but my favorites are a simple copper undermount sink like this one via Waterworks.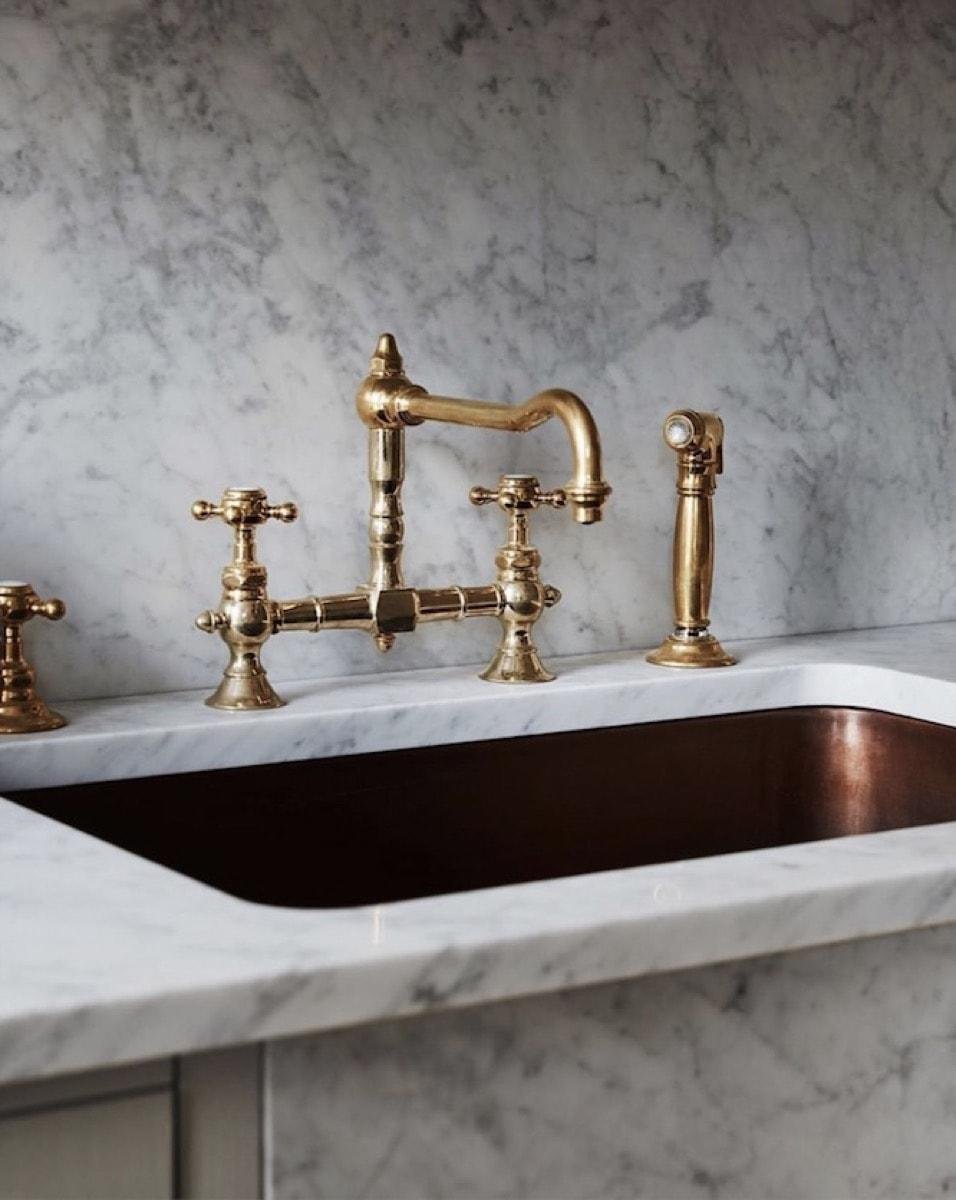 ---
4. Open Kitchen Shelves
Another luxury kitchen idea that is seen in high end homes, is ditching the upper cabinets for glamourous open shelving.
Open shelves help a kitchen appear more spacious, and gives you a great excuse to show off your favorite kitchenware. And hey – maybe keep it'll you a little more tidy at the same time!
Try displaying your favorite glasses, cake stands – or the thing I see in many luxury kitchens: ceramic dishes.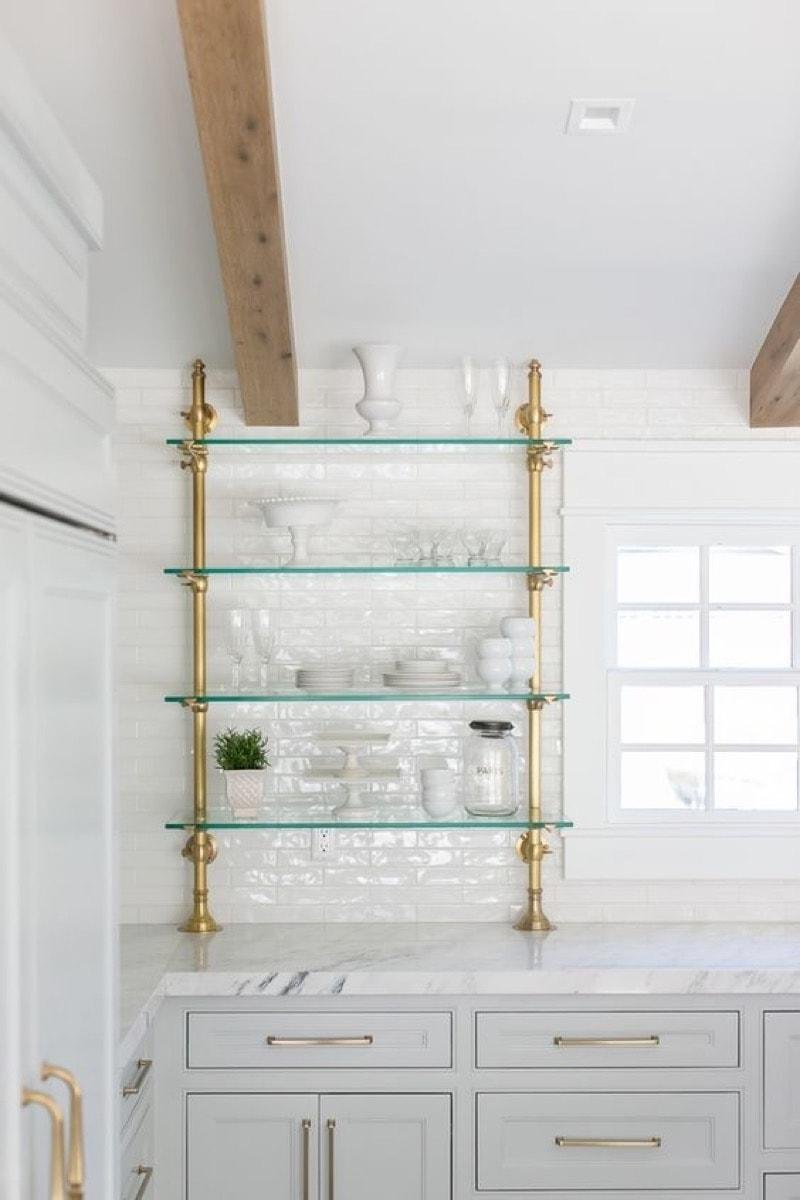 ---
5. Two Tone Kitchen Cabinets
Another luxury kitchen trend that anyone can try out in their home is a two tone cabinet look. You can easily achieve this lovely contrast by alternating a different color on your upper and lower cabinets.
If you like the two tones look but it feels a little dramatic , try a less vibrant look with white upper cabinets and a soft gray for the lowers.
Still afraid of the commitment? Try a different color cabinet on the island as a subtle way to get character without bold commitment.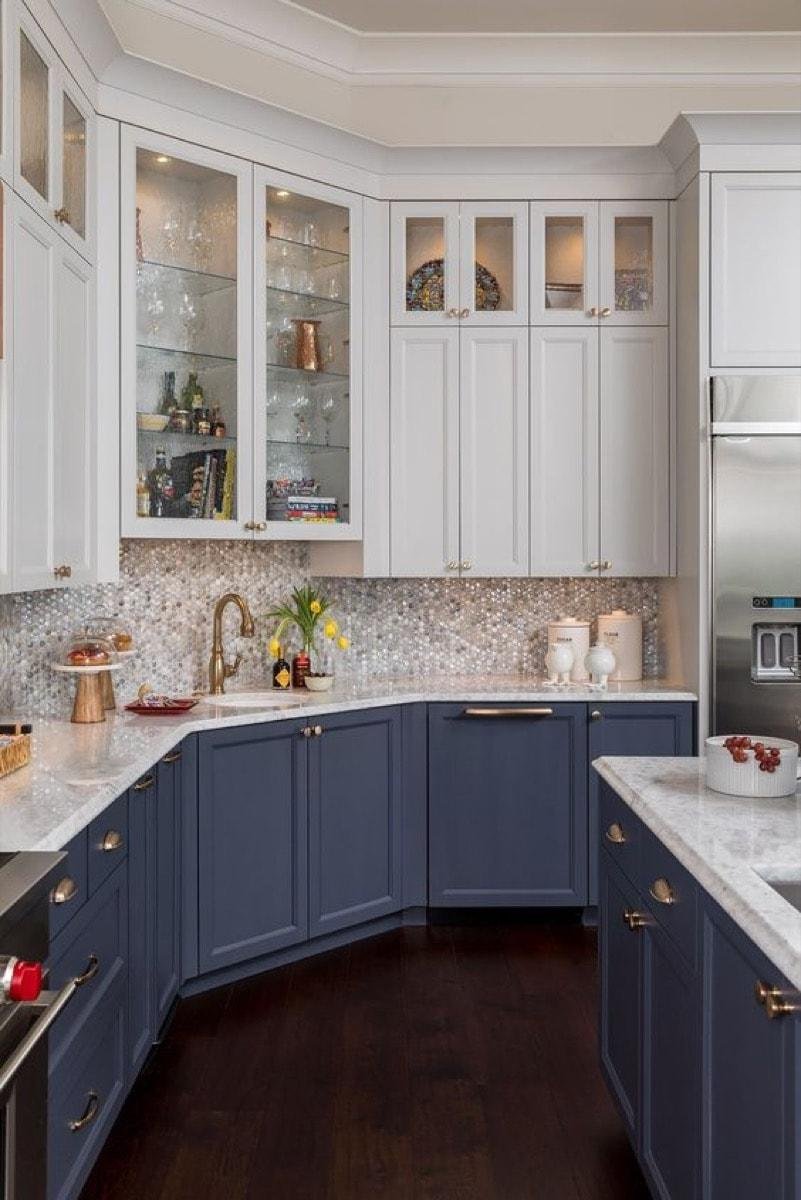 ---
6. Globe Pendant Lighting Fixtures
Lantern lighting in the kitchen certainly had its heyday, and the new trend I seeing now in luxurious kitchens, are globe pendant lights.
I'm a big fan of gold and brass finishes for a high end look, and you can find globes in a milky white, clear glass, or textured glass to compliment your home.
One of the things I also love about changing out your lighting fixtures is that it makes a big impact, while being an affordable project you can finish out in an afternoon!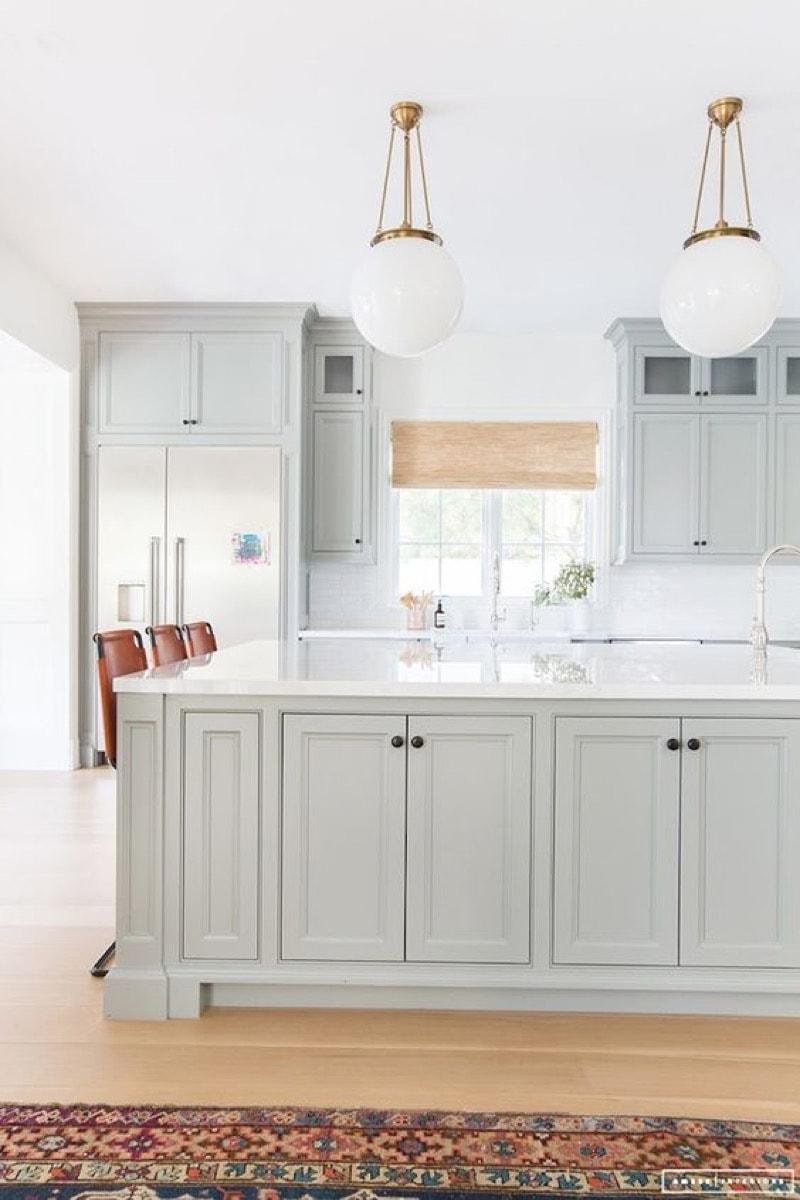 ---
7. Backsplash Up To The Ceiling
Finally, one more my of favorite luxury kitchen ideas will make a big impact, and a grand first impression.
While a standard backsplash may rise just a few inches above the counters, some of the most beautiful kitchens on earth have backsplash all the way up to the ceiling.
Carrying the backsplash up the wall allows your eye to continue moving without stopping. This can help any size kitchen feel even more open and inviting.
My favorite ideas for backsplash to the ceiling are clean white marbles and granites, or simple tile laid in a herringbone pattern. They make a kitchen feel clean and inviting, with a luxurious finish.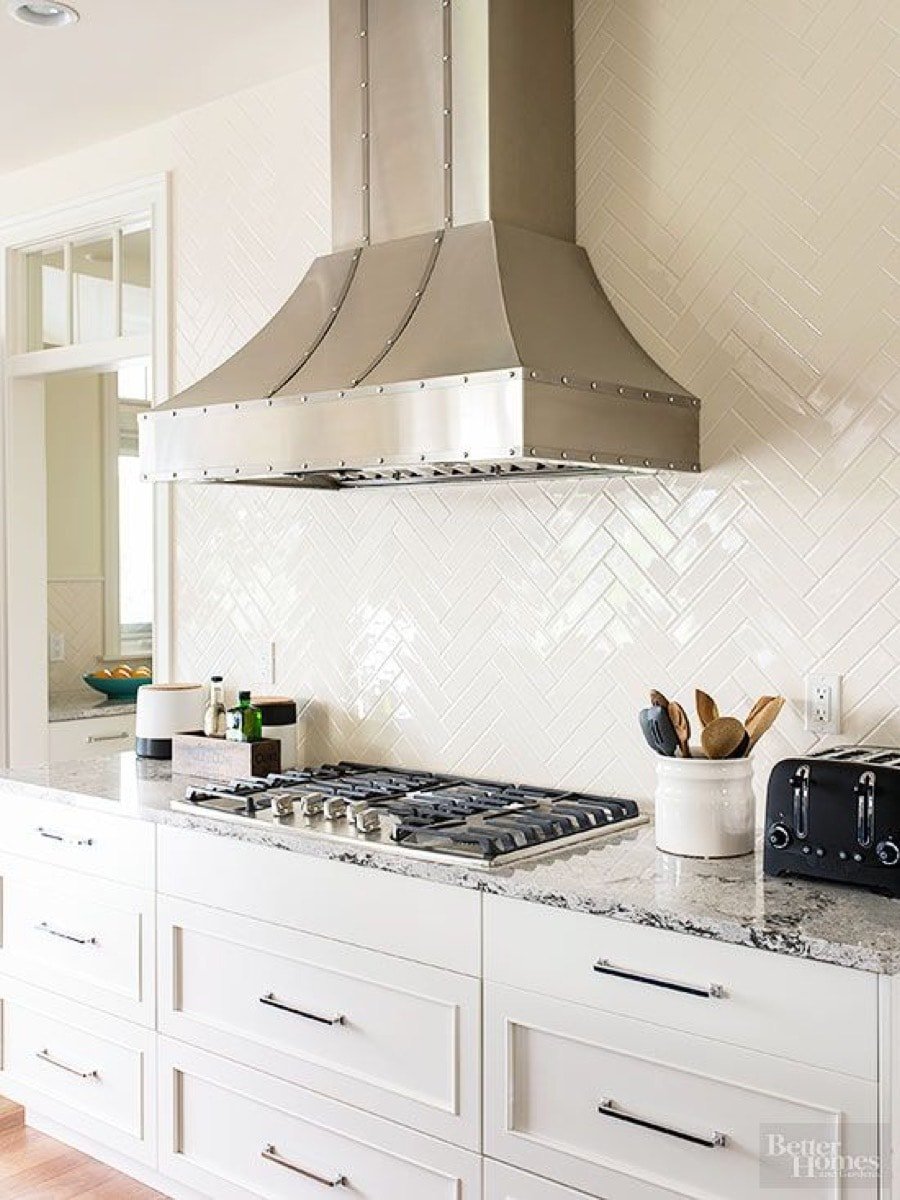 As you can see, any of these ideas inspired by high end homes, can help instantly give your kitchen a custom vibe!
Try a few of these tips out when you are redecorating your kitchen, to for a modern and refined look.
Thanks for reading and I hope you enjoyed this round up of my favorite luxury kitchen ideas to borrow from high end homes.
Looking for more ideas for giving your space a luxury look? Check out more of my favorite decorating ideas right here: