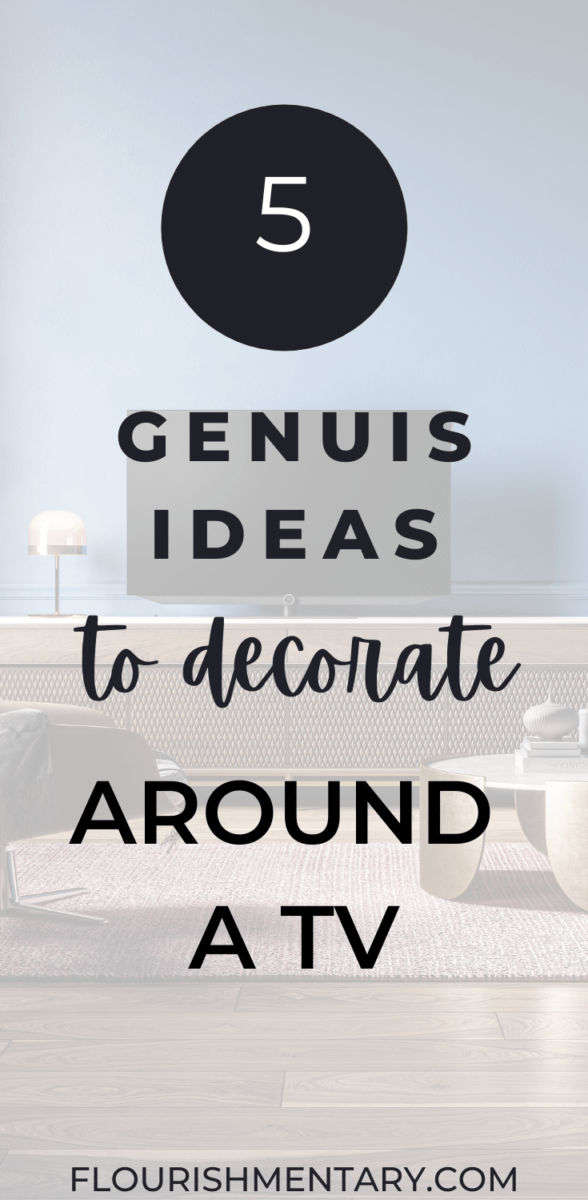 Wondering how to decorate around a TV make it look better? These large black boxes aren't exactly the prettiest, are they?
If you're sick of staring at an empty wall, these 5 genius ideas will show you how to style your tv wall with personality.
Decorating around a tv is one of the trickiest problems in design, and I've had my share of mishaps trying to do it (anyone else guilty of a messy cluttered gallery wall? 🙋🏼‍♀️). But have no fear, these simple tricks will help you bring a chic vibe to the space once and for all!
#1. Decorate With Identical & Symmetrical Frames
One of the classiest ways to decorate around a TV, is using identical frames in a symmetrical layout. This easy idea helps bring a sense of calm and focus, and let your eyes relax on the TV during show time!
---
#2. Go Dark With The Wall Color
Going dark with the wall color behind the television is a simple way to make the TV blend in! Not to mention moody dark walls are one of the biggest interior design trends of the moment!
---
#3. Cover It Up
Pretty panels with artwork means you never even have to see your tv when you don't want to! You can make your own artwork to cover it, or buy one. Personally, I think this option is beautiful and would work well for a room where you don't watch TV as often.
---
#4. Compliment Your TV With A Built In
It's a tried and true classic! A built in definitely gives your home more character, and it looks meant to be with your tv! The previous owners of our home designed a built in for the basement cinema room, and I love that it has plenty of shelves decorate around a television.
---
#5. Make Your TV Into Art
This one isn't so much decorating around your TV as it is making the TV into decor! "The Frame TV" from Samsung transforms your TV into a work of art, all it's own!
If you love your current TV, you can also upload your own artwork and display it at home. Anything from a fine art landscape to images of your family! What a pretty way to dress up a run of the mill part of your home!
---
Thanks for reading this roundup of beautiful ways to decorate around your tv! I hope you enjoyed these designer tricks that will help you love your tv room.
Have you tried any of these tips at home? Let me know how it went in the comments below!
And if you're looking for other ways to decorate your walls, try some of my favorite tips!
7 Unique and Easy Ways To Fill A Blank Wall
Beautiful Bathroom Wall Decor Ideas With Luxury Style
Simple Luxury Staging Ideas To Borrow From High End Properties