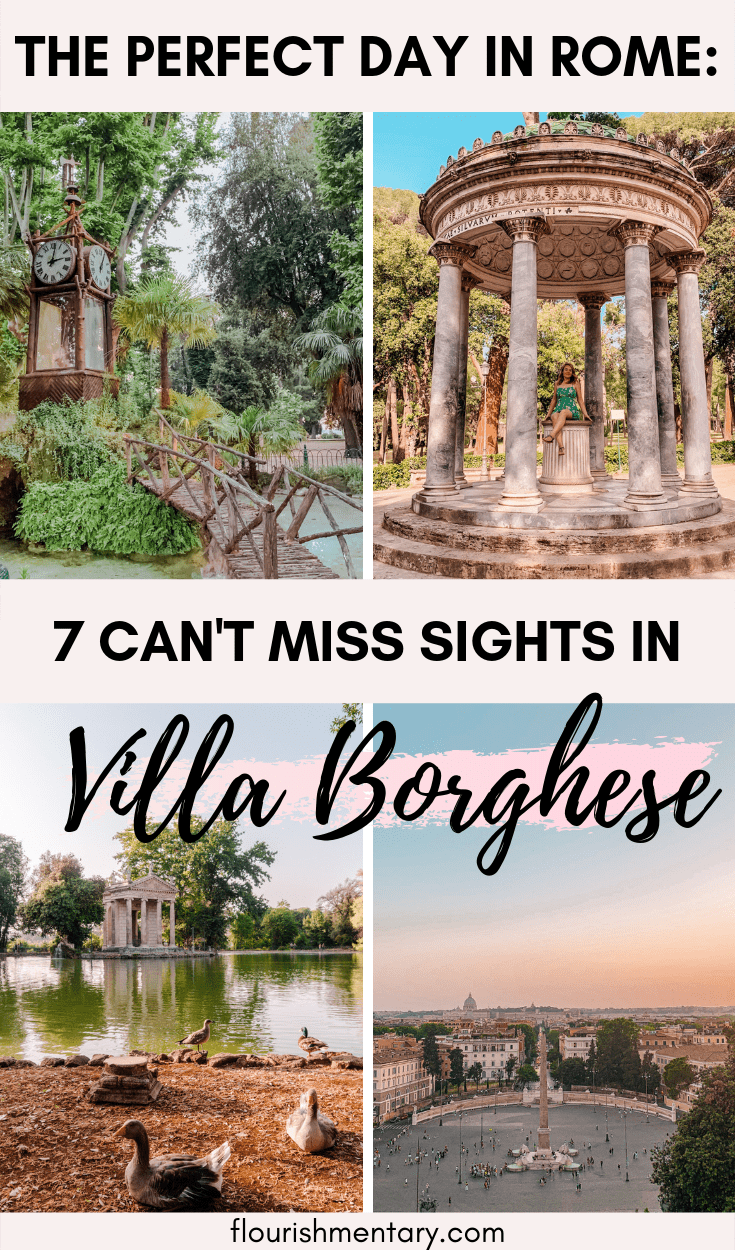 There's really no place like Rome. The eternal city is renowned for incredible food and architecture, but there's another other thing no one does quite like the Italians: Parks. If you're looking for things to do in Rome, you won't want to miss the world famous Villa Borghese Gardens.
This popular place for Rome sightseeing has it all: expansive views, museums, and my personal favorite: beautiful fountains. The romantic gardens are done in a naturalistic english style, making it such a unique public park. You can see why it's been a prime spot for Romans to relax for centuries.
In this guide, I'll show you 7 can't-miss magical places to see inside Rome's Villa Borghese Gardens. There's a good mix of well known spots and overlooked gems, that'll keep you reaching for your camera all day!
Don't forget to download the free map at the bottom of the post!
1. Pincio Terrace Viewpoint
The Pincio Terrace viewpoint is my absolute favorite place in Rome, and not just for the sweeping vistas.
This place is so magical to me, because my husband brought me here on our first date. After that- how could I ever go on a better one? We even got engaged here years later, so it will always hold a special place in my heart.
You can reach the view from the other side of the park, BUT my favorite way to enter the Villa Borghese Gardens is by climbing the steps behind Piazza del Popolo. It's a bit of a walk, but it's amazing to watch the sights slowly unfold.
From the top you have an unbelievable view of the piazza below, and all the way out towards the Vatican. Welcome to Roma!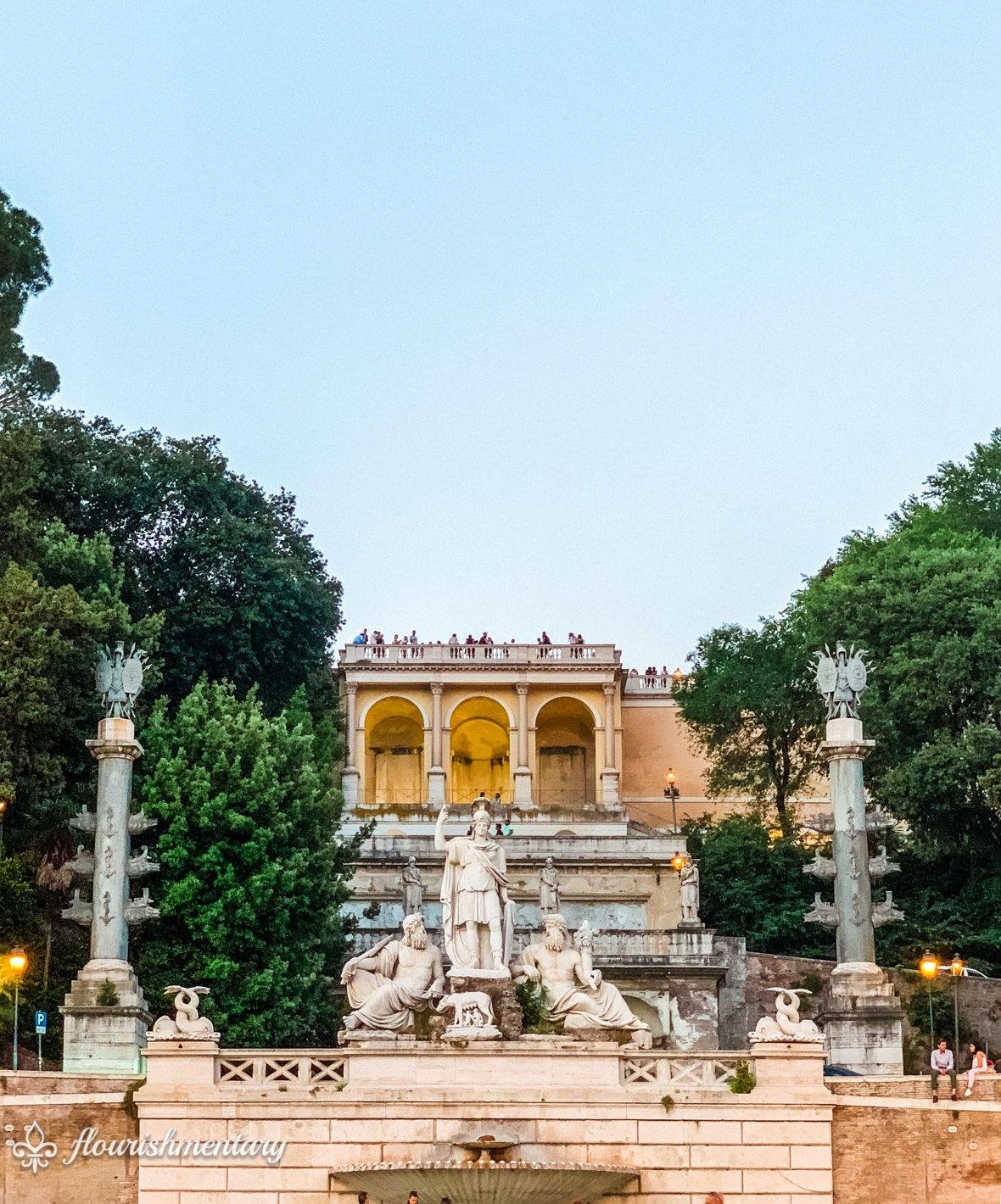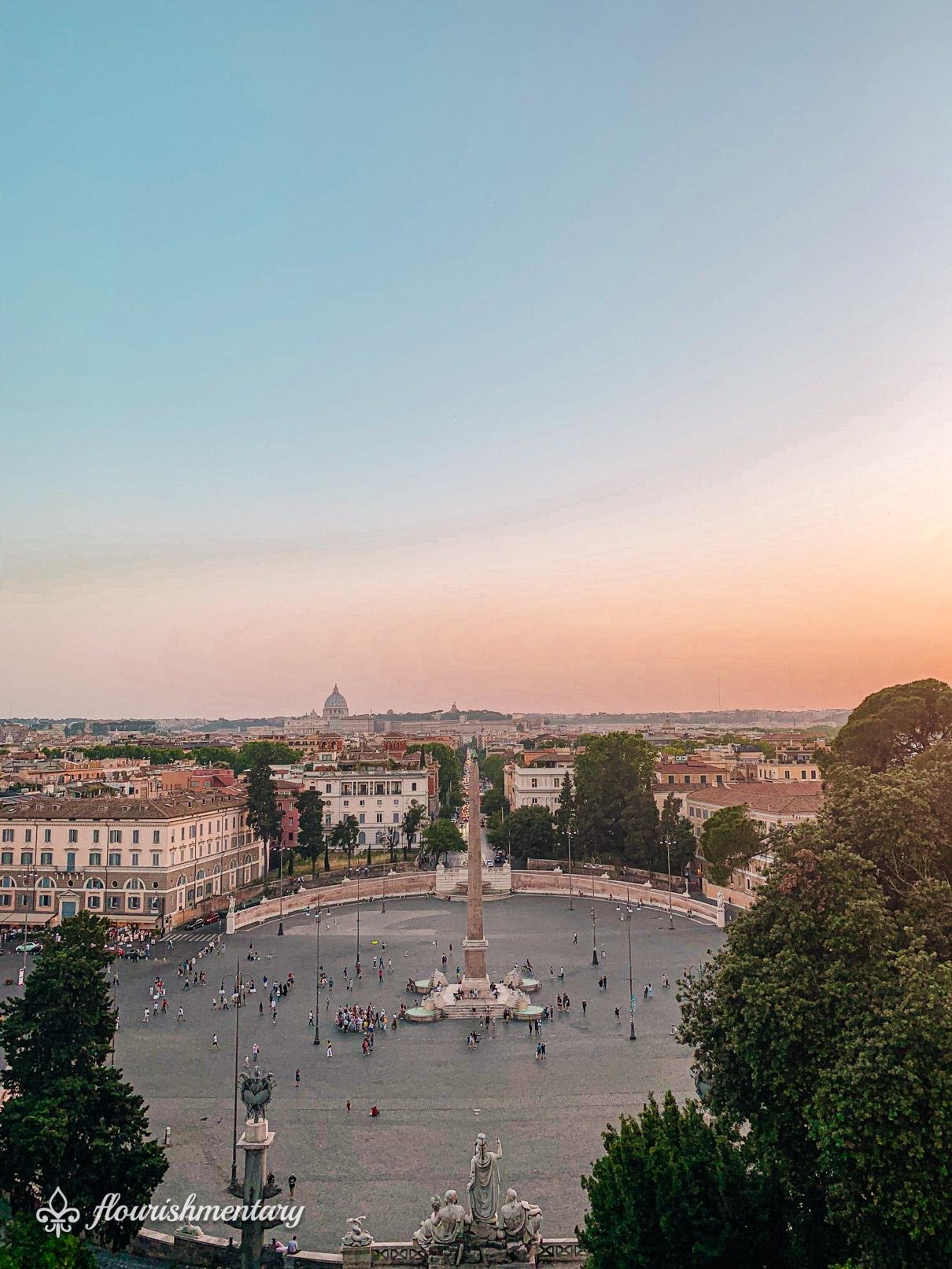 ---
2. Water Clock At The Pincio
A few steps from the Pincio, you'll find an enchanting island with a 19th century water clock perched on top.
This prize winning hydrochronometer was created by a Roman inventor, with a unique cast iron tree trunk shape. It's four clock faces are visible from every side, and it looks fit for fairy tale.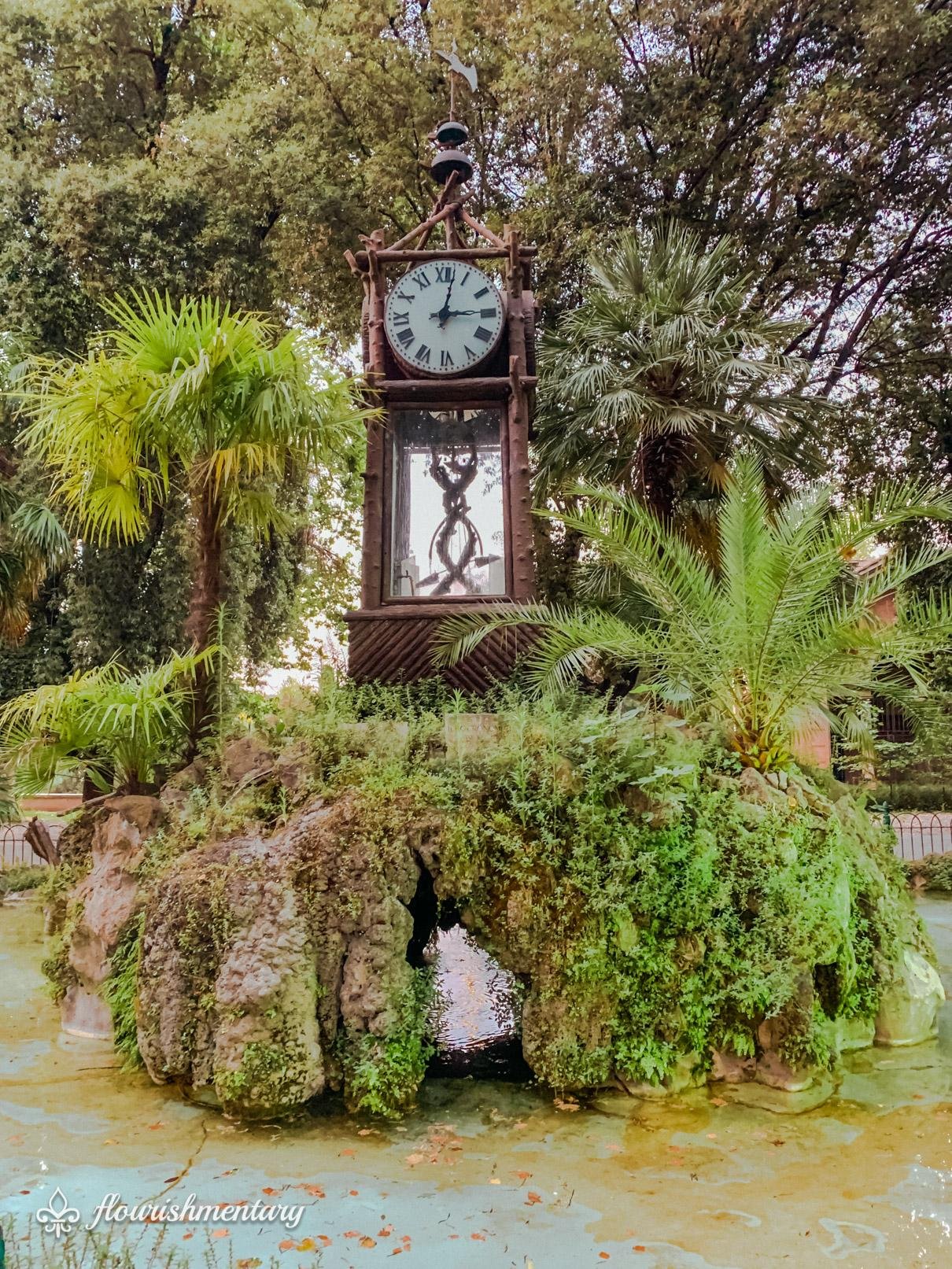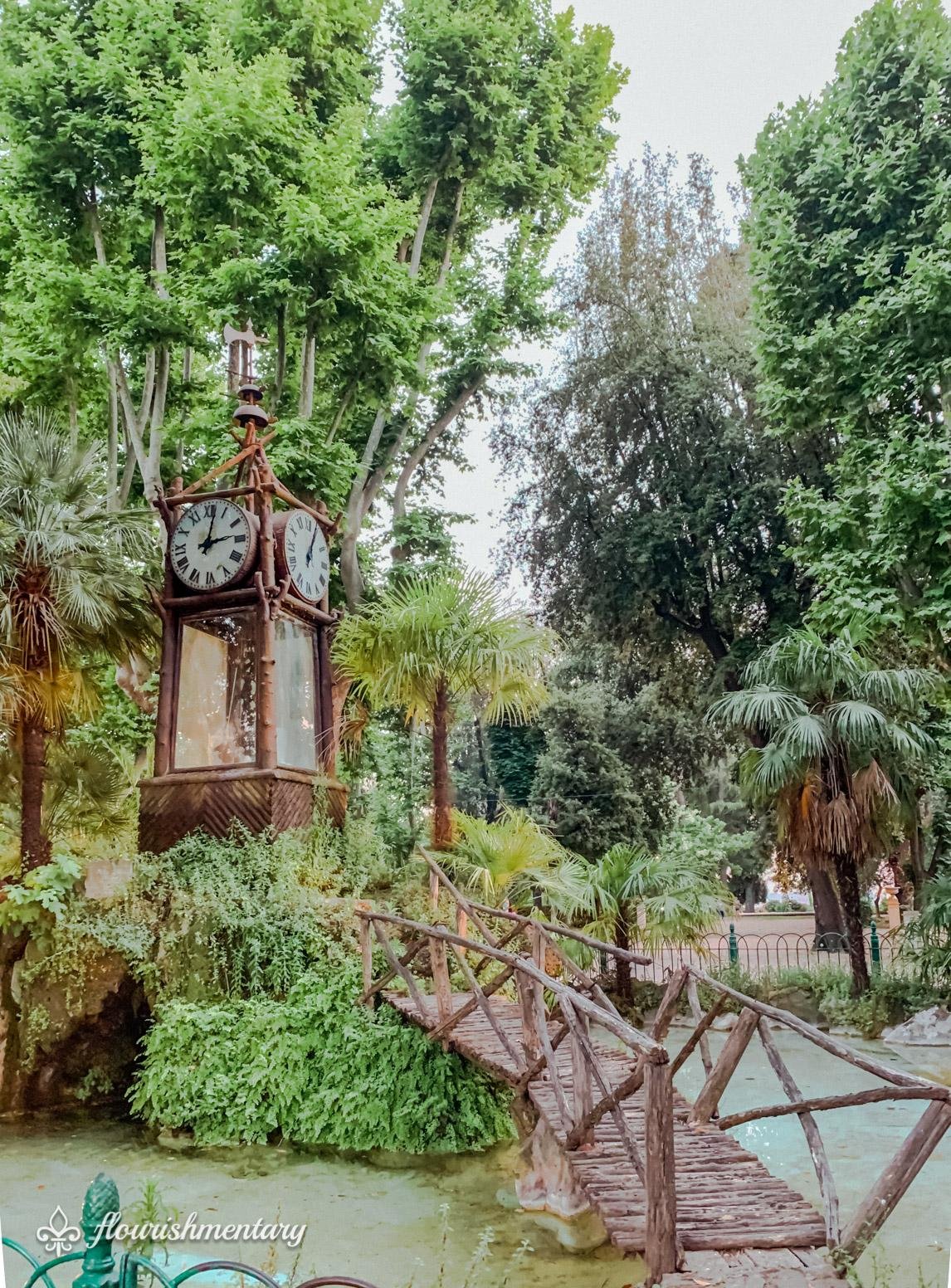 ---
3. Temple of Diana
If you keep strolling through the Villa Borghese Gardens, you'll stumble upon this small but striking temple, dating back to 1789.
The central area of the park was a meaningful location for a statue Diana, the Roman goddess of wild animals and the hunt.
Although the original sculpture isn't here anymore, the depictions of wild animals on the spectacular ceilings still represent her memory.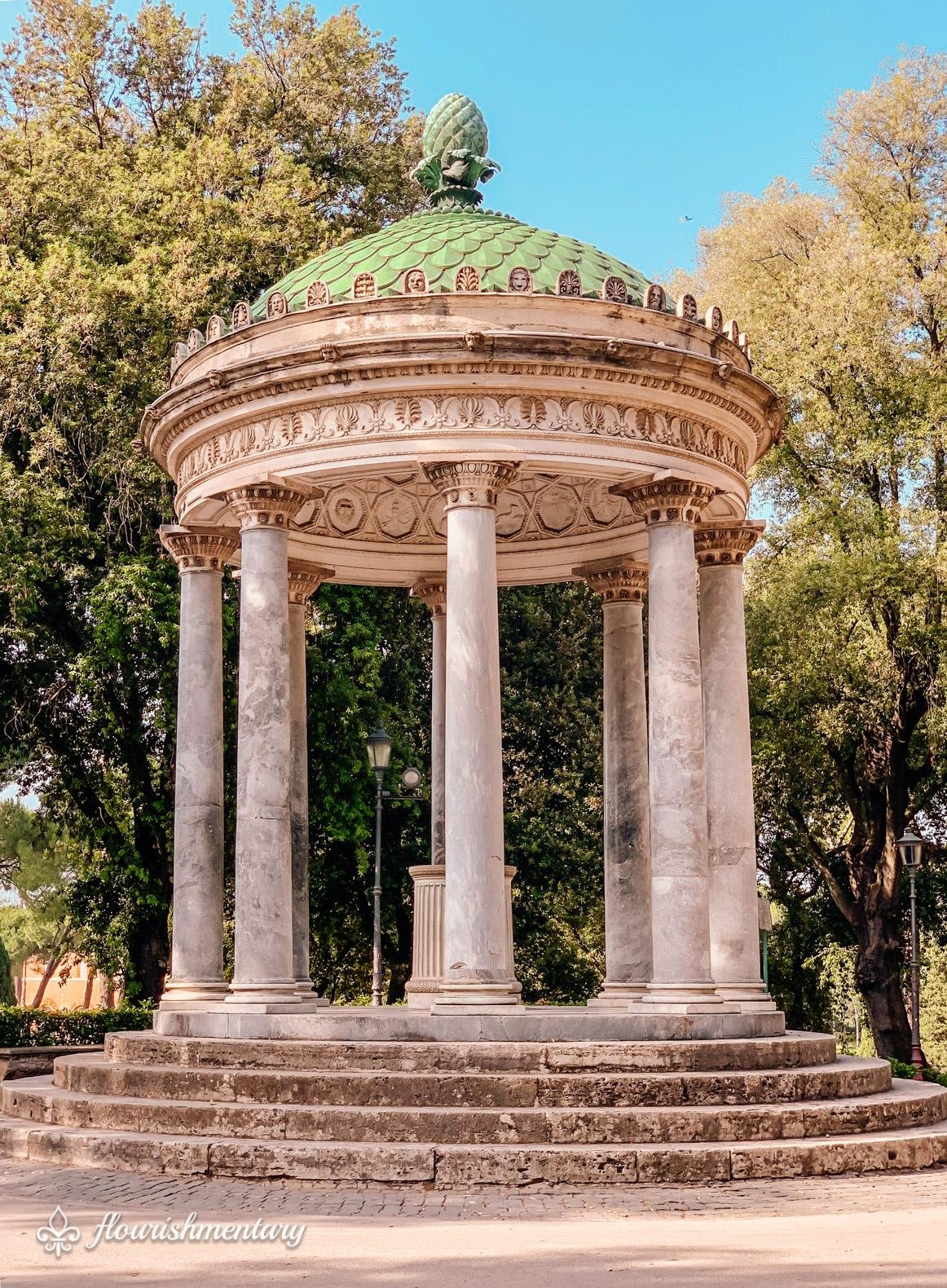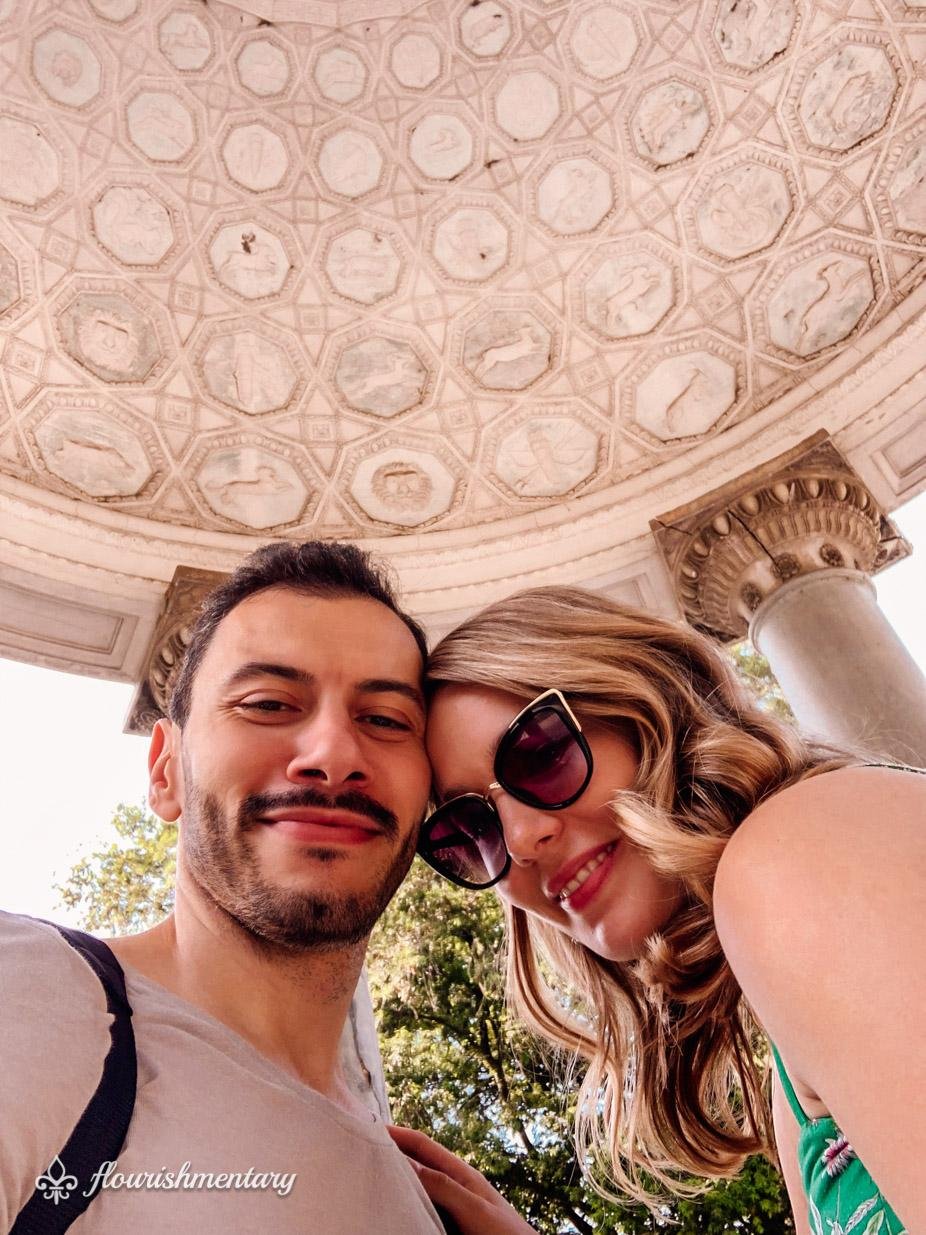 ---
4. Fontana dei Cavalli Marini In Villa Borghese Gardens
As a self professed fountain-aholic, I always find myself swooning over Rome's thousands (yeah, you read that right) of fountains. The English Poet Percy Bysshe Shelley even remarked that, "The fountains alone justify a journey to Rome."
On hot summer days, you'll find groups of friends dipping their toes in the Fontana dei Cavalli Marini, 'fountain of the sea horses'. This gorgeous landmark is right off the main walkway, and the trees all around make it a picturesque place to rest.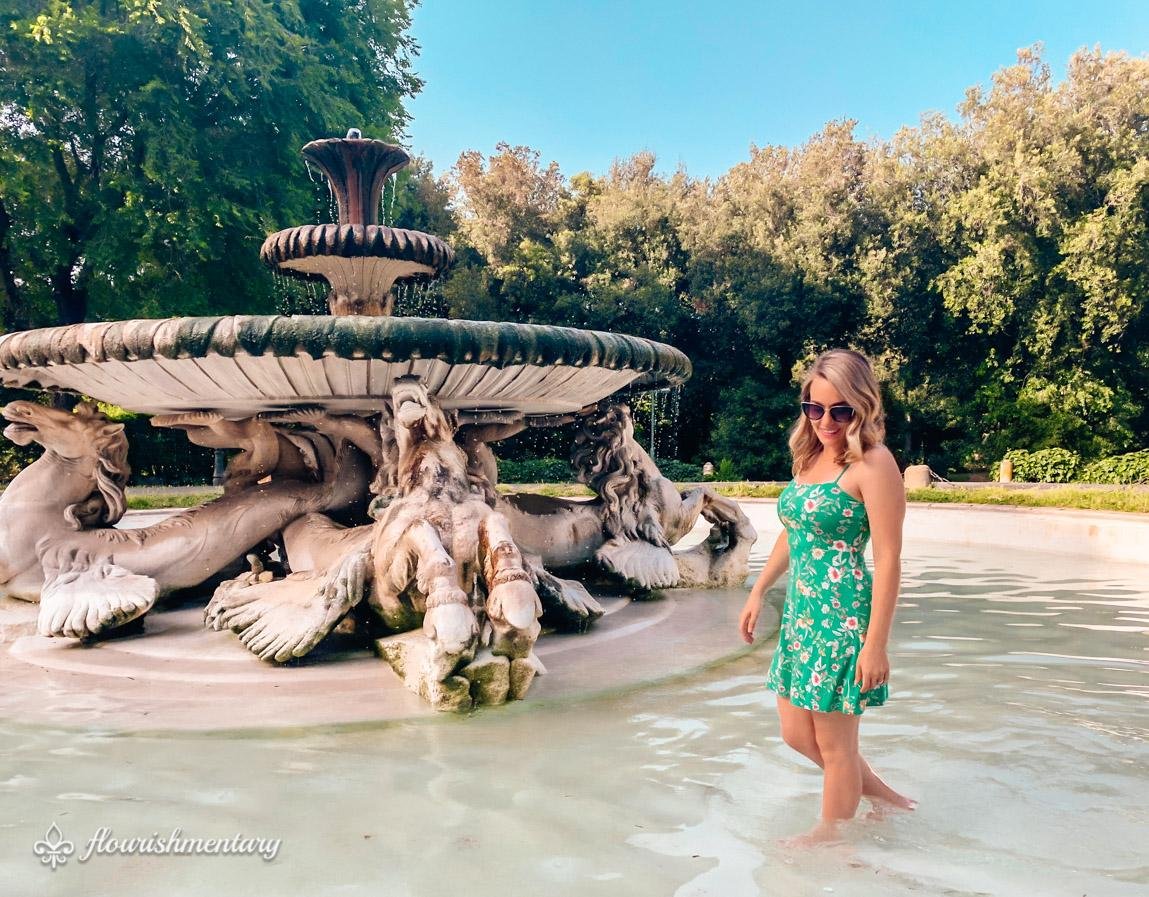 ---
5. Museo Pietro Canonica
It's hard to believe the medieval style "Fortezzuola", actually used to be a hen house. The Borghese family used it to raise ostriches, peacocks, and ducks for lavish hunting parties.
It's now an art museum open to the public, with beautiful rotating exhibits. After walking in, we were greeted by this lovely watercolor of the Fontana dei Cavalli Marini.
It's a great place to take cover from the sun on a long day at the park- and the best part? It's totally free to enter!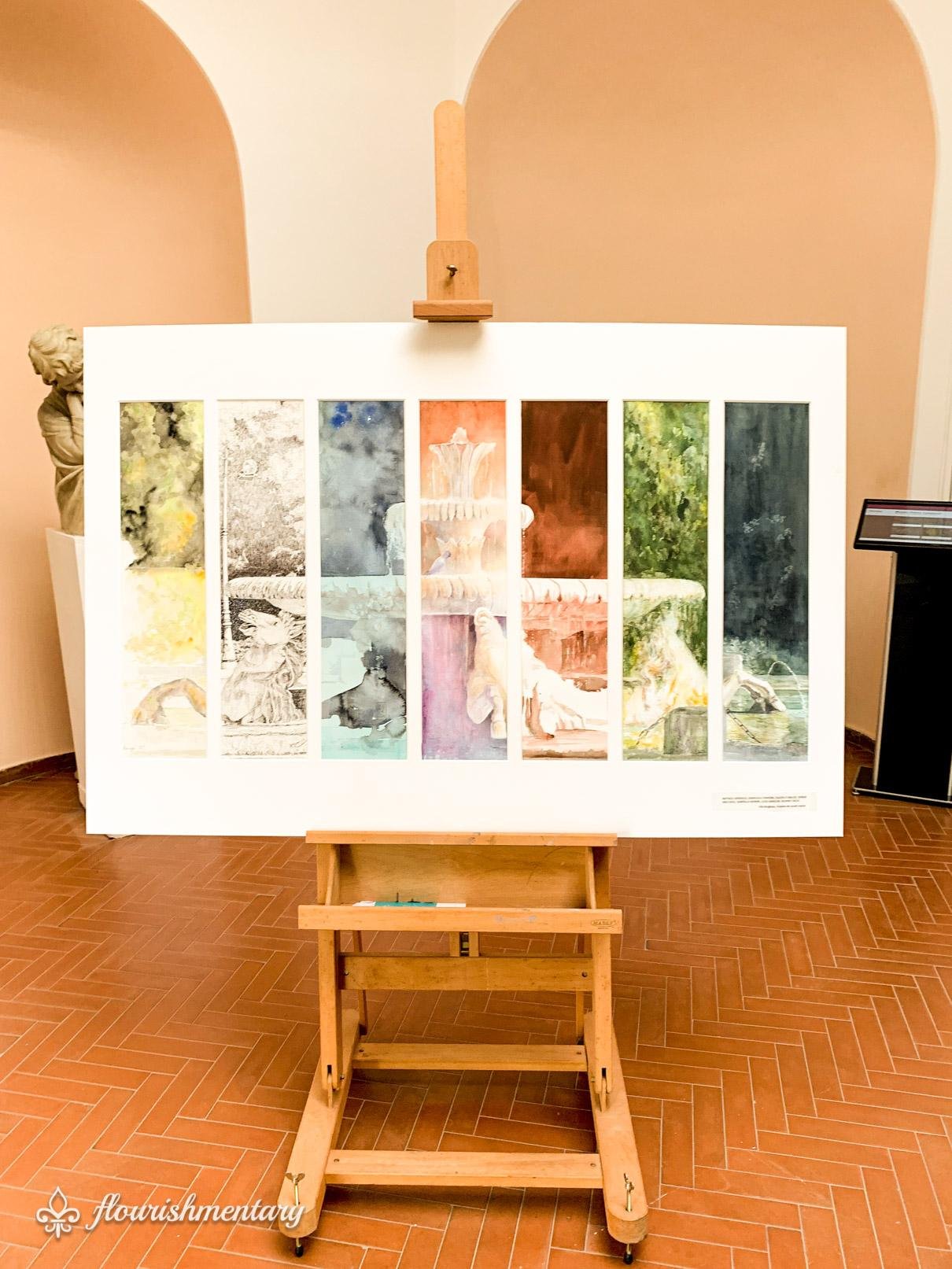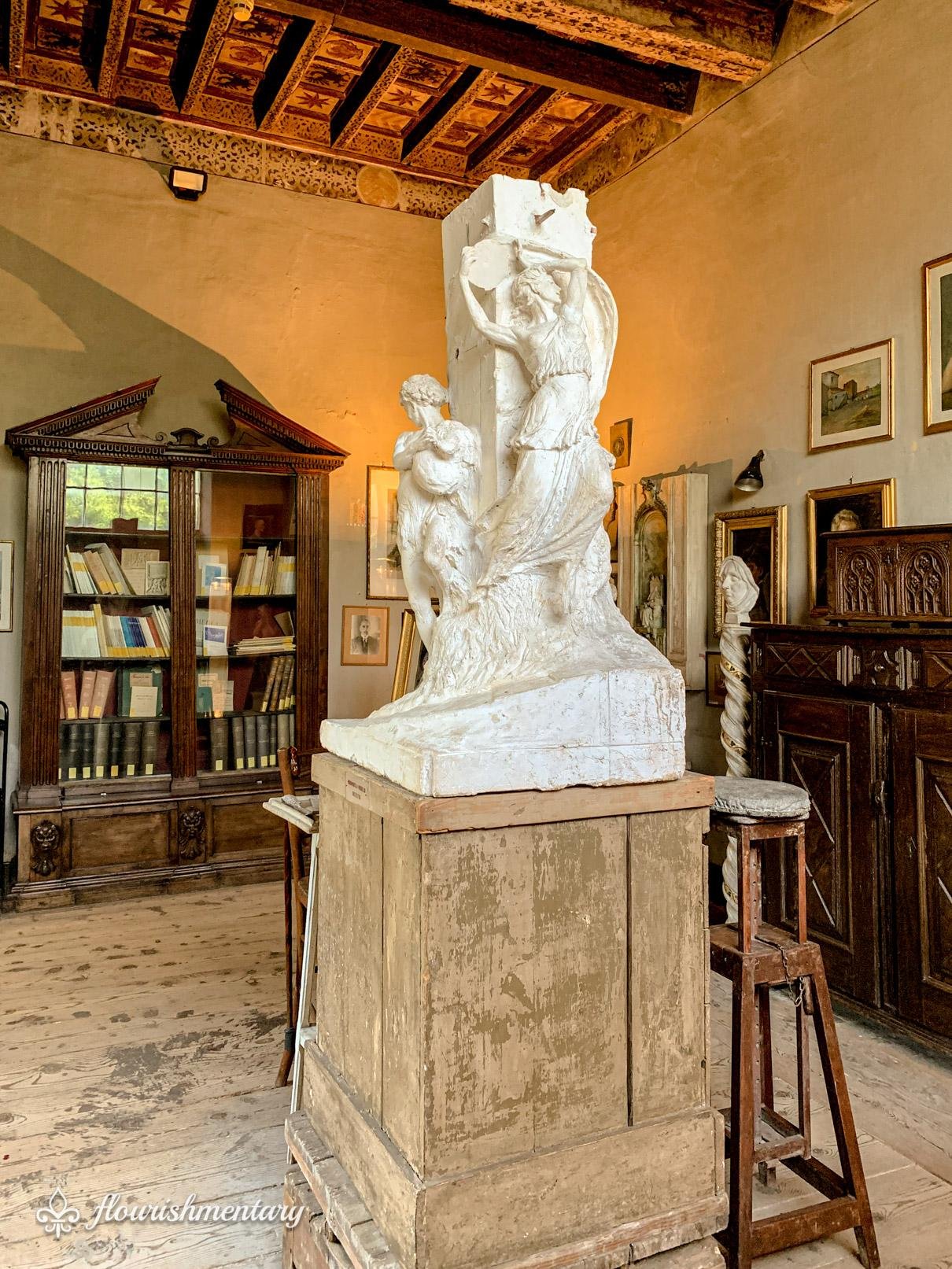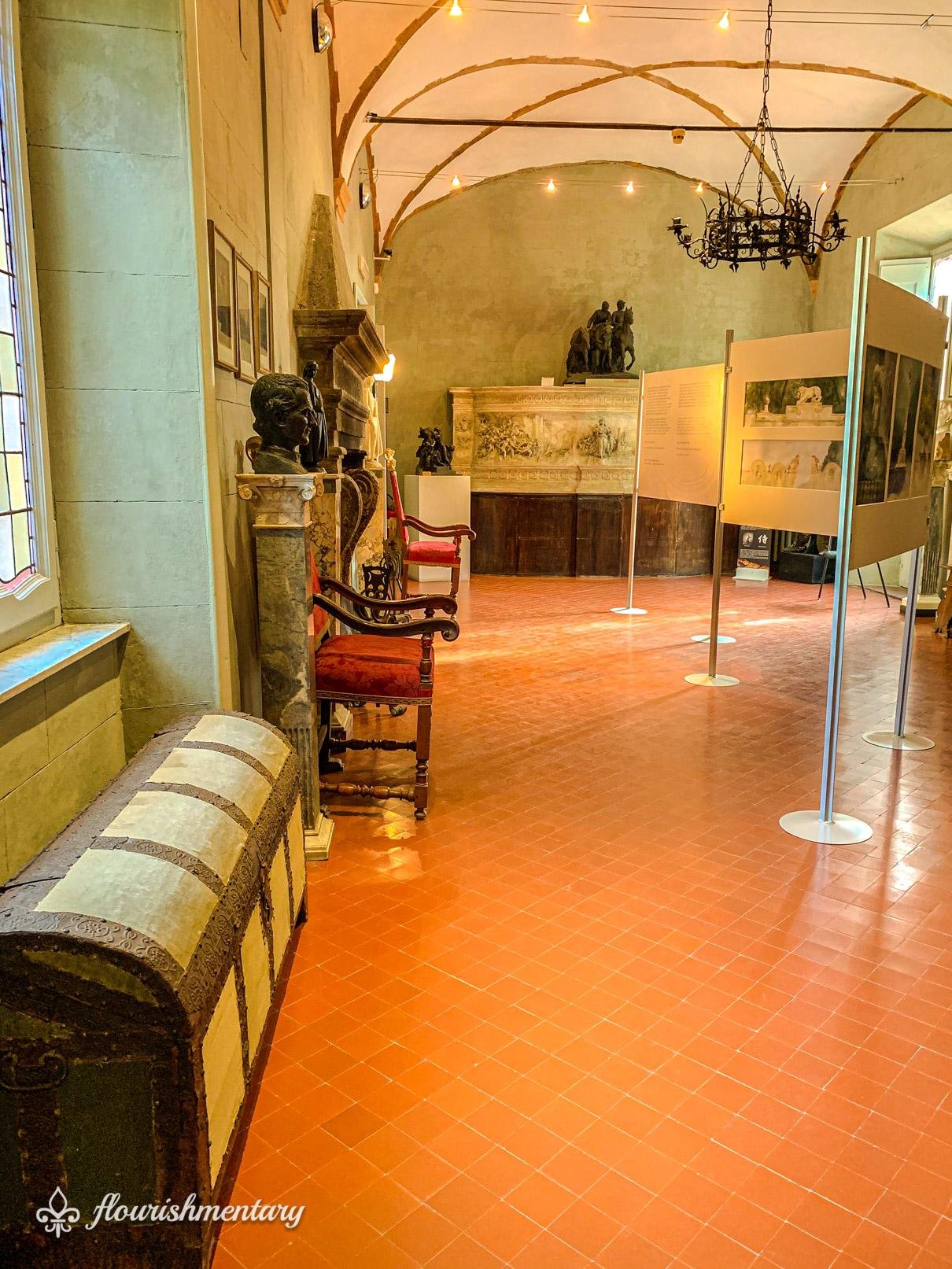 ---
6. Temple of Aesculapius In Villa Borghese Gardens
There's something so satisfying about the symmetry of classical architecture, especially when it's reflected in an ancient lake. So you'll really be in luck, because that's exactly what you'll see at The Temple of Aesculapius.
Many believe it's modeled after the ruins of an ancient temple on Rome's tiber island. It was built back in 1785, to house a restored ancient statue of the god of medicine.
Today it's a beautiful retreat where you can sit and enjoy the shade, or paddle out with your sweetheart for a romantic boat ride.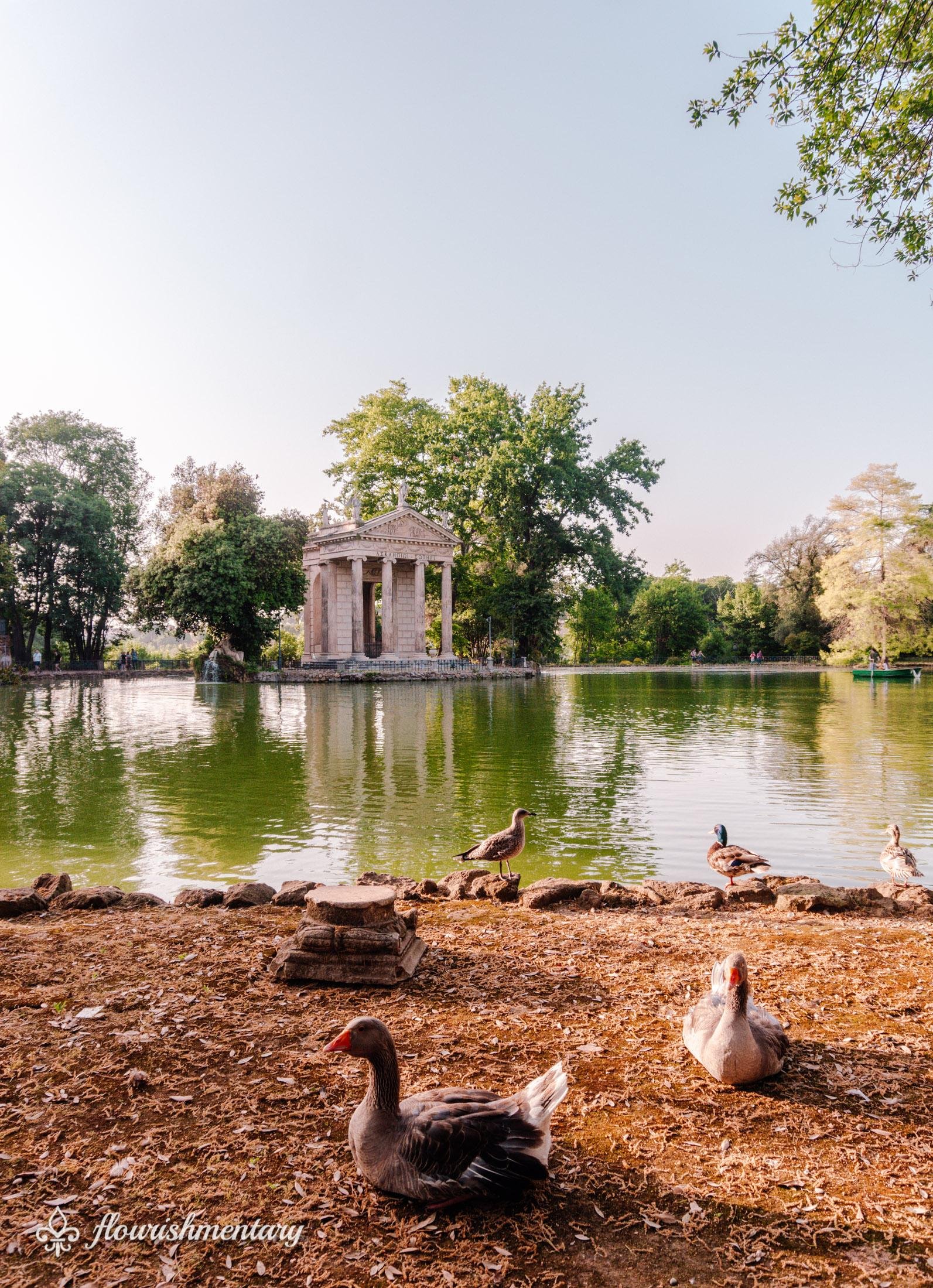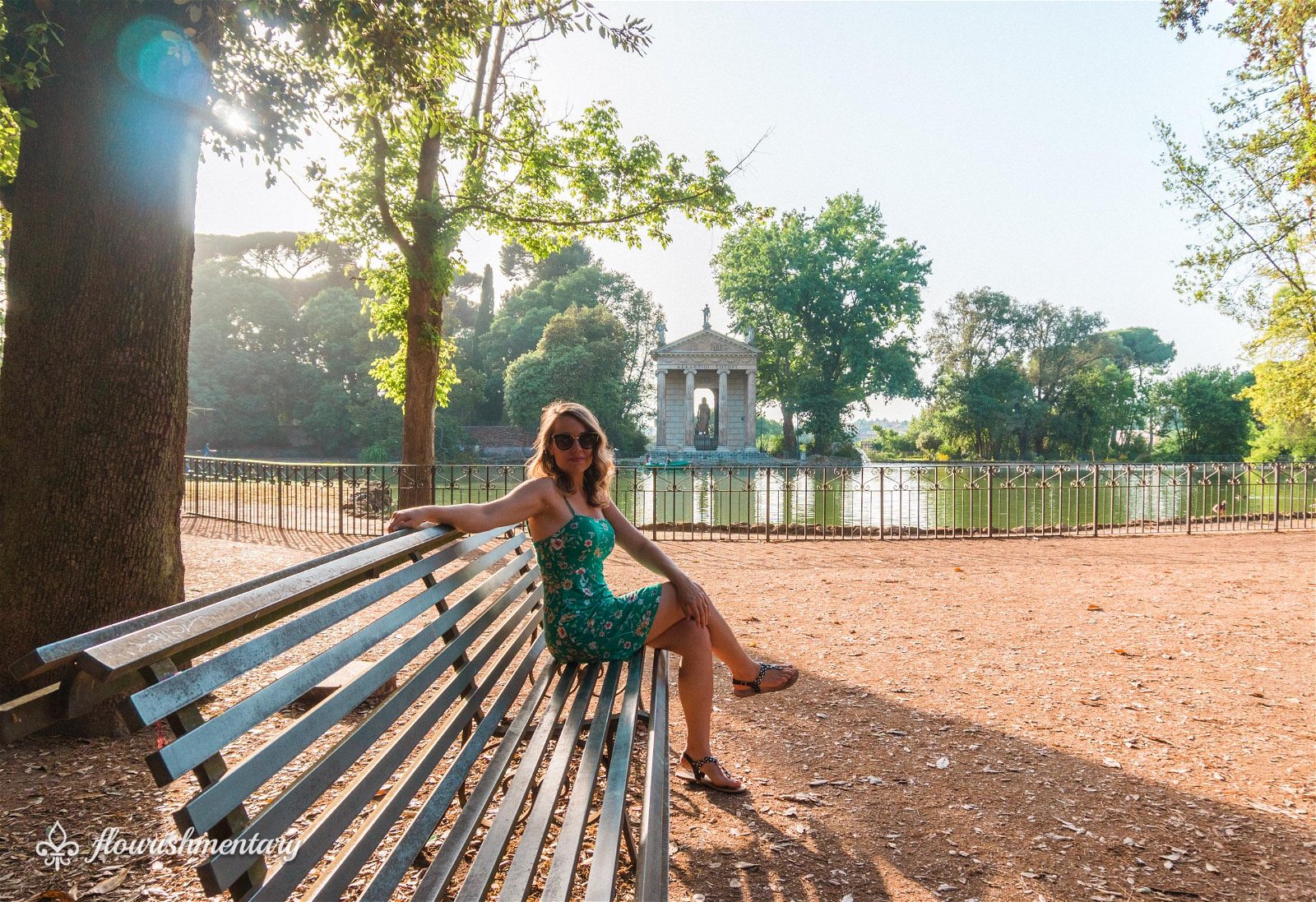 ---
7. National Gallery of Modern and Contemporary Art
Right on the edge of the Villa Borghese Gardens, you'll find the perfect place to wind down a long day, by checking out the National Gallery Of Modern and Contemporary Art.
Go inside for a visit if you're up to it, or just enjoy the beautiful facade and outdoor exhibits. Afterwards, during the summer, you can even grab a cocktail right outside the steps.
The Satyrus Temporary Bar has great atmosphere, live music, and it's a fabulous place to enjoy my favorite italian pastime: Aperitivo.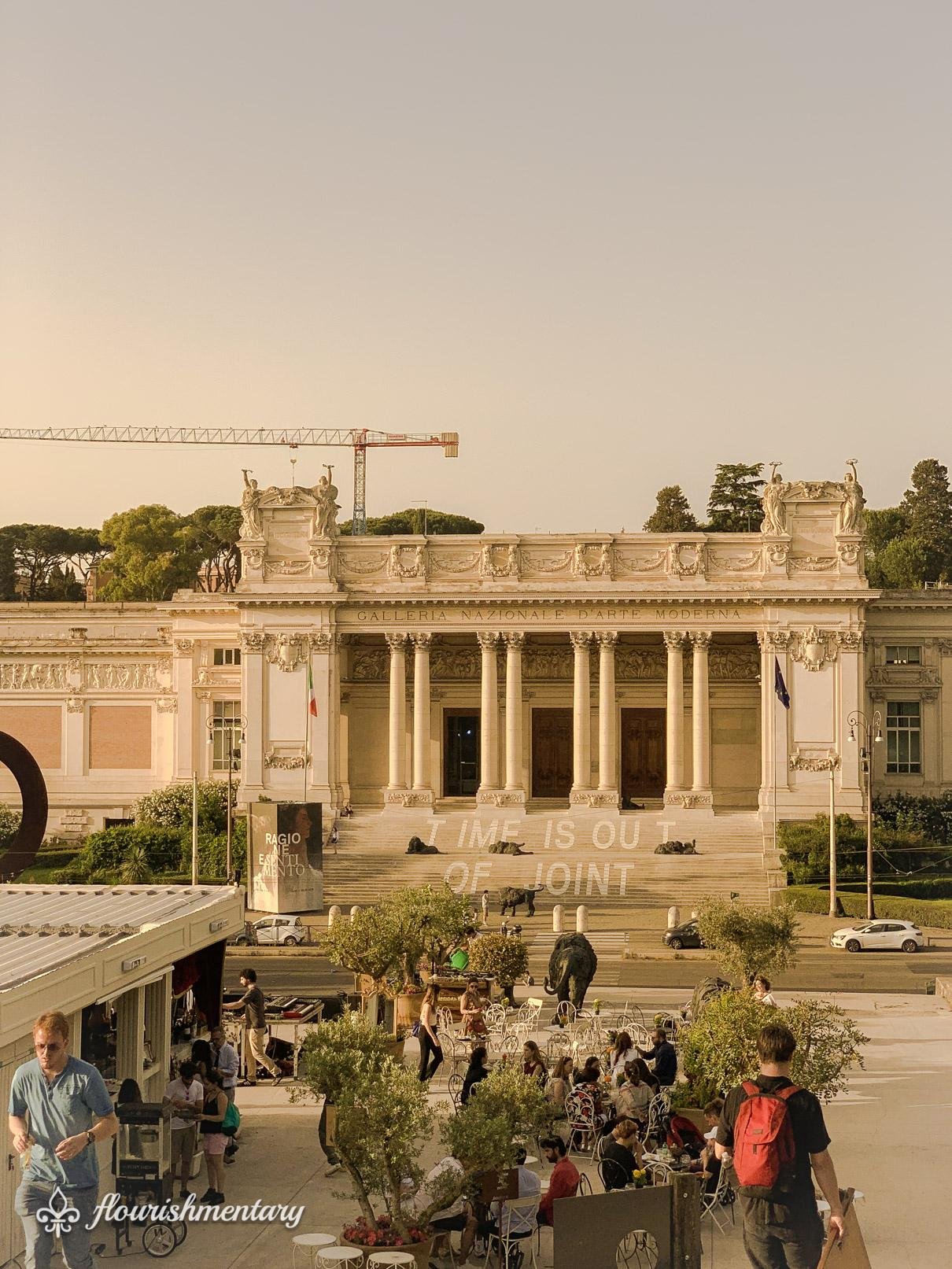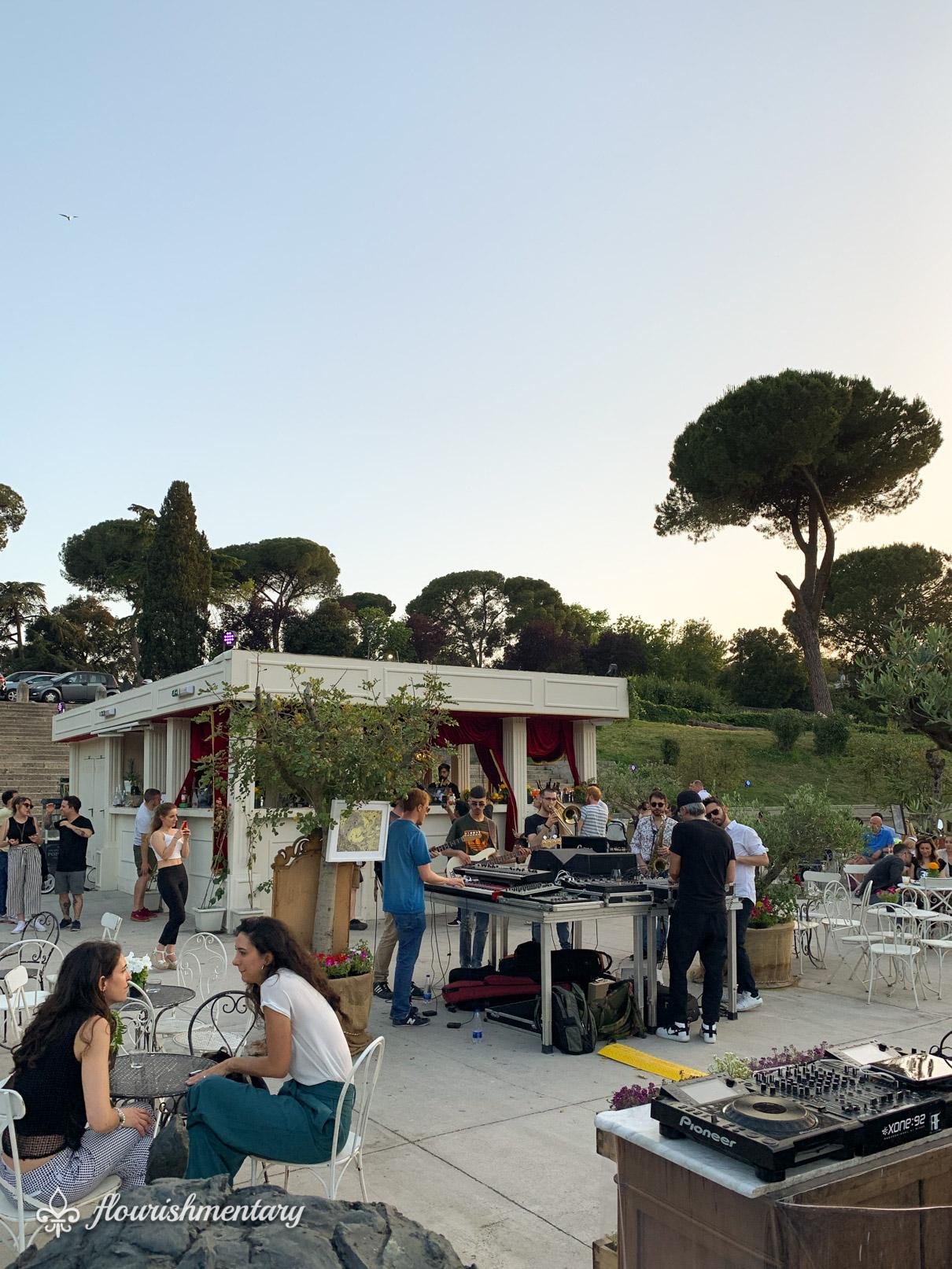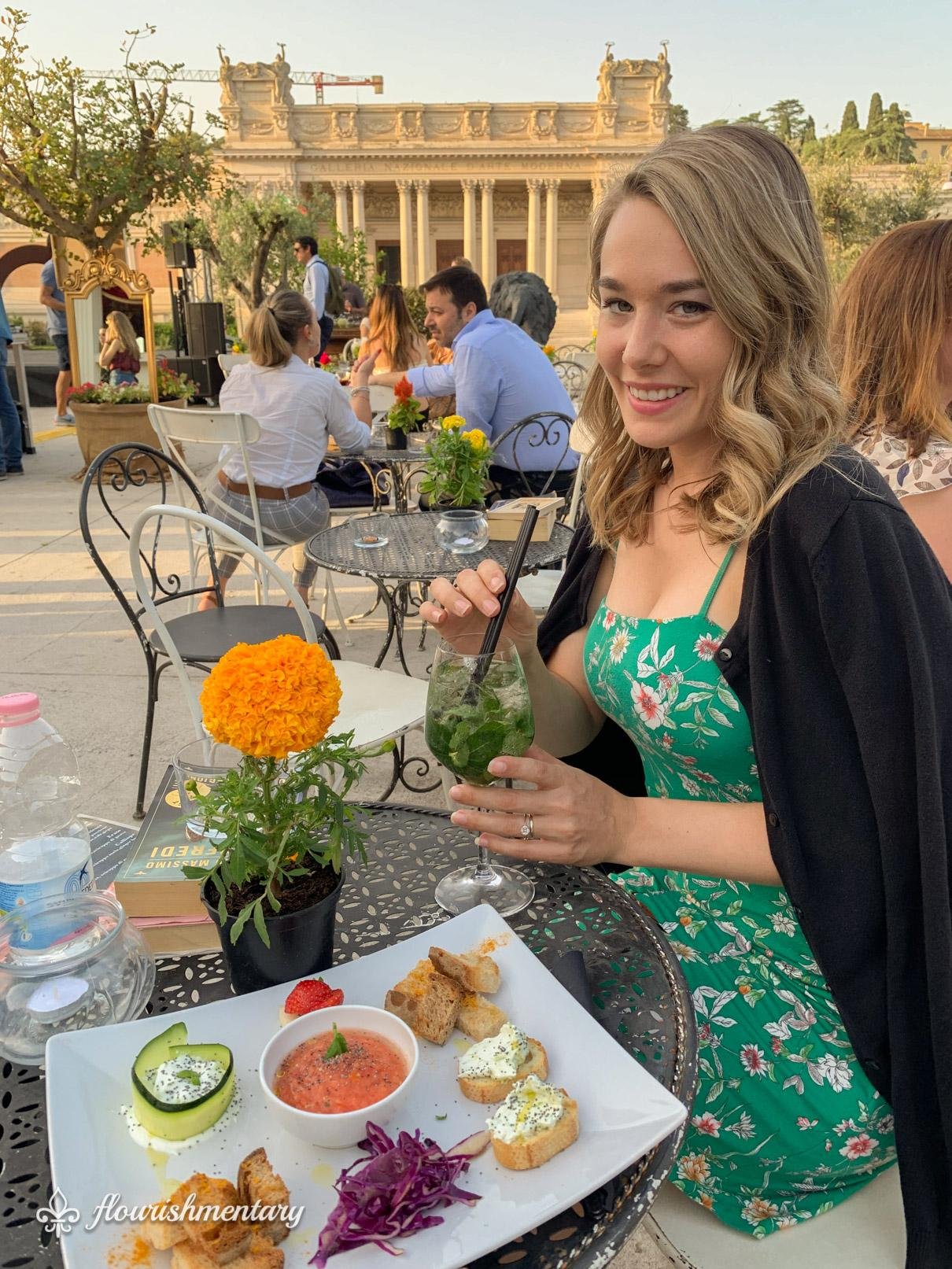 ---
Villa Borghese is one of the prettiest places in the world, and if you're looking for fun things to do in Rome, it should definitely make your list.
It's a great place to visit with groups or solo, and it's full of fun activities any time of the day. You'll see loads families playing with their kids, friends renting bikes, and writers scribbling away on the park benches.
If you have the chance to visit in the late afternoon, it's incredible to catch the sunset at the Pincian Terrace. Definitely one of the best ways to see "La Città Eterna" in all its glory!
Grab The Free Map Below: 7 Magical Sights In The Villa Borghese Gardens Rome
Find these 7 landmarks in the Villa Borghese Gardens with this guide via google maps.
Wanna know the best thing about using google maps while traveling? You can download your locations and view them without internet access! Beat that roaming charges!
Are you planning a trip to Italy soon?
If so, let me know if the Villa Borghese Gardens will make it on to your Rome sightseeing list. And who knows, maybe it'll keep you coming back, like it did for me!
And if you're down for some armchair travel, see more beautiful gardens across Europe by checking out: 10 Binge Worthy Shows About Palaces And Gardens On Netflix.