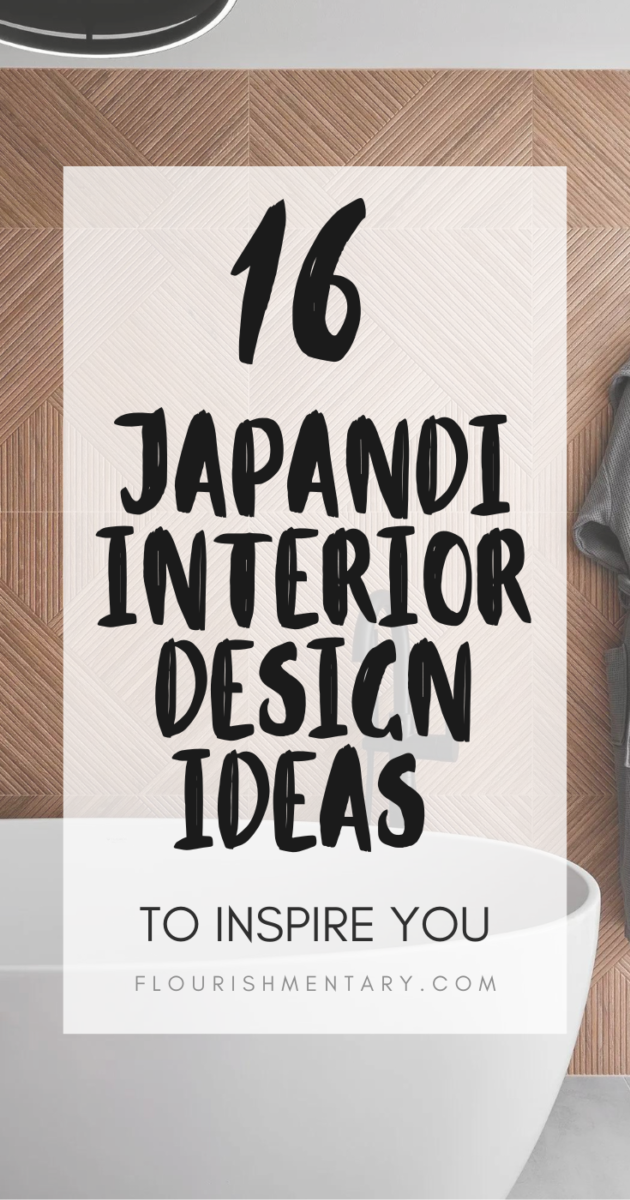 The most recent Japanism trend in the interior design world is "Japandi". Japandi interiors blend the philosophies of Scandinavian and Japanese design.
But what's it all about?
Historically, both Japanese and Scandinavian design have focused on creating spaces that are functional, peaceful, and in harmony with nature, but they diverge in a few ways.
The central idea of Japandi interiors is to create spaces that are uncluttered, yet cozy and warm.
This is achieved with simple lines and patterns, softened by natural materials and organic textures. The stern straight lines of the environment are paired with cozy, curvy (usually mid century modern-ish) furniture.
Scandinavian Vs Japanese Design
To identify what lies at the intersection of Scandinavian and Japanese designs, I thought it'd be useful to zoom in on what they usually don't share.
Simple Lines vs Patterns
While Scandinavian design is decidedly minimalistic and focuses on simple lines, Japanese design tends to incorporate complex patterns, textures and details.
The Role of Light
Scandinavian design originates in Northern Europe (Scandinavia is the geographical region that includes the countries Norway, Denmark and Sweden), a place where there isn't a lot of light, especially in the Winter. Therefore, in Scandinavian design there's a huge emphasis on large windows and skylights, as much sunlight into the home as possible.
On the other hand, Japan has some really sunny regions and it can get extremely hot in the Summer. Because of this, Japanese design often includes shoji screens to control the amount of light entering the space, as well as to define different living spaces.
Plants Inside the House
Both Scandinavian and Japanese designs value the role of Nature in creating a relaxing and peaceful environment, but Japanese design tends to incorporate plants through gardens and not really bring plants inside the home. Scandinavian design is instead famous for using plants to bring a pop of color and "organic disruption" to the otherwise muted colors and geometric interiors.
The Idea of Comfort
Minimalism and simplicity are the name of the game when it comes to these two design schools, but in Japan there's a real connection to the earth, with tatami mats, seating pillows and futons, whereas Scandinavian design is of course famous for its beautifully ergonomic furniture. For Western people, it's unusual or even uncomfortable to sit on the floor. That means that often times, one of the keys visual aspect of Japandi interiors is the merging of harmonious Japanese interiors with beautiful Scandinavian furniture. Another approach is to use platforms to elevate the sitting or sleeping areas that in Japanese furniture are on the floor, like in some of the examples below.
Japandi Interiors By Room
Let's take a look at some of my favorite Japandi style rooms I've found.
Japandi Living Rooms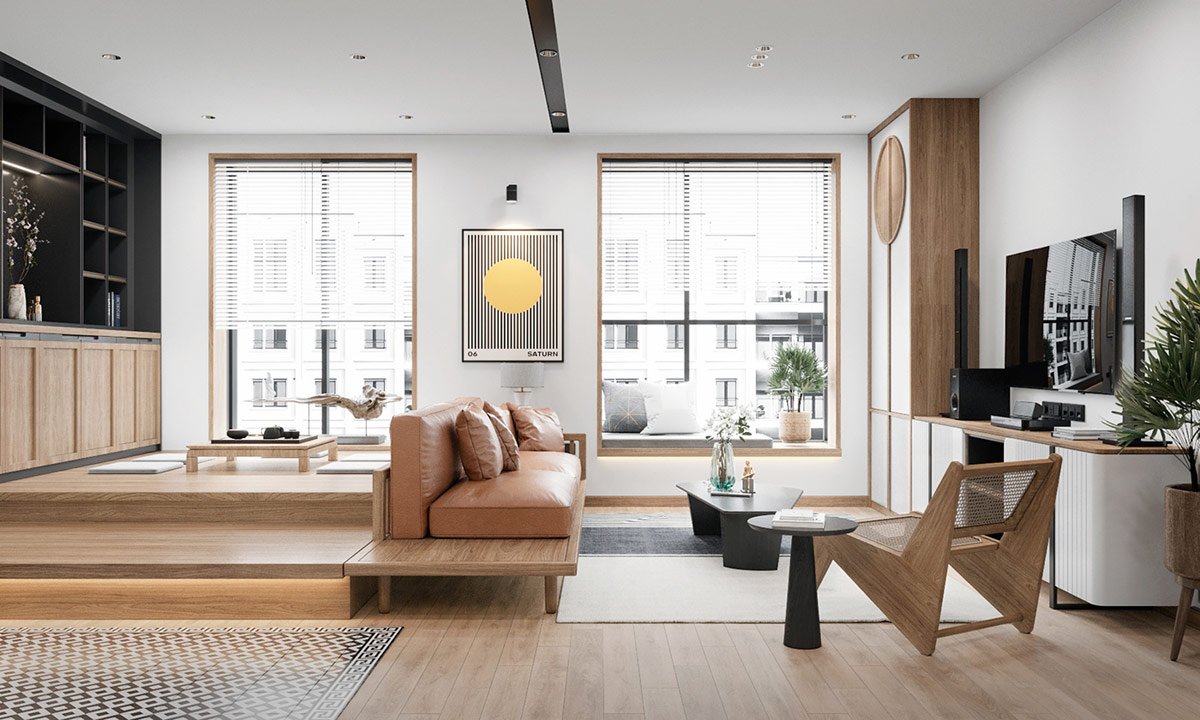 One of my favorite things about Japandi is platforms – they allow you to create the traditional floor sleeping or seating of Japanese design, but allow you to integrate it with Scandinavian style furniture, keeping everybody in the space at roughly the same height.
They also allow you to keep an open floor plan, but to "define" different areas of the space without obstructions.
---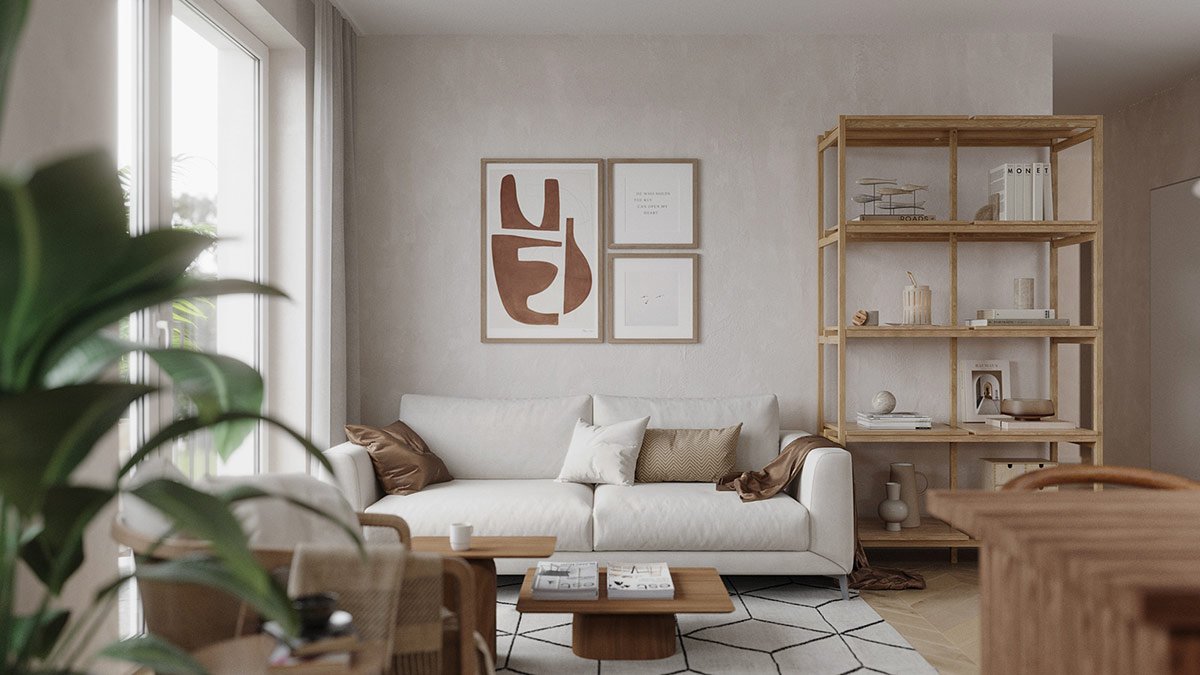 Natural textures, large windows and a house plant tie this living room together.
---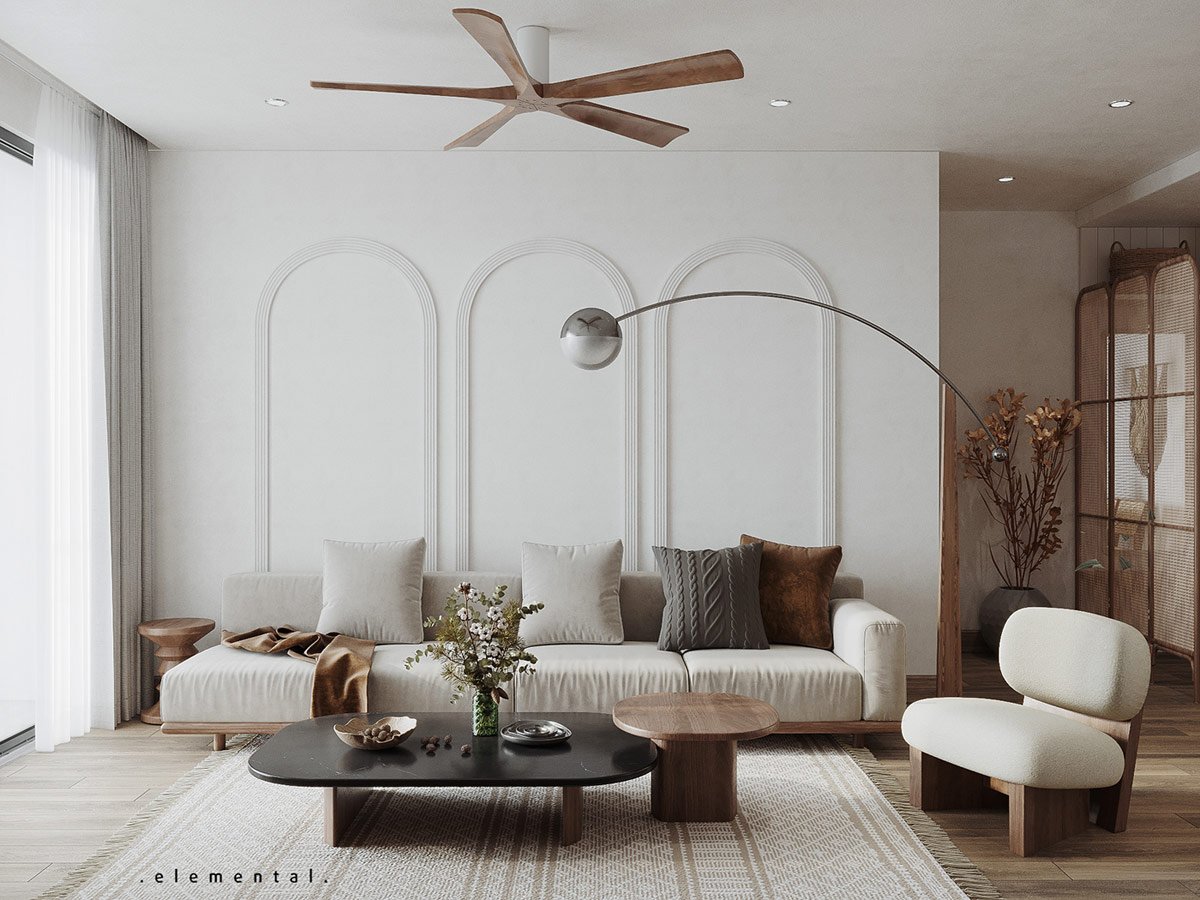 Another feature of Japandi design is curves. Curved coffee tables, furniture and even arches, like in the beautiful living room above are a hallmark of Japandi. (While I'm not a fan of ceiling fans, that one is about as stylish as they come)
---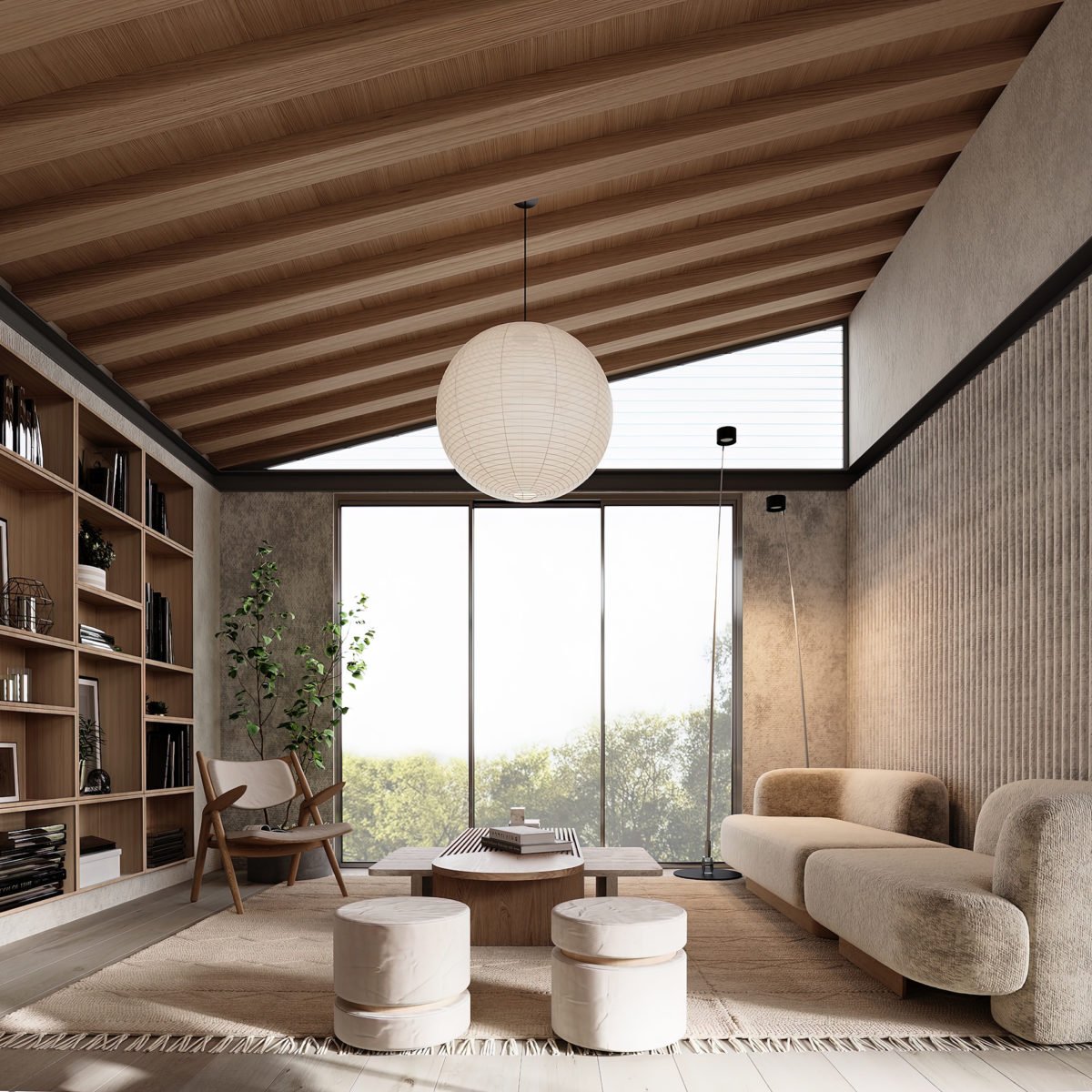 Lots of light, curved furniture, stylish built-in storage and a rice paper lighting fixture make this Japandi-style living room feel creative and modern. Note the texture on the walls which make what would be an imposing "empty" wall feel cozy and inviting.
---
Japandi Kitchens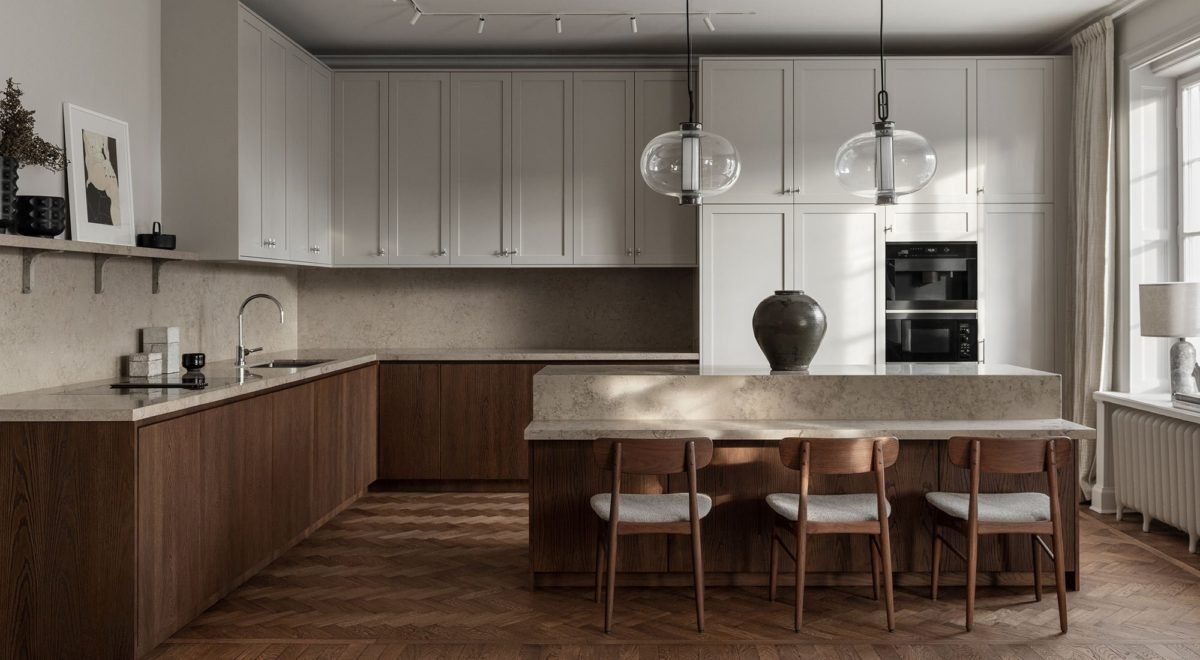 This beautiful Japandi kitchen plays with light, clean lines and the beautiful Chinese latern-style lighting fixtures. Notice how restrained the color palette is, which makes this kitchen especially relaxing.
---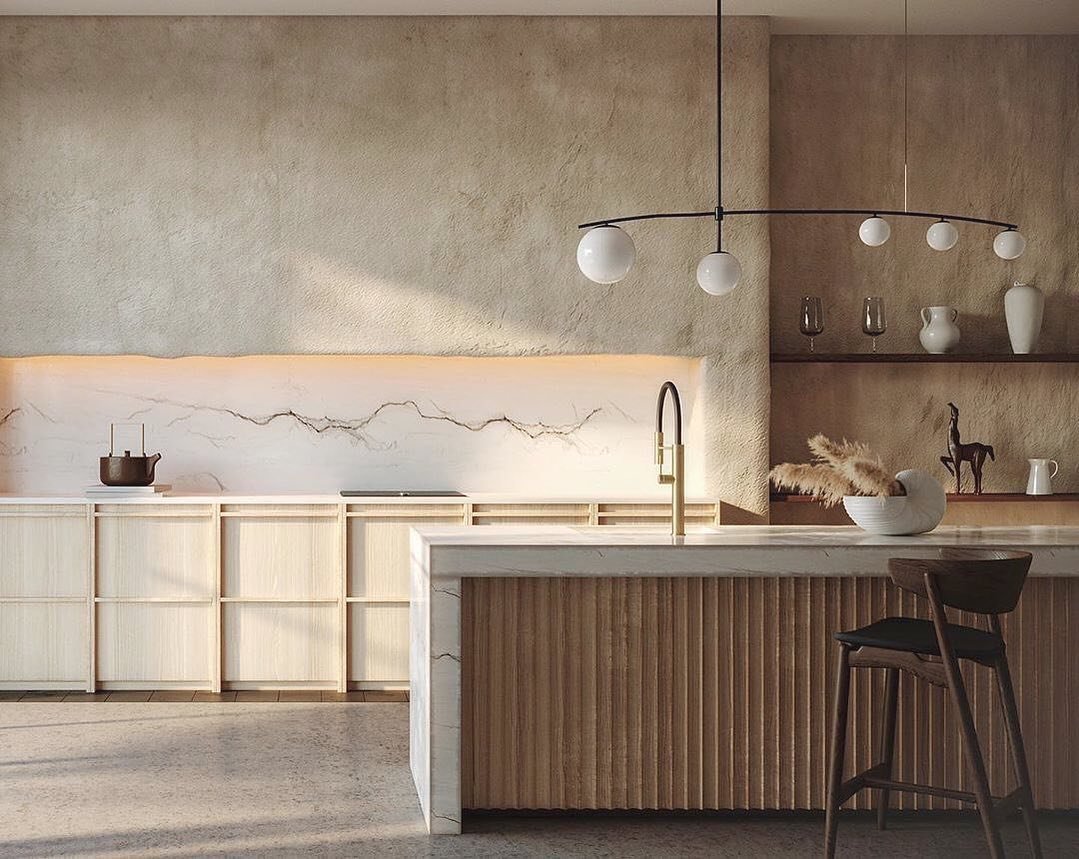 Clean lines, brass and black fixtures and that wall which is reminiscent of another favorite Japanism style trend, Wabi Sabi make for a relaxing and stylish Japandi kitchen.
---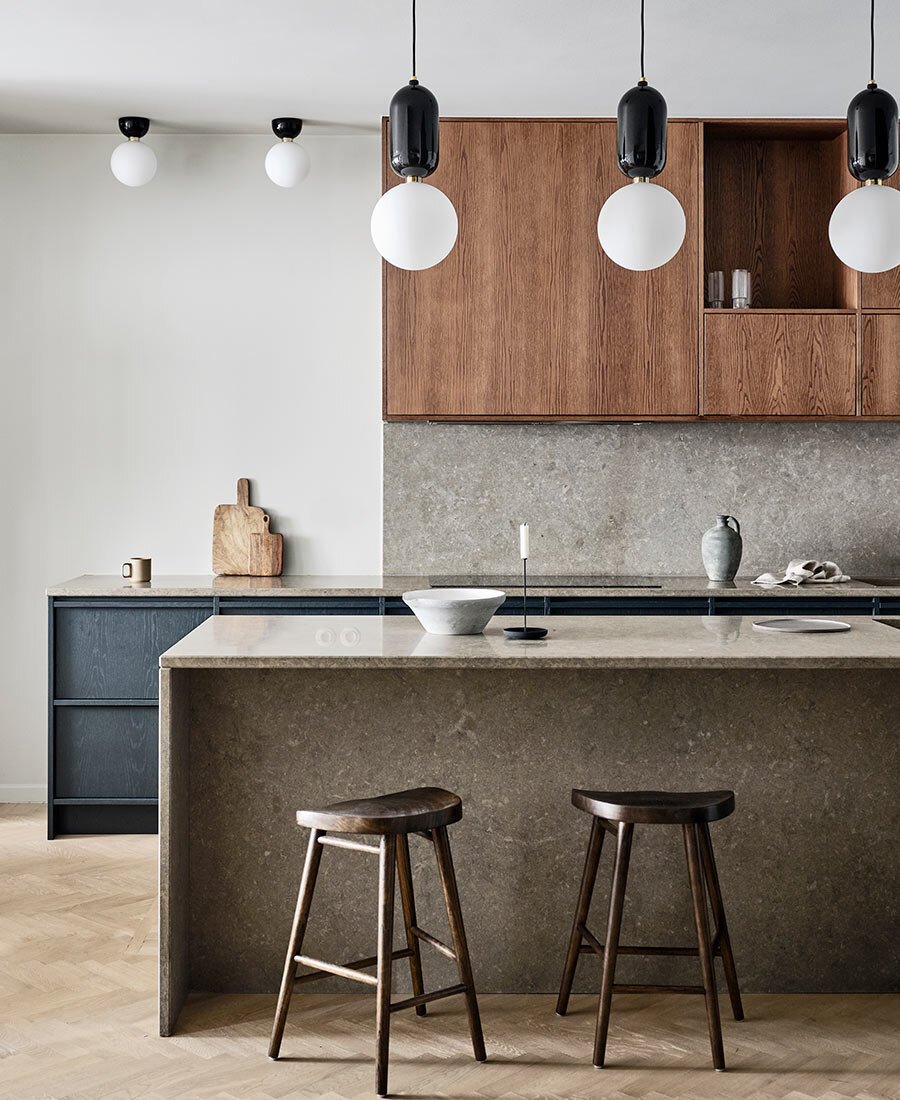 I love this kitchen! The light hardwood floors offset the darkness of the stools and cabinets. The little pop of blue in the lower cabinets (while retaining the wood grain) creates a unique and "designed" feel for this decidedly Scandinavian kitchen.
---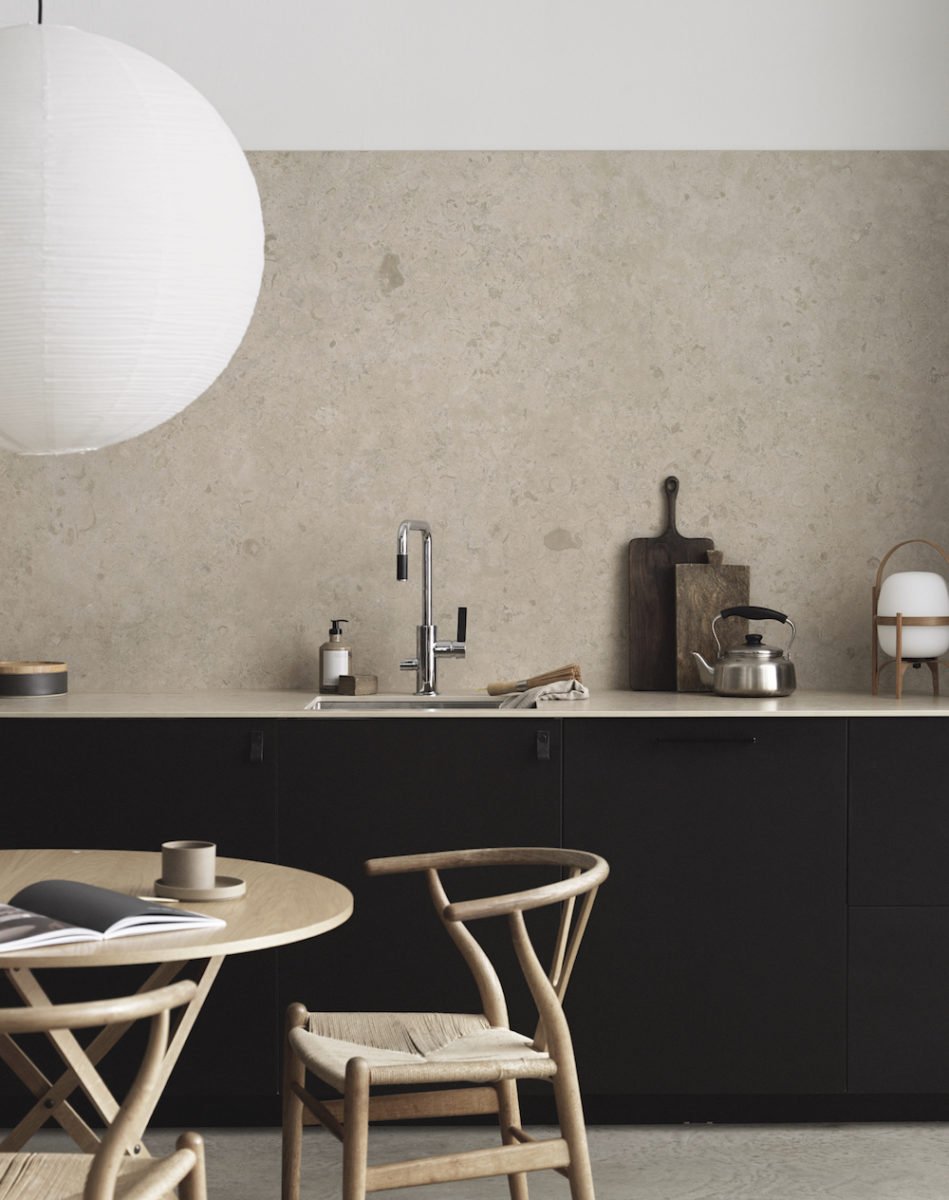 No upper cabinets in this kitchen. Just a beautiful textured wall. The dark cabinets with the leather pulls are absolutely perfect. Not sure how functional this is but when it comes to style, this kitchen is second to none.
---
Japandi Bedrooms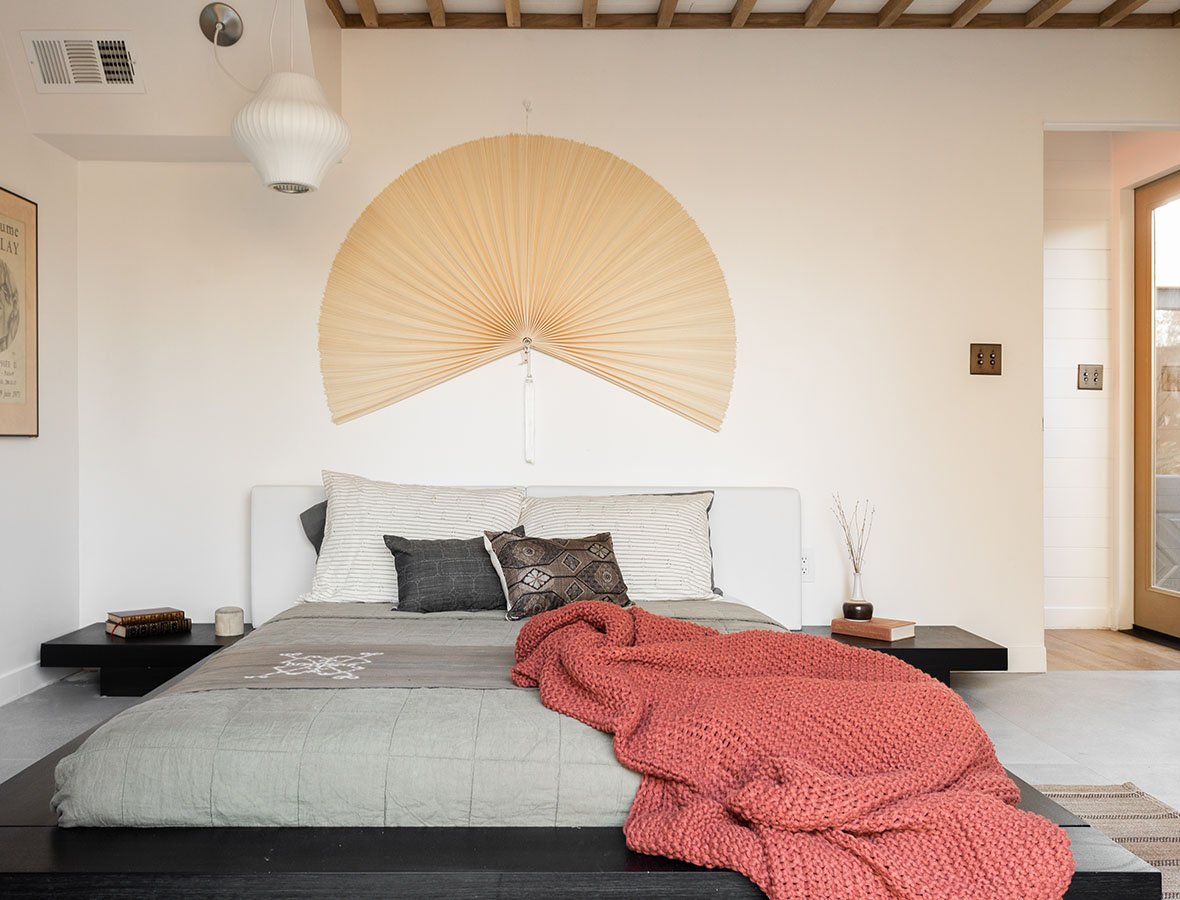 This Japandi-style bedroom plays with the cozy textures and the platform bed. Also notice the slats in the ceiling, another feature common to Japandi interiors.
---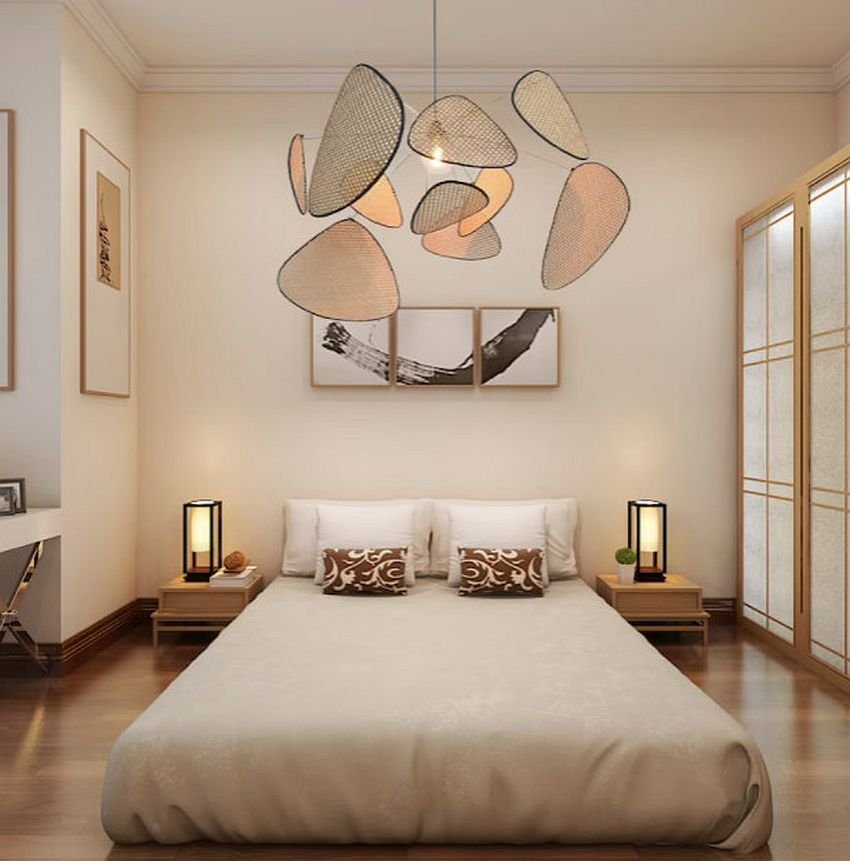 The shoji screens, the wood floors, low bed and—especially—the statement lighting fixture in natural fiber make this an attractive and slightly less minimalistic Japandi bedroom
---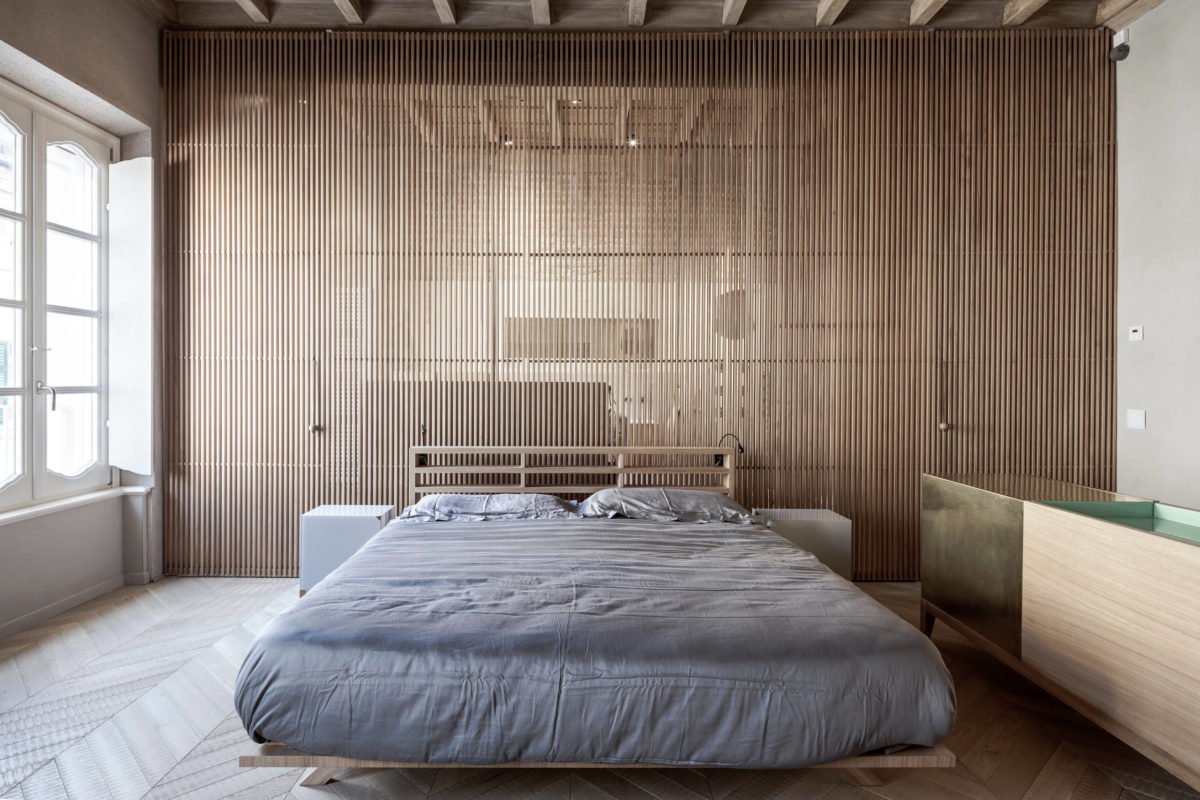 This stylish Japandi bedroom in Milan is stunning! The bamboo screen hinting at the space behind the bedroom ties together the different types of wood used for the flooring, the platform bed and the cabinets. Add to those features plenty of natural light and… what's not to love?
---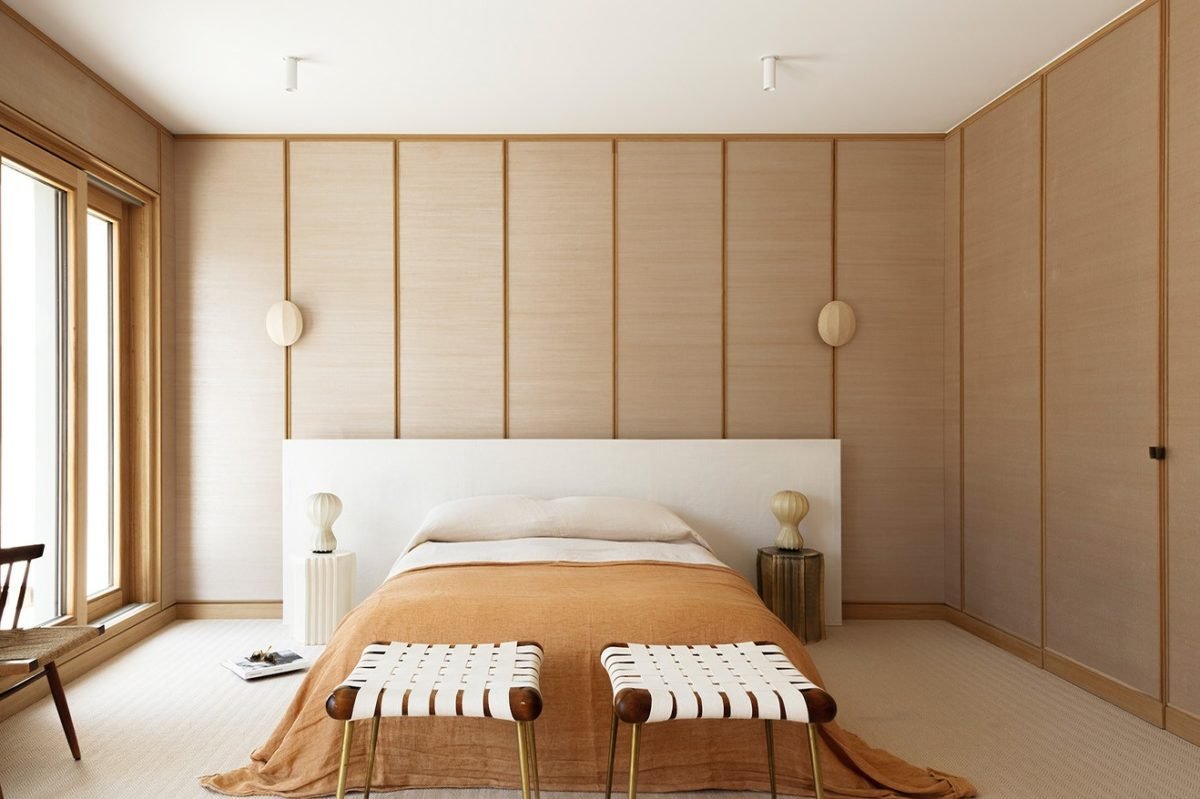 This bedroom feels in some ways more understated than the others, but its incredibly cohesive design language and the restrained color palette make it feel very, very relaxing.
---
Japandi Bathrooms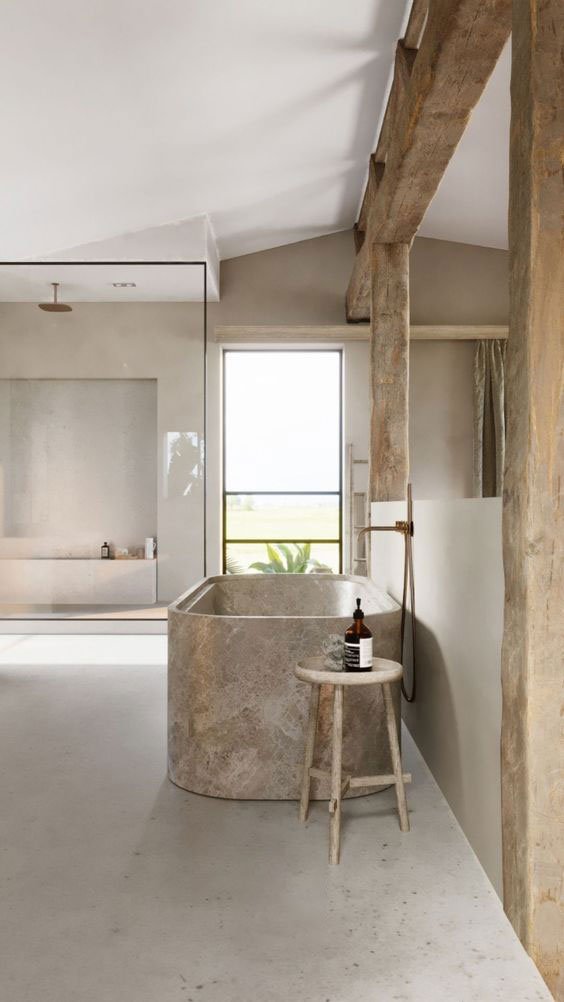 Natural wood beams and a concrete color bathtub create a cozy and refined bathroom.
---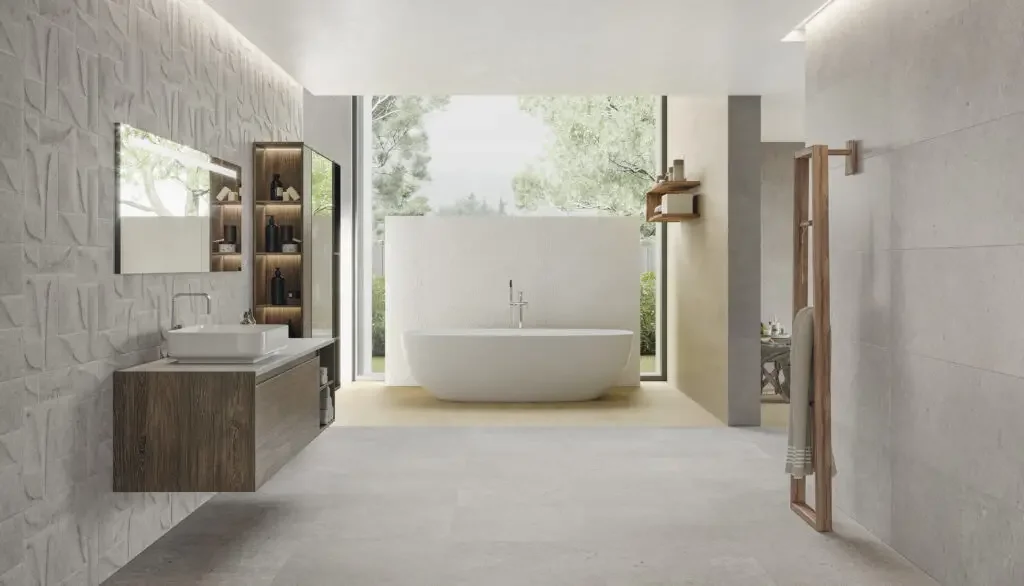 Wood, textured tiles, wooden towel rack soften the straight lines of this bathroom. Lots of natural light from the huge window.
---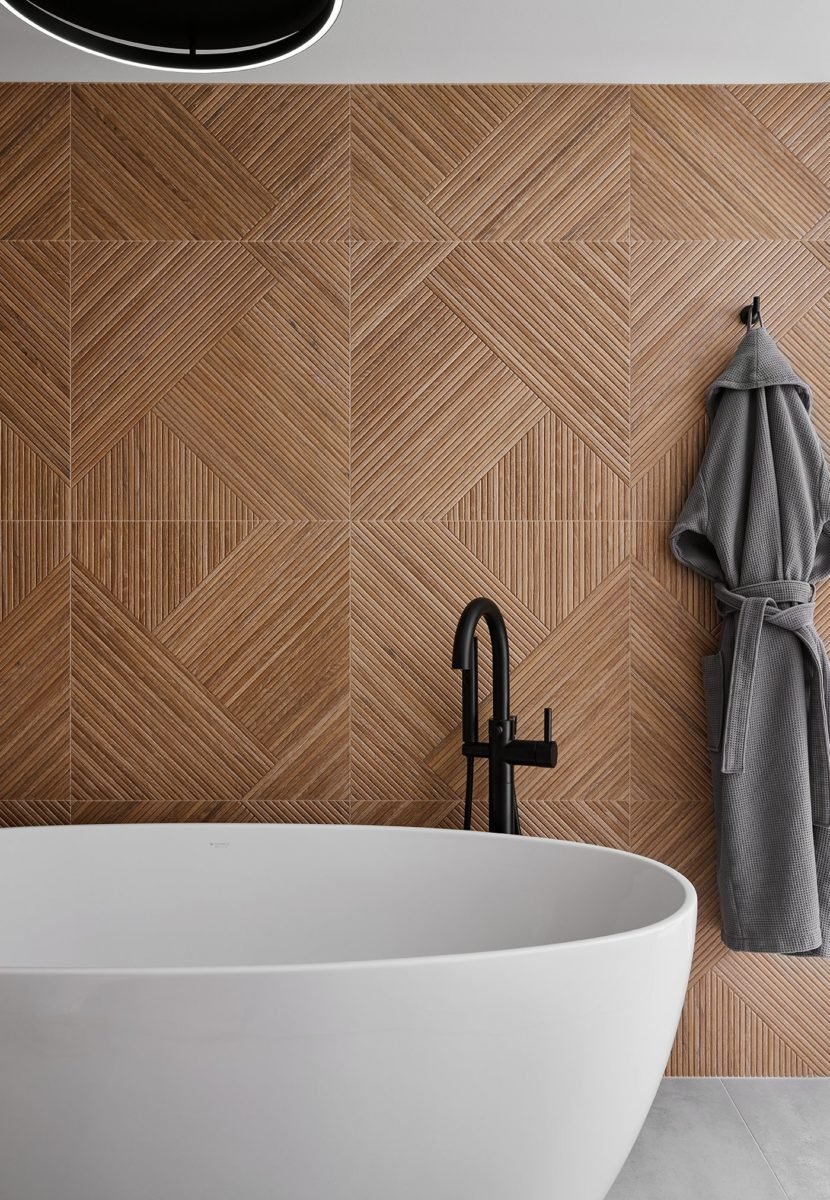 Stone freestanding bath tub and a stylish faucet, but the star of the show is undoubtedly that textured tile. Reminiscent of wood, it warms up the whole bathroom.
---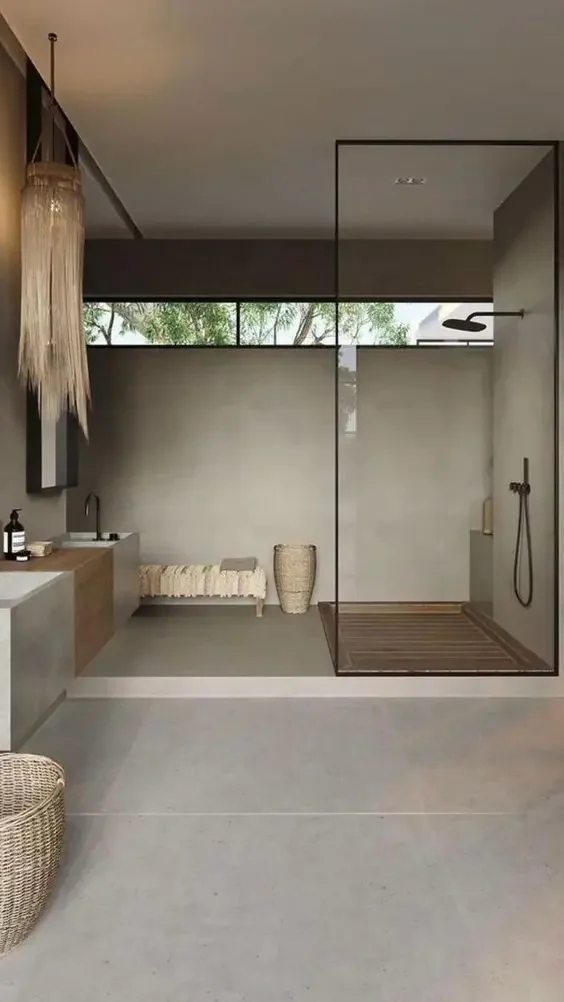 This bathroom is modern yet warming, lots of natural fibers everywhere again. Here we see another big trend in Japandi bathrooms–a wooden slat shower base.
---
In Conclusion
I hope you've enjoyed these Japandi interiors! I love this design trend (almost as much as Wabi Sabi), and I hope you like it too! Want to know how to create a Japandi-style interior in your home? Check back soon for a post about that!