This isn't about remodeling your bathroom – this is about a metamorphosis. An evolution of the very meaning of your bathroom space.
A shift from just a place to brush your teeth and shower to an environment of pure relaxation and serenity. And the best part? You won't have to pick up a sledgehammer!
Picture coming home after a long day of work, entering your bathroom, and feeling like you've just stepped into a boutique spa. This is totally possible and easier than you might think.
Grab a notepad and pen, because you're about to embark on a journey to transform your bathroom into a personal oasis of calm and rejuvenation. Your very own spa.
Let's roll up our sleeves and dive in with these easy tips on how to turn your bathroom into a home spa!
1. Bathtub Caddy Tray: Your Tub Time Companion
Start with the bathtub – the heart of the spa experience. If your bathtub is lacking a caddy, you're missing out on some serious chill vibes. These handy items can be found in a variety of styles to match your bathroom's aesthetic.
A caddy provides the perfect place for your glass of wine, a good book, or a scented candle. I didn't think I'd like it, but it's now a truly essential companion for those long, relaxing soaks​.
---
---
2. Shelving: The Magic Touch
Next, consider the organizational magic of shelving. Even in the smallest bathrooms, a few tiers of open-shelving can make a world of difference.
When done right, they can make any items you have on display look purposeful and planned!
Add some baskets for towels, fancy soaps, and a decorative accent or two, and voila! Your spa retreat is starting to take shape​.
---
3. Artwork: The Eye-Candy
Art isn't just for living rooms or bedrooms, don't underestimate it's power to enhance the bathroom too.
A large print or a gallery frame design is one of the best ways to fill a blank wall. It definitely adds some intrigue to your design while making it feel more complete and welcoming!
Pro tip: Avoid using glass covered paintings in bathrooms which will have to be wiped down frequently due to moisture.
Go ahead, and hang that abstract painting or serene landscape canvas photo above your tub​ instead!
---
4. White Color Scheme: A Clean Slate
There's something about an all-white bathroom that screams cleanliness, brightness, and purity.
Consider painting your walls white or a warm off-white, and select tiles, cabinets, and even towels that echo this monochromatic color scheme.
---
5. Cohesive Dispensers: The Streamlined Look
This one's a game-changer.
Pour your soaps, shampoos, and lotions into a set of matching dispensers. It's a breeze to execute and instantly elevates the look of your bathroom.
Plus, it's a great way to hide those garish shampoo bottles​​. In the vein of AESOP soaps, warm brown bottles are all the rage for a spa like feel.
---
6. Gold Accents: A Luxurious Touch
For that touch of sophistication and luxury, consider incorporating gold accents throughout the bathroom: cabinet handles, soap dispenser, mirror frame, towel rack, etc.
It adds an upscale feel — but don't go overboard​! You can concentrate the look to the vanity or shower.
Some of you may not be a fan of gold accents, but they look amazing when contrasted with the muted colors of natural materials.
---
7. Fancy Towels: The Plush Comfort
Invest in fancy towels. They're not just for drying off – they're part of the experience!
Imagine wrapping yourself in a soft, plush towel after a relaxing bath. It's like a warm, comforting hug.
And, if displayed well, they can also be part of your bathroom decor​​. Get a high quality cotton, or a waffle texture which is all the rage.
For color, definitely stick with a white or neutral beige. They will keep you bathroom looking bright and airy with the spa like feel!
---
8. Plants: The Breath of Life
Spas often have a natural feel, so why not add some greenery to your bathroom?
A hanging plant near a window can elevate the space, and if you don't have a window, opt for plants like spider plants or Boston ferns, which thrive in low-light settings​​.
Better yet? Get a dose of spa time by hanging a eucalyptus plant above the shower head. It works with the steam to create a natural diffuser, every-time you shower!
---
9. Add a Doorless Shower: Style and Function
If you have the budget and the time, you should consider remodeling your bathroom to add a doorless shower. These showers are not only stylish and modern, but they also provide ease of use and a sense of spaciousness.
No door means a seamless transition from the rest of the bathroom to the shower area, enhancing the flow and openness of the space.
As a bonus, doorless showers are easier to clean and more accessible, accommodating people of all ages and abilities. They are super trendy lately because they look so good and they're easy to clean, but you do need the space for one.
---
10. Rainfall Shower Head: Hugged by the Water
Nothing like a big rainfall shower head, to enhance that luxurious feeling in your shower!
A good shower head makes all the difference, since it adds a better water flow! You will be warm and cozy the whole time.
Just make sure to choose with with a shiny finish, as opposed to matte – it is easier to keep clean!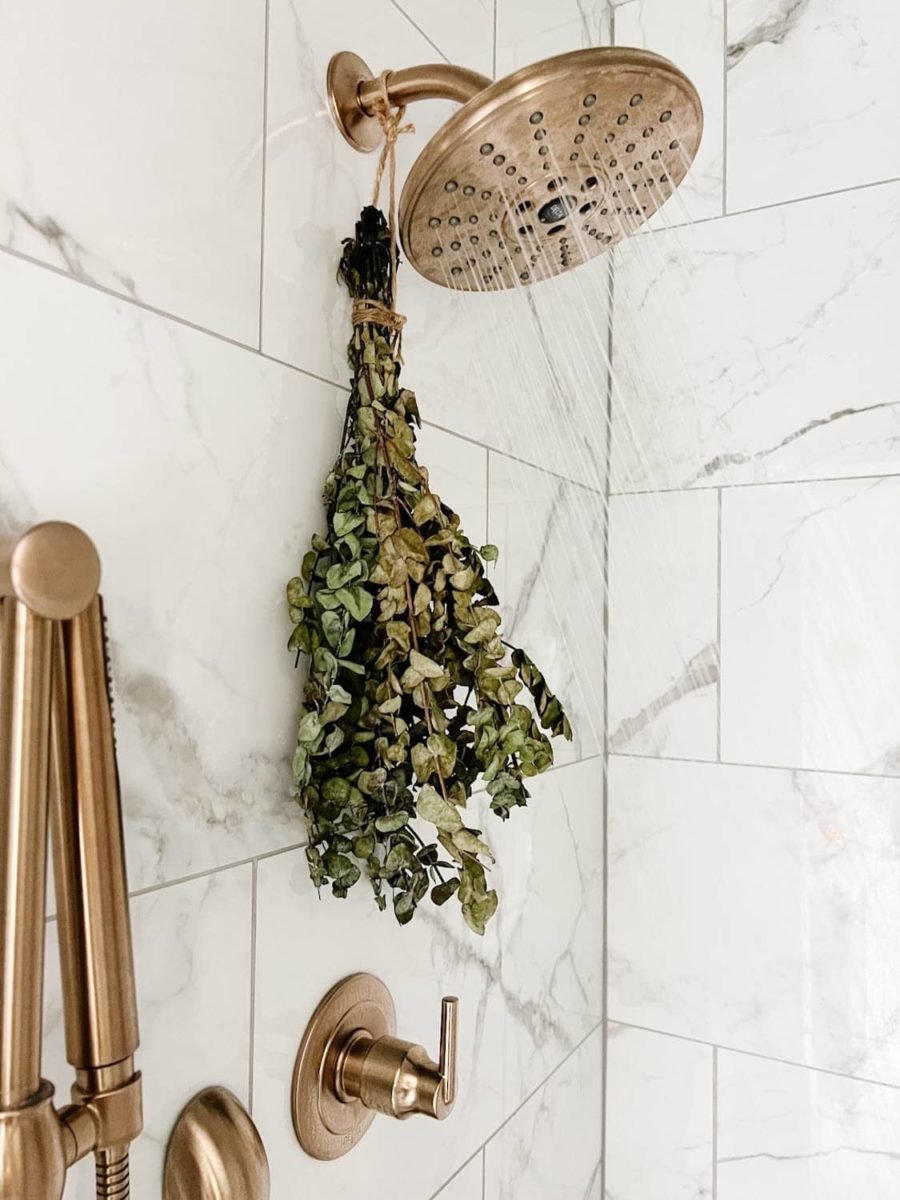 ---
I hope you enjoyed these quick and easy ways to turn your bathroom into a spa!
Just using a handful of these are a surefire way to make sure you can relax and recharge when everytime you visit the bathroom!
Which ideas are you planning to try at home? Let me know in the comments below how your new spa bathroom turned out!