There's nothing that says cozy, like the comforts of Grandma's house. So it's no surprise that heavy florals, and kitschy decor have made their way into a new generation of Granny Chic decor lovers. Also known as being a "Grandmillennial", there's a new generation full of 20-30 somethings who love the look of lavish comfort, and everyday elegance.
I knew I wasn't the only other anti-minimalist out there, who thought the bare bones decor style wasn't the hallmark of my generation. And luckily, these Traditional decor lovers are finally getting their due credit. Was it a knee jerk reaction to the whole scandi decor phenomenon? Maybe. But is it helping us to put more of our personalities back into our homes? Definitely.
But first, what exactly is Grandmillennial decor? The pulse of this look, combines eccentric maximalist styles, with the elegance of English country. It's the look of "Grand Living", but makes you want to kick off your shoes and stay a while. In this guide, I'll walk you through 10 simple ways to get the Grandmilleinal look in your home.
1. Cheeky Needlepoint & Cross Stitch Decor
How many of us have seen one of those sweet "Home Sweet Home" cross stitch patterns framed in the kitchen? Yep, these are not those…
These funny cross stitch artworks with cheeky quotes, will make anyone crack a smile. Some of my favorites are hip hop lyrics, and funny reminders that you can find on everything from wall art to pillows.
---
2. Trellis Prints
Why is Trellis print a staple of Grandmillennial decor? Because it gives you relaxed feeling of a garden, without any of the pruning!
Trellis prints are a staple of Traditional decor, and they look great with another Granny Chic favorite: Florals!
---
3. Floral Bedding
I know what you may be thinking: Florals? For spring? Groundbreaking….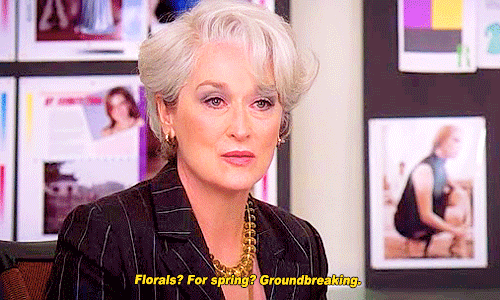 All jokes aside, Laura Ashley was the queen of Granny chic floral prints, when the British brand hit it big in the 1980's.
Since then, you can find updated Laura Ashley floral patterns with modern designs and color palettes. These bedding sets are an easy way to give your room an elegant country vibe.
---
4. Rattan Chairs
Rattan chairs are have come back in a big way, and I seriously regret selling off my grandma's rattan bar stools when we moved to LA. This wooden look adds the perfect sense of warmth to any space!
Hanging rattan chairs are also getting more popular than ever, because nothing says "Grand" like a statement chair that everyone wants to sit in when they come over.
---
5. Ginger Jars
Chinoiserie style is another classic Grandmillenial look, and a pair of Ginger Jars will instantly give your space that worldly look.
Blue and white is always a classic Granny approved color combo, and you'll notice that these pretties look even better in pairs. ?
---
6. Banana Leaf Print Decor
À la the renowned Beverly Hills hotel, the Banana leaf print was made famous by legendary designer and inventor of the "Modern Baroque Style", Dorothy Draper.
The Banana leaf print is a perfect way to add a touch of Palm Beach chic, and looks just as fabulous on wall murals, as it does on throw pillows.
---
7. Pleated & Bell Shaped Lampshades
I don't know about you, but the familiar texture of pleated lampshades really reminds me of a weekend at my Grandmas house.
Bell shaped and pleated lampshades make your lighting look even more cozy, and it's one of the easiest ways to give your space the classic Grandmillennial aesthetic.
---
8. Floral Chintz Tea Set
They're not just for serving our stuffed animals anymore! These floral chintz tea sets are another granny chic decor trick, to add pops of color in your kitchen.
Plus, who wouldn't love serving up a pot of Earl Gray in one of these pretty little pots? Tea anyone?
---
9. Gold Leaf Mirrors
Nothing says "Grand" like a big gold mirror, and it makes sense that Grandmillennial decor lovers use them to set the tone of a room.
These Granny chic golden mirrors can give your space the right vintage decor touch, to really make a space feel like home.
---
10. Ruffles Bedding & Pillows
At the end of a long day, we just want to dive right into a cozy space, right? That's exactly where the granny chic appreciation for ruffles comes in!
When choosing ruffled bedding and accessories, look for light colors and soft textures, that will adding some serious warmth to any room.
---
Thanks so much for reading this granny chic decor guide, that will help you get the Grandmillennial look at home.
Are you a fellow Grandmillennial? If so, let me know in the comments below. You know we have some strength in numbers around here!?