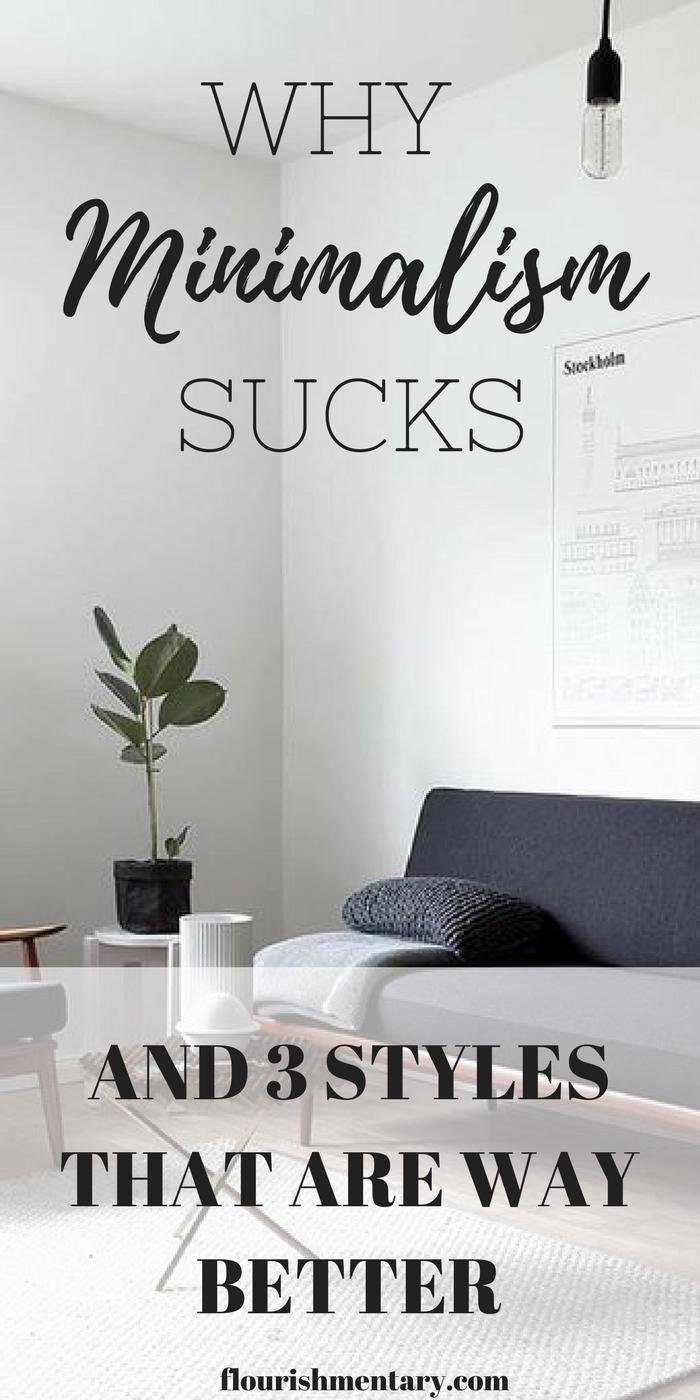 It's pretty much impossible to flip open a design magazine, browse Pinterest, or pop into Target without the minimalism manifesto taking center stage.
With the rise of tiny homes, micro apartments, and Scandinavian style (covered in succulents), has come the brainwashing concept that "less is always more".
While I hate to be a traitor to my generation and all, I think it's high time for the fall of this simplistic design regime.
The world is ready for Anti-Minimalism to wash over the design landscape once again, breathing cheer & charm back into our homes.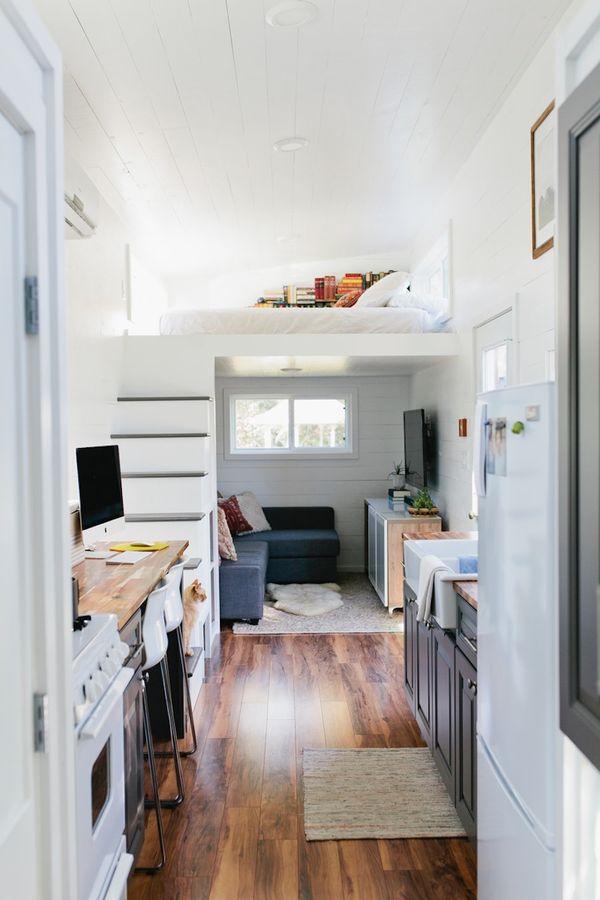 ---
The Minimalist Mass Appeal
I get it- we all have busy somewhat overwhelming lives. The thought that you can simply prune your material possessions, until you reach a state of bliss is a nice theory.
Especially since it's challenging to decorate a room, the thought that Minimalism will save you some stress is an attractive notion. But it's a notion that doesn't exactly hold it's weight.
Our desire to have our eyes delighted and entertained doesn't easily goes away. Minimalism is all about living as your most efficient self, but efficiency doesn't always bring about happiness.
Often those trying out minimalism will begin to feel a void in their home, and try to fill it again (with stuff), hoping to regain their sense of self.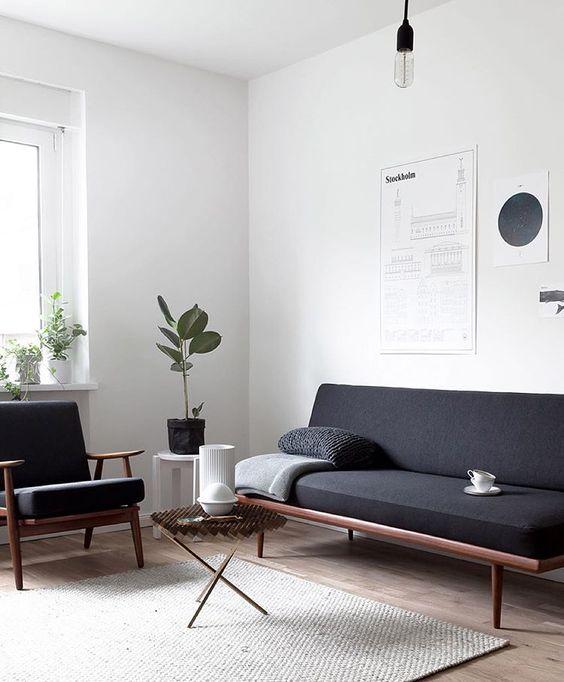 So why do this to our selves in the first place? Maybe it's our way of trying to break away from our over stimulated lives. Perhaps an overcorrection after the pre recession days of 'McMansion' style homes?
To better understand the Minimalism attraction, and to illustrate alternatives, we have to start at the beginning of this barren movement.
---
What is Minimalism?
Beginnings of Minimalism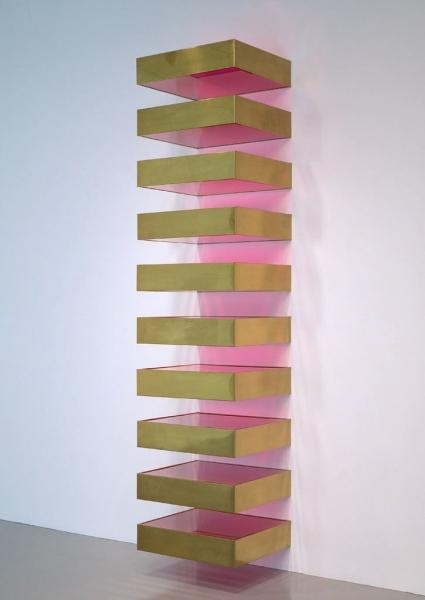 Funnily enough despite it's popularity today, the concept of 'Minimalism' had a pretty lackluster beginning.
The phrase was coined to describe an obscure artistic movement in the 1960's, and it was definitely not meant as a compliment. In fact it was often used to describe art works that were minimalistic in the amount of actual art they showed.
So yeah, it was pretty much a critics way of saying the "art"in question wasn't really art at all. Kinda exactly sums up my sentiments on minimalistic interior design….
---
Minimalism Today
Today Minimalism has evolved, and has become as a lifestyle approach. It's an attempt to help people to cut the clutter, and rid themselves of any unnecessary items "weighing you down". The overall hopes is to get a more soothing, streamlined aesthetic in the home.
The influence of popular Nordic and Scandinavian style designs, with bare walls & simple wooden furniture, were incorporated as a way to reconnect with our ancestral roots, and bring about a calm and serene tone.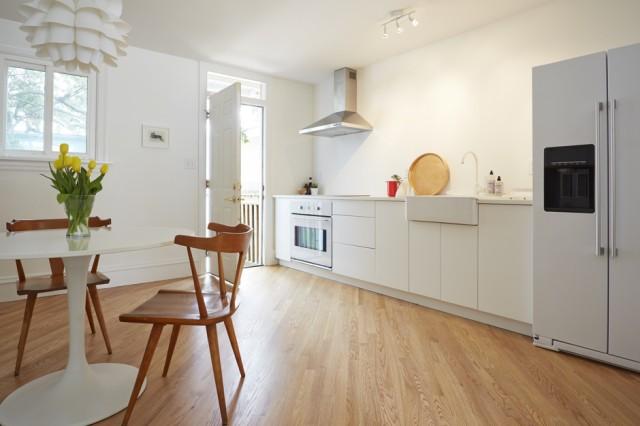 And while that idea is all well and good, I have to seriously wonder- at what cost?! Is it really making anyone happier to stare at a such a blank space?
The downfall of Minimalism is that it pushes this concept to it's limits. Of course it's great to rid your home of excess clutter, and not hang on to things you don't use, but throwing out your diploma because you don't look at it daily, may be going a bit too far.
Perhaps all those people who embraced the minimalist trend and aren't experiencing the joy they've been promised, should have simply had a little garage sale instead of overhauling their entire homes.
---
Why Minimalism Doesn't Work
I don't know about you, but being in a minimalistic space is far from relaxing to me. Without fail, a feeling washes over me of bleakness, as I imagine what could have been in the lifeless room.
Minimalist decor feels dull, generic, and void of any real human expression. But why is that? It's because our minds crave something when we want to feel comfortable and at ease, and with minimalism that thing is missing.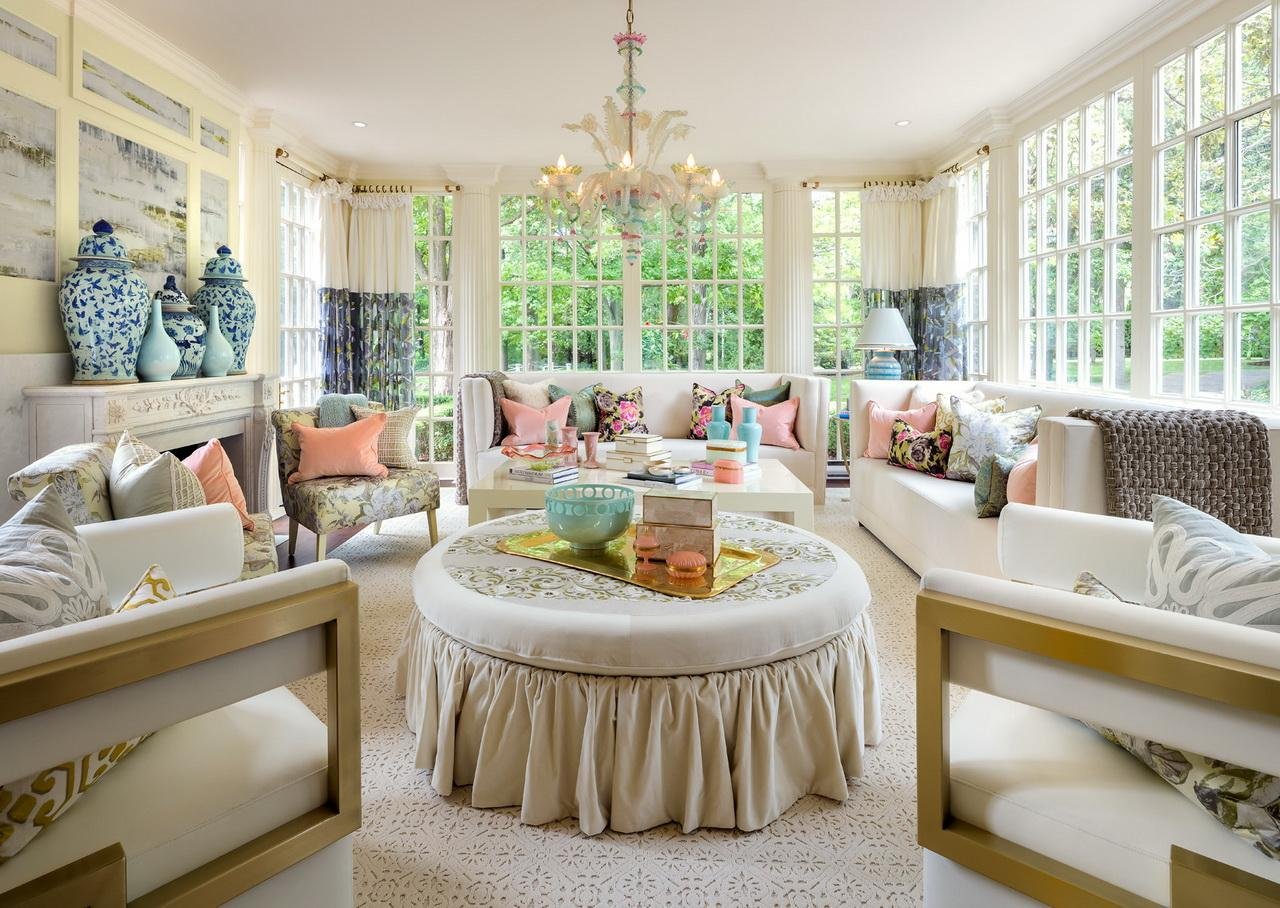 In the quest for minimalistic style, people sacrifice things they don't "need", but that represent their life experiences. Troves of papers, travel mementos, and books you adore but never re-read are usually the first to be down sized.
But that connection to our past shouldn't always be washed away, because seeing those things can bring us joy. They can serve as a gentle reminder of who we are, and what we value.
And no, I don't think this means you should necessarily display your grandmother's clown figurines (lord knows my grandma has a lot). However, there is always a stylish ways to incorporate your important treasures, in an elegant way.
Purging all of you possessions for marble succulent holders may seem like the easy way out, but over time the blankness will become an eye sore.
In design, our eye needs to be carried across the room, and with minimalist design styles they are left wanting- you guessed it- more!
Fortunately there are some great solutions for getting that clean and elegant vibe in your home without tossing out all use of color, fun textures and patterns.
---
Anti Minimalism: Why More is More
Minimalism is about efficiency, but you're better off streamlining your office space, or area where you work. Your living areas are best enjoyed when they reflect your style and creativity, as an inviting space.
Because we are used to a fair amount of stimulation in our everyday lives, our eyes are happy when we find the right amount of layers and patterns to carry the eye. Our eyes are used to it, so they have come to expect it.
You can certainly achieve this look without a ton of clutter, and end up with a space that is well balanced and chic.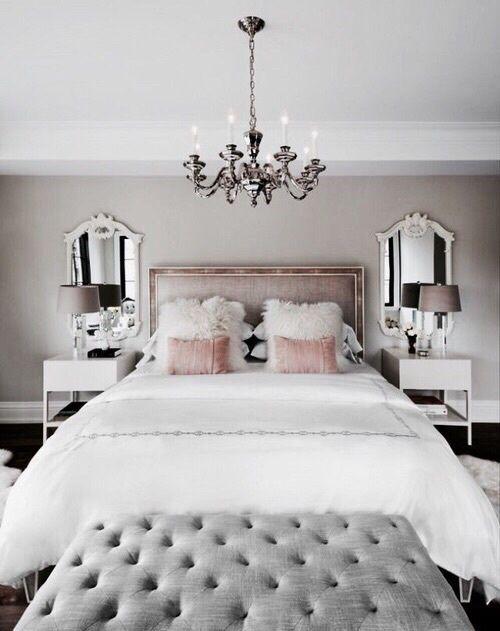 Anti Minimalism isn't about going over board for the sake of it, it's about displaying your taste, and individuality. Its about creating the perfect mood, by surrounding your self with the things that you enjoy looking at! Your space can be elegant and personalized without being minimalistic and bare.
Sure, it can definitely seem like an attractive option to buy everything at Ikea that's laid out for you. But it feels even better when you surround yourself with your favorite styles, memories and interests that makes you feel at home.
---
Perfect Alternatives To Minimalism
Anti-minimalism is all about carrying the eye, and there are a ton of elegant ways to pull this off, while keeping the room composed and classic.
Here are a few interior design styles that make simplicity look chic & elegant, instead of empty and bare bones! These looks, are inviting and fun without being over the top.
1. French Apartment Style Interior Design
While it helps if you've got some lovely architectural details to work with, the simple chandelier works wonders in this bright and airy space. It's accentuated with lovely curved furniture, and little antique knick knacks. It achieves a full look without being cluttered.
This stylish Parisian flat room incorporates muted tones like beige and cream, with pops of color from the pillows, throw, and plants. It's crisp, clean, and classic- a perfect balance of french apartment perfection. For easy tips on how to recreate this look, visit my guide: 5 Paris Apartment Decor secrets to steal for your home.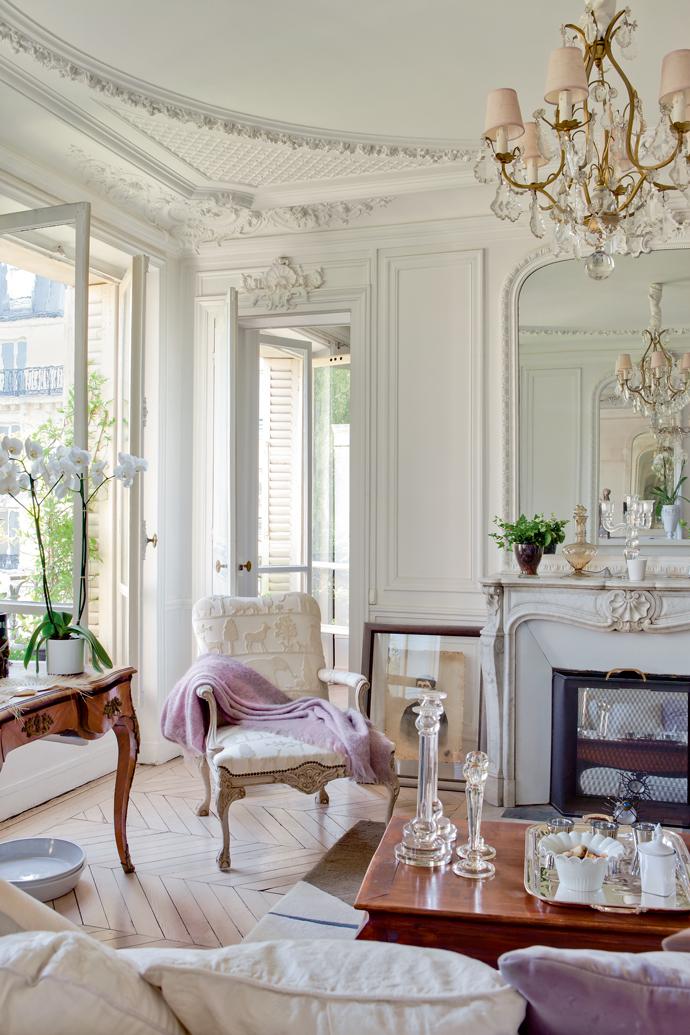 2. Farmhouse Chic Style Interior Design
The ever popular Farm house design (a la Fixer Upper) can be refined to give off a European country look. The classic motif on the wallpaper adds a pop of pastel blue, and ties in beautifully with the other curved pieces.
These unique mirrors and the ceiling medallion are perfect for adding vintage character to a dining space. We all know a dining space is nothing without comfy chairs, and this elegant shape with a burlap finish, makes the space feel elegant yet down to earth.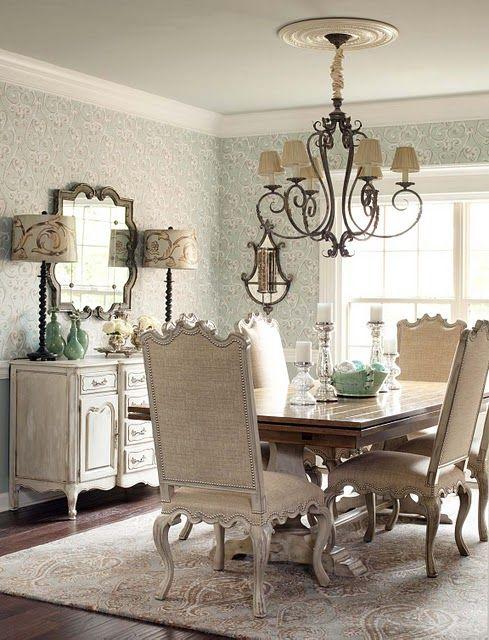 3. Relaxed Glam Style Interior Design
This contemporary take on "Glam" interior design is much more relaxed than glitzy. The tufted headboard and pillows give the bed a comfortable and refined look, while the modern lighting fixtures add a contemporary chic touch.
The lovely walls have a soothing color palette of grays, blues, and creams without looking drab or washed out. Pops of color and texture come from the decorative accents on the nightstand and the bench at the foot of the bed, giving this boudoir a modern glam vibe.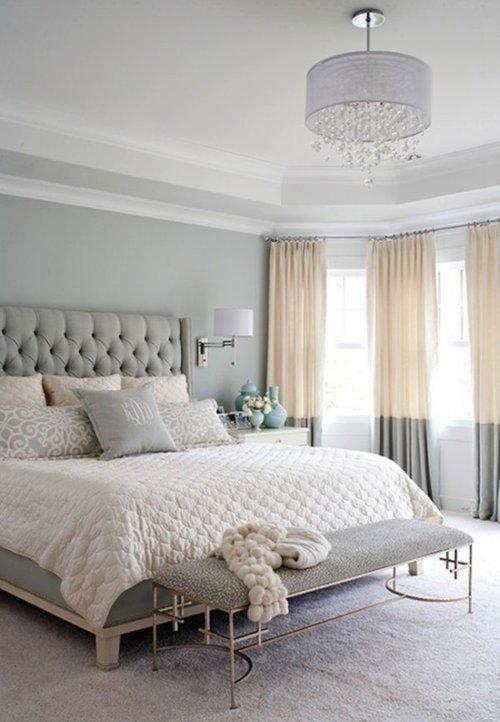 ---
Maximalist Interior Design Ideas
Some times, you just want to be in a room filled to the brim. If your tastes include lot of bold color, knick knacks, and other signs of a well lived in and well loved space- check out these bright ideas for Maximalist design inspiration.
1. Elegant Bohemian Style Interior Design
This cozy family room takes the classic bohemian color palette and gives it an elegant edge. The wallpaper has a vibrant yet relaxing green color and floral motif, which really compliment the dandelion lighting fixture.
Though the furniture and accents have a traditional shape, they are beautifully contrasted by the fun pillows, and decor pieces. This room is the perfect pairing of traditional elegance and bohemian maximalism for an inviting sitting area.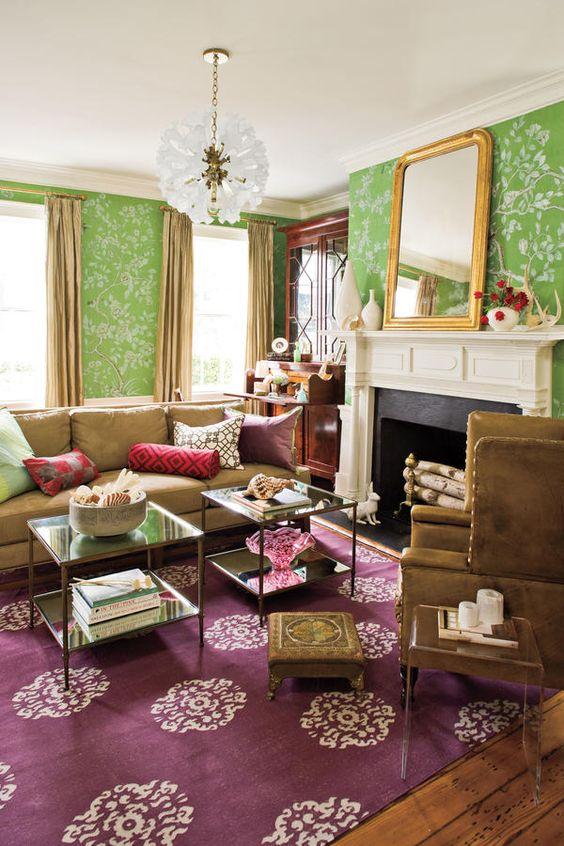 2. Eclectic Chic Style Interior Design
This modern home office has a beautiful blend of eclectic color, and classic shapes. The glossy finish cobalt paint is the perfect choice for the panel moulding walls, and lovely arched window. Vibrant texture comes from the light fixture, a modern take on a classic chandelier with a quirky "branch" texture.
The curved shape of the modern desk, with the classic King Louis chairs are a match made in design heaven. All these pieces liven the space, but the show stopper is the zebra rug, adding a touch of the unexpected.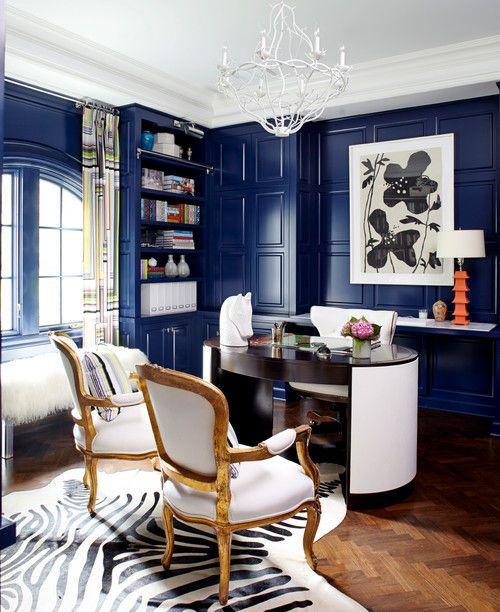 3. Playful Shabby Chic Style Interior Design
Some times shabby chic consists of far too much white and distressed items, but not in this colorful kitchen. It's got a dainty 1950's vibe with the soft pink accents, and teal walls.
The distressed vintage mouldings on the island, and above the sink are a elegant addition to the charming chandelier. It's the ideal mix of whimsical and inviting, and looks like an lovely place to entertain.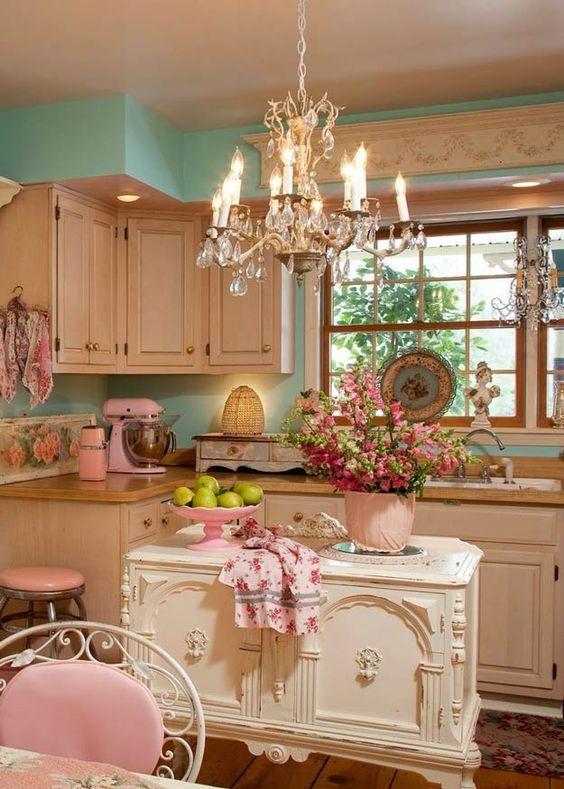 Bringing Anti-Minimalism Home
As you can see, there are beautiful ways to make your both home calm and relaxed, or bright and fun, without resorting to a minimalistic approach.
Crafting the perfect look for your home should be a fun and enjoyable experience, that helps you better understand the interests of you and your family.
Make the experience less stressful by giving yourself plenty of time to finish the project. It's tempting to wanna over haul a room over the weekend, but if you give yourself the time to browse and consider what is right for your space, you'll be so much happier in the end!
Are there any other Anti-Minimalistic interior designs styles that you've been crushing on lately? Let me know in the comments, I'm always looking to learn some new ones