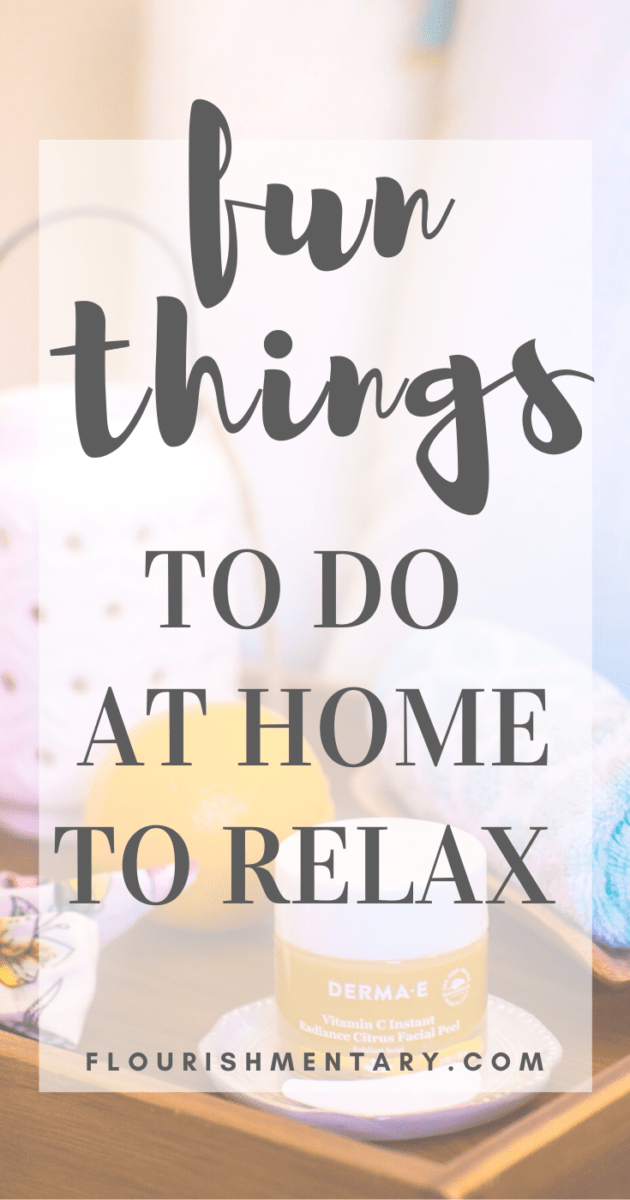 Many of us are in the same boat right now, looking around for fun things to do at home! Lately, I've tried to switch up my routine and get creative with ways to relax around the house.
That's why today I'm sharing a few of my favorite fun things to do while stuck at home. These are simple ideas that instantly make me feel more calm!
I've teamed up with one of my favorite eco-ethical beauty brands Derma E, to bring you ideas for a spa day at home, plus other ways to stay entertained. They were one of the first makers of cruelty-free skincare, and I loved using their vegan products to pamper my skin this weekend!
Here are my top three simple and fun things to do at home when you need to relax!
---
1. Have A Spa Day At Home
A good pampering session is a great way to pencil in some relaxation time at home. It's also one of my favorite ways to take a digital detox, when I need a break from screen time.
Whether you have minutes or hours to spare, it's easier than you might think to give yourself a spa day at home.
Use this list as a starting point for your own "at home spa kit"- and then let the relaxation begin!
At Home Spa Kit Ideas
Serving tray
Facial towel
Your favorite candle
Hair tie and/or headband
Facial Treatment – I'm using this Vitamin C Instant Radiance Citrus Facial Peel from Derma E
Manicure kit
Bubble bath / Foaming shower gel
The trick to making your spa day at home feel like the real deal is all in the little details!
Lighting your favorite scent, rolling your towel into a neat bundle, and arranging it all on a tray. These simple touches really make it feel more like a trip to your favorite day spa.
To make it feel even more like a visit to the facialist, I used the mini skincare spoon that comes with the facial peel. I just love tools that keep all the product from getting stuck under my nails!
After just a few minutes, I used the spoon to massage away the peel and rinsed my skin. It looked more radiant instantly, and I still had plenty of time to continue my favorite "spa time" activities!
If you've got time, follow your facial with a soothing shower or bath. Add in some bubbles or foaming soap to make things extra relaxing! Then, you can finish up with a proper mani/pedi (yes even the cuticles!) and maybe a glass of bubbly to wind down your spa day at home.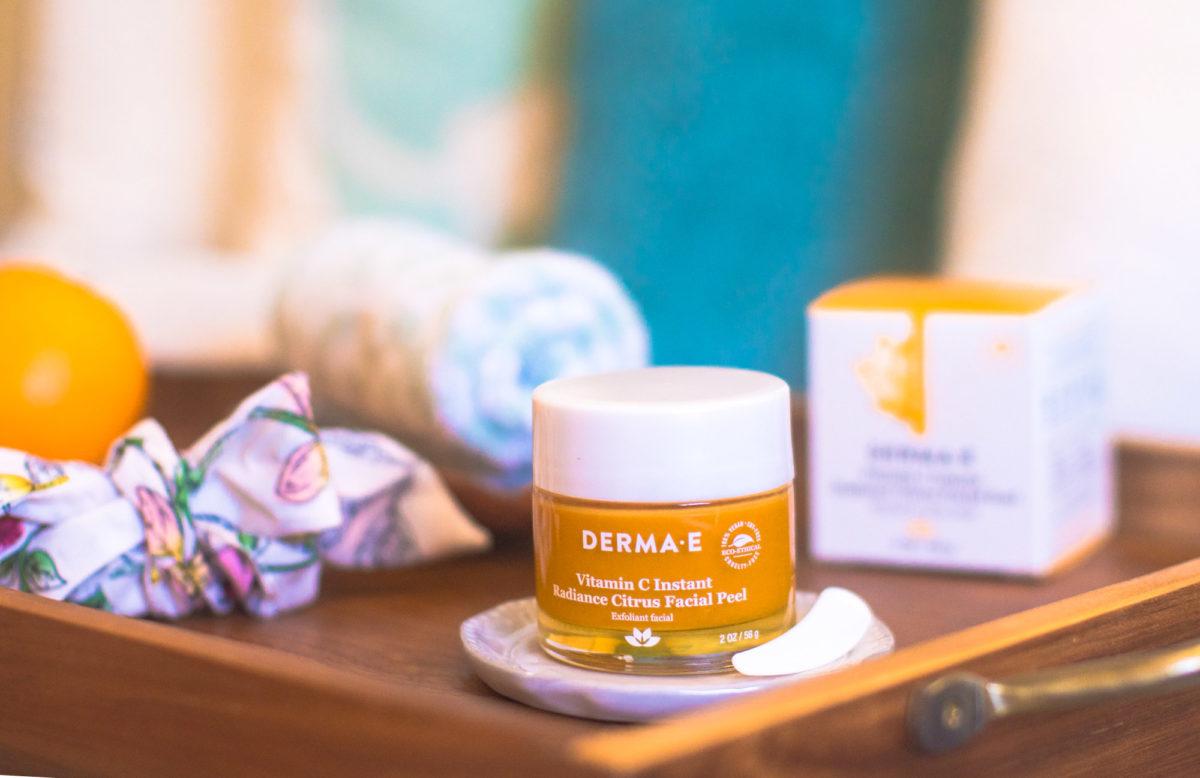 ---
2. Go For A Walking Tour In Your Neighborhood
My dog Gigi just LOVES getting out for walks, so to keep things interesting I've been exploring unseen areas of my neighborhood.
Looking up historic buildings, and scoping out all the different architecture and landscaping styles has become one of my most relaxing pastimes! Though virtual tours are great, it's also nice to get some fresh air.
Research your own area, and see if there are any interesting landmarks that haven't caught your eye before. Nothing like exploring in your own backyard!
When I'm out walking, I like to carry along my notebook to jot down ideas (that's when the best ones always hit me) and my headphones to listen to music. If I know I'll be out for an extended period, I always bring some water for myself and Gigi, and sunblock to reapply. The lightweight sunscreen by Derma E has the perfect amount of SPF – and I love that I can't smell it at all!
Walking Tour Essentials
Tote bag
Sun hat
Sunglasses
Water bottle
Headphones
Sunscreen – I'm using the Sun Defense Mineral Sunscreen by Derma E
Notebook & Pen
Camera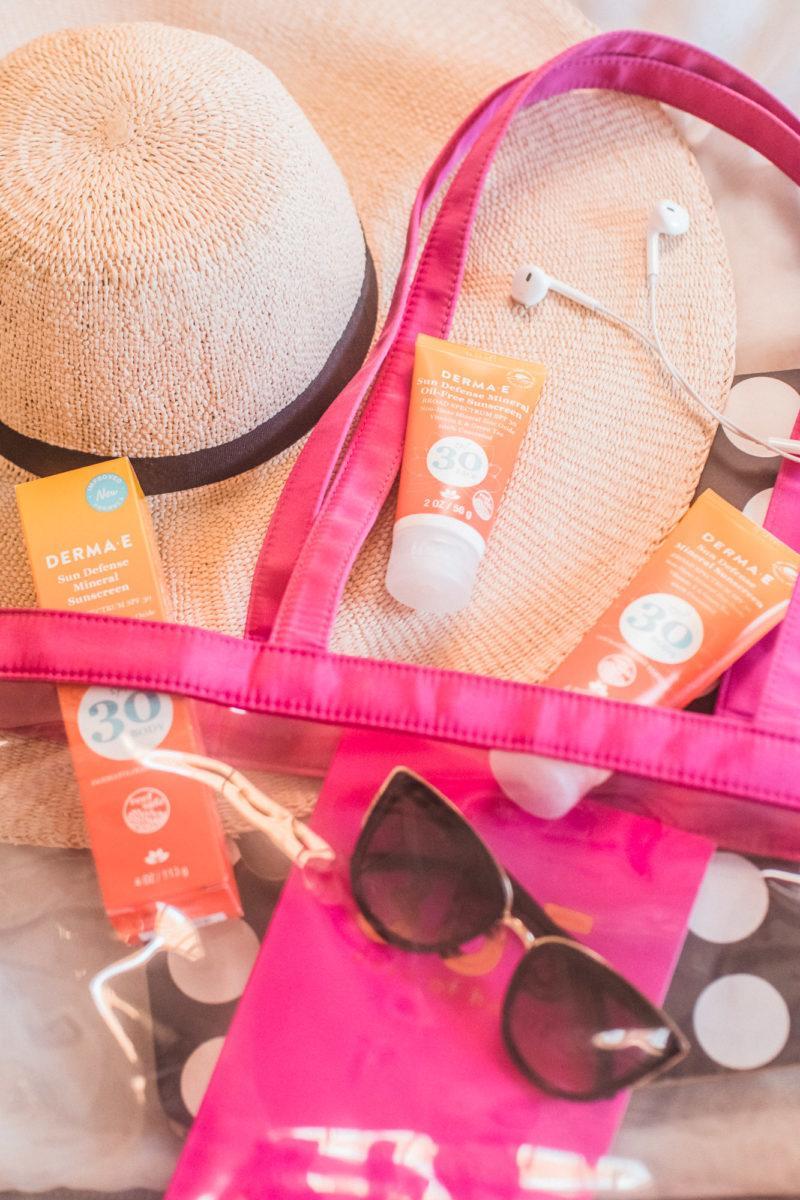 ---
3. Try Indoor Camping For Movie Night
When looking for fun things to do at home, sometimes all you really need is a change of scenery to help you relax.
Try setting up "indoor camping" for your next movie night or at home date night! Use pillows, blankets, and bed sheets to make your own fort or pillow pad. Next gather up all you favorite snacks on a tray, so everything is at arms reach.
Finally, you just need to setup your computer and stream your favorite flick! Since I'm often in front of a screen while working from my home office, my skin can feel pretty tired at the end of the day.
I like to wake it up with a spritz of facial mist, and this blue light shield spray from Derma E is super hydrating. The mineral formula of Blue-Green Algae, Activated Charcoal & Ginseng Root really soothes my eyes, so I'm refreshed and ready for a movie marathon!
Indoor Camping Movie Night Ideas
Blankets/Bed sheets
Pillows
A screen + your favorite film
A tray with popcorn/snacks
Candles
Skin refreshing spray – I'm using the Blue Light Shield Spray from Derma E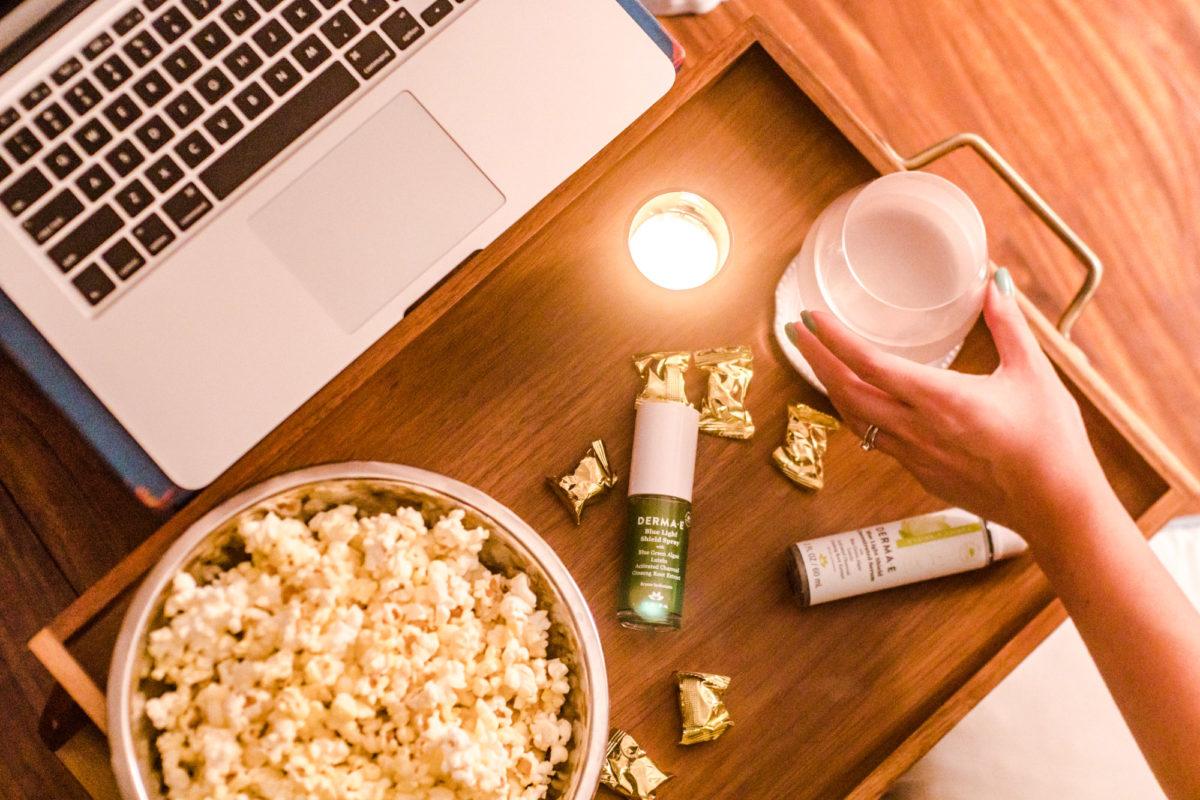 ---
Thanks so much for checking out these ideas of my favorite fun things to do at home that will help you relax!
I hope you liked these simple tips, and that you have fun trying them out next time you're feeling bored around the house.
I've tried all of these ideas by myself, or as a date night at home – but you could totally try these fun things to do at home with kids, too!
And if you'd like to learn more about these awesome ethical products from Derma E, stop by their website. You can also find Derma E products at some of my favorite retailers, including Whole Foods, Sprouts, Target, and Ulta.
What are your favorite fun things to do when you're stuck at home? Let me know in the comments below, I'm always looking for more fun things to do around the house!