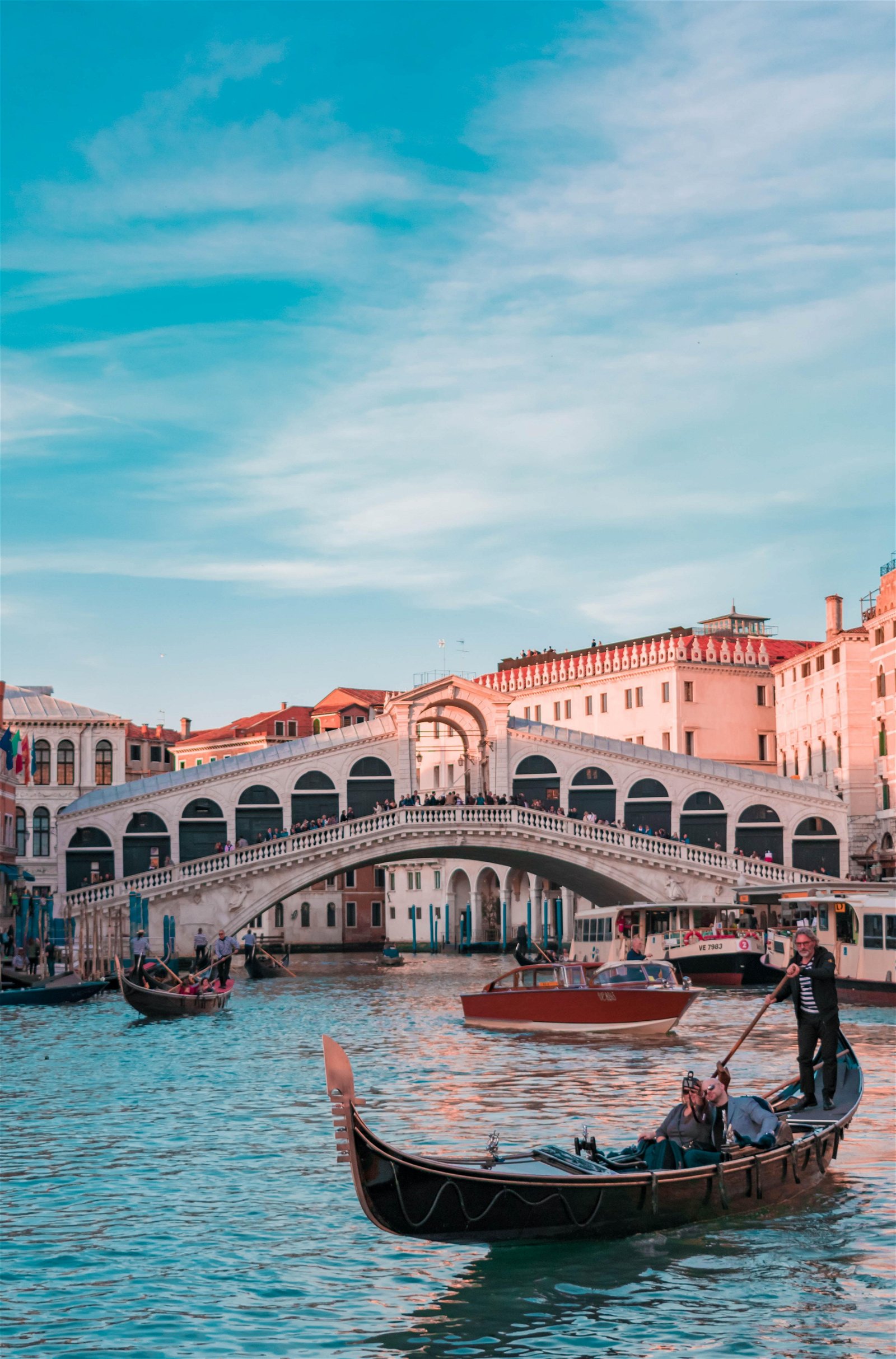 Have you always thought about learning the "language of love"? Today more than ever, there are a ton of new ways to learn Italian that you've probably never thought about!
Whether you wanna be able to order a Gelato while sightseeing in Rome, or reconnect with your family's heritage- a passion is all you really need to get started.
But make no mistake- learning another language can be tough. Especially if you don't live where people speak it!
When I met my husband in Italy a few years ago, I knew it was super important to me to pick up conversational skills. But when I finally started learning Italian, I was toooootaally in over my head.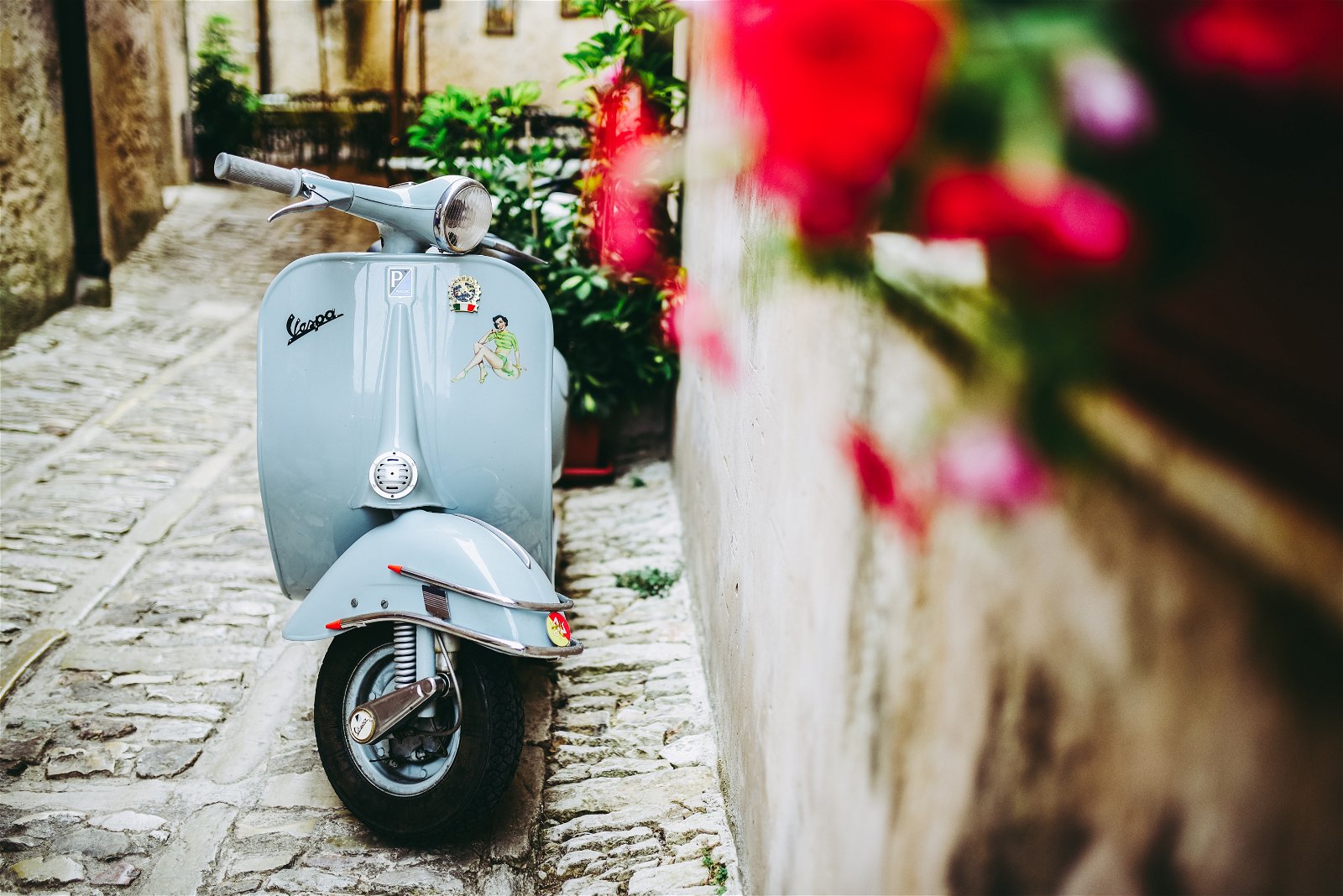 I tried all the typical ways to learn a language- workbooks, books on tape, and even Rosetta Stone. While those definitely helped me make some progress, something felt like it was missing. There were days where the idea of studying just felt, well…..boring!
That's why I started looking into some more interesting ways to learn Italian. I craved some more practical, and fun ideas to delve into my new found love for this beautiful language.
Turns out, there are a ton of ways to improve your Italian skills, without making it feel like work! Here are some of my favorite fun and unusual ways to learn Italian- and the best part? You can do them in the comfort of your home, and they're totally free!
---
#1. Switch The Netflix Language To Italian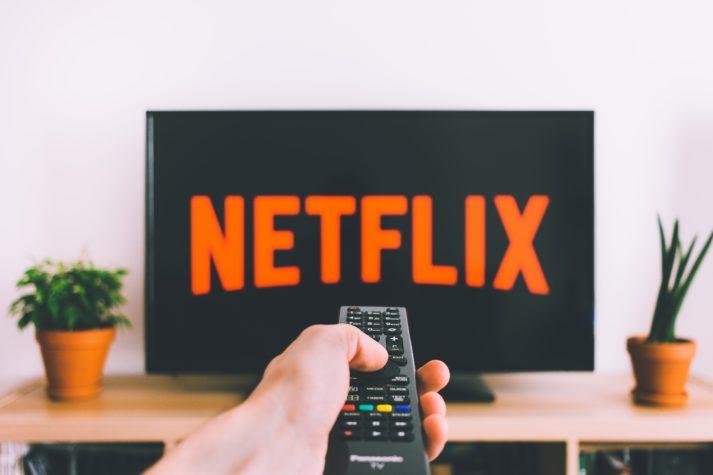 No, I'm not suggesting putting your entire account in Italian (though you would get to see all the hilarious title translations)!
Believe it or not, it's really easy to find Netflix titles to watch in Italian. Simply click this link on your computer to search for Netflix titles that have Italian audio available. If you add a film to your queue, you should be able to find it later on your TV app too.
To make it easier to understand what you're hearing, you can always add English subtitles too. Another one of my favorite things to do is watch something I already know pretty well, so I can see all the subtle changes they make when translating it to Italian.
---
#2. Make Yummy Recipes As A Way To Learn Italian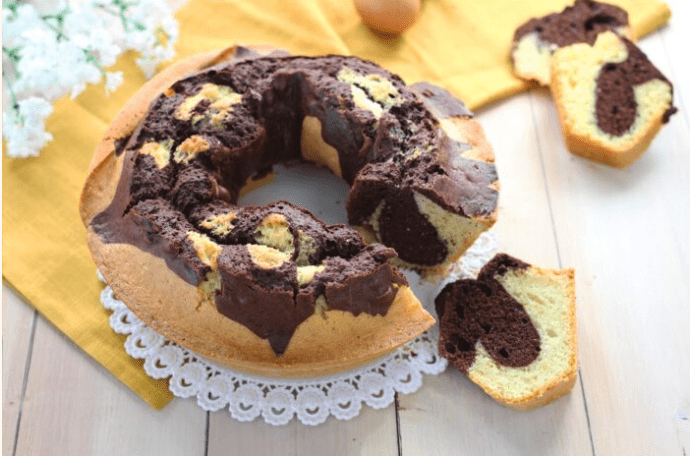 My obsession is Italian breakfast foods- Ciambellone, Plum Cakes, and Ciambellone- I can't get enough.
And I love the fact that Italians don't bat an eyelash about eating cake with their morning coffee. I was on a mission to create worthy versions in my own kitchen.
Obviously to get the OG recipes, you gotta go straight to the source. That's why I love Italian recipe websites that have videos and step by step photos.
Two of my favorite websites are Giallo Zafferano and Fatto In Casa Da Benedetta. They both have great ways to browse ideas, and find easy recipes to recreate at home.
Just remember you may have to convert quantities from metric. Otherwise you can get a handy food scale (I used this one) so you don't have to! And google translate always has your back if you need to double check things.
It's one of my favorite ways to learn Italian, because I come across words for ingredients, and techniques that I'd never get to hear otherwise. Oh, and getting to eat the delicious food afterward is the cherry on top!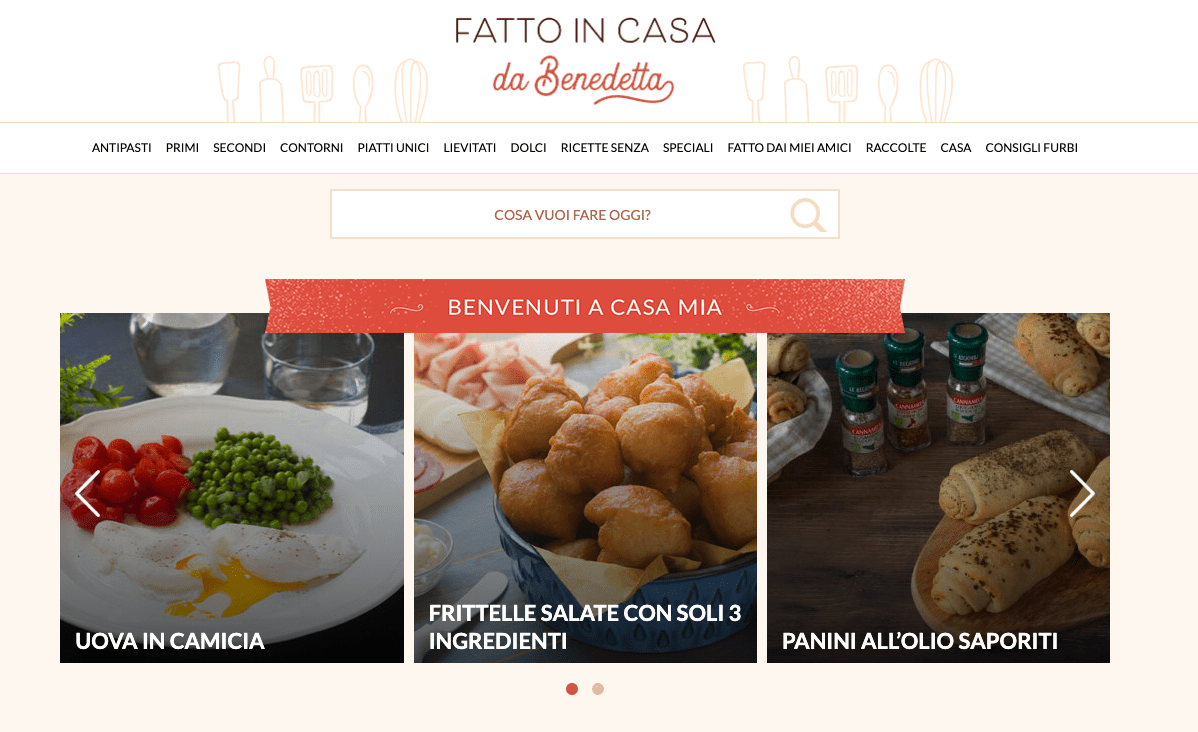 ---
#3. Use Italki To Find A Language Partner + Other Ways To Learn Italian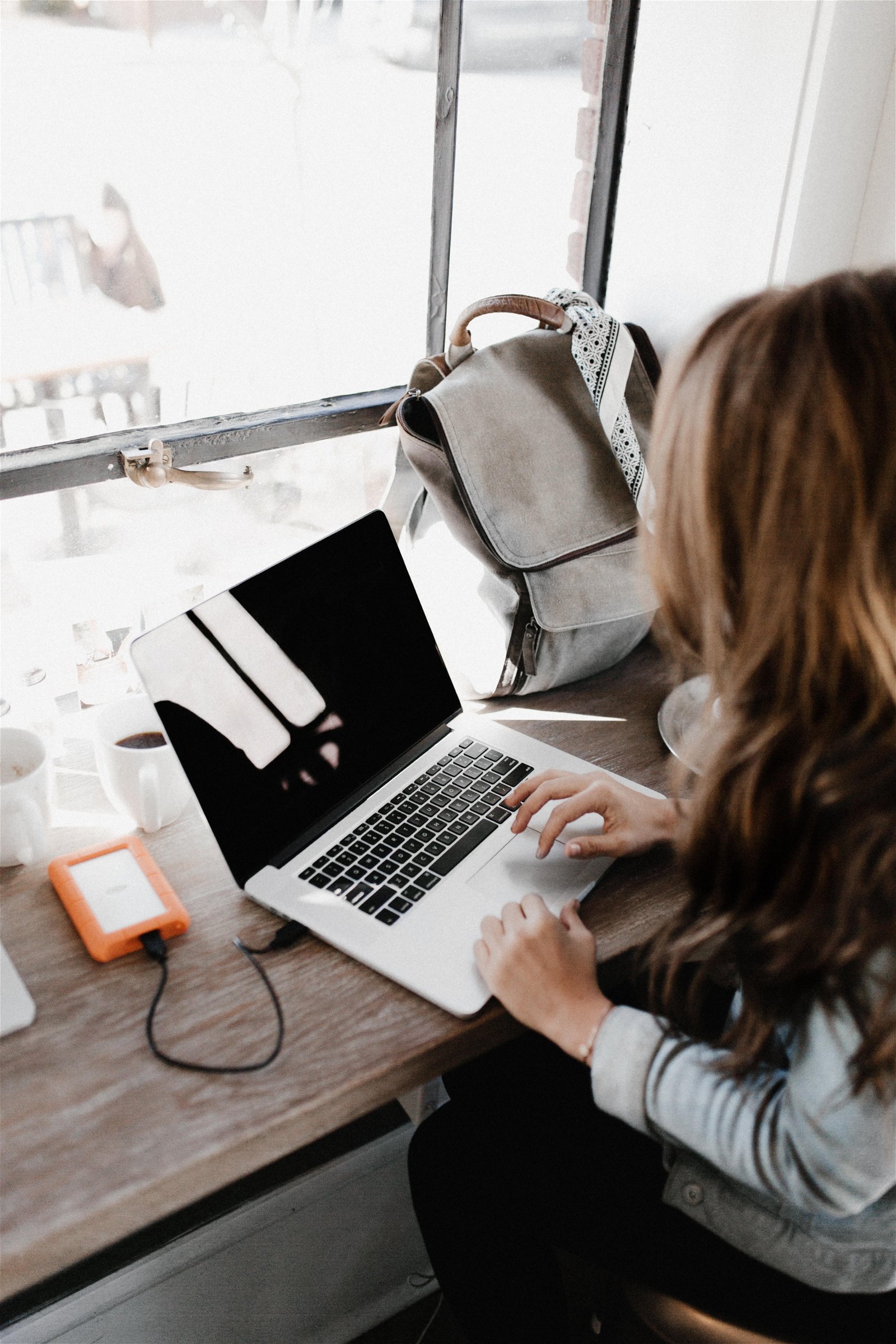 This tip is a little more involved, but really helped me face my fears of speaking Italian out loud. Italki is a language learning website, that helps you connect with teachers and language partners to practice.
I first used Italki to find a teacher, that would help me practice before I met my future in-laws for the first time. I was so nervous, but having a native speaker advise me of polite introductions, and small talk made me feel more at ease when the big day finally came.
You can purchase lessons from teachers or find a language partner to practice with- totally free! Italki lets you pair with Italians who wants to learn English, so you can help each other improve.
If using a professional teacher is more your speed- it's easy to find teachers in your time zone. And you can get $10 in free Italki credits with a purchase of $20, by using this referral link. Italki also has a ton of other ways to learn italian, with free courses and articles, and challenges.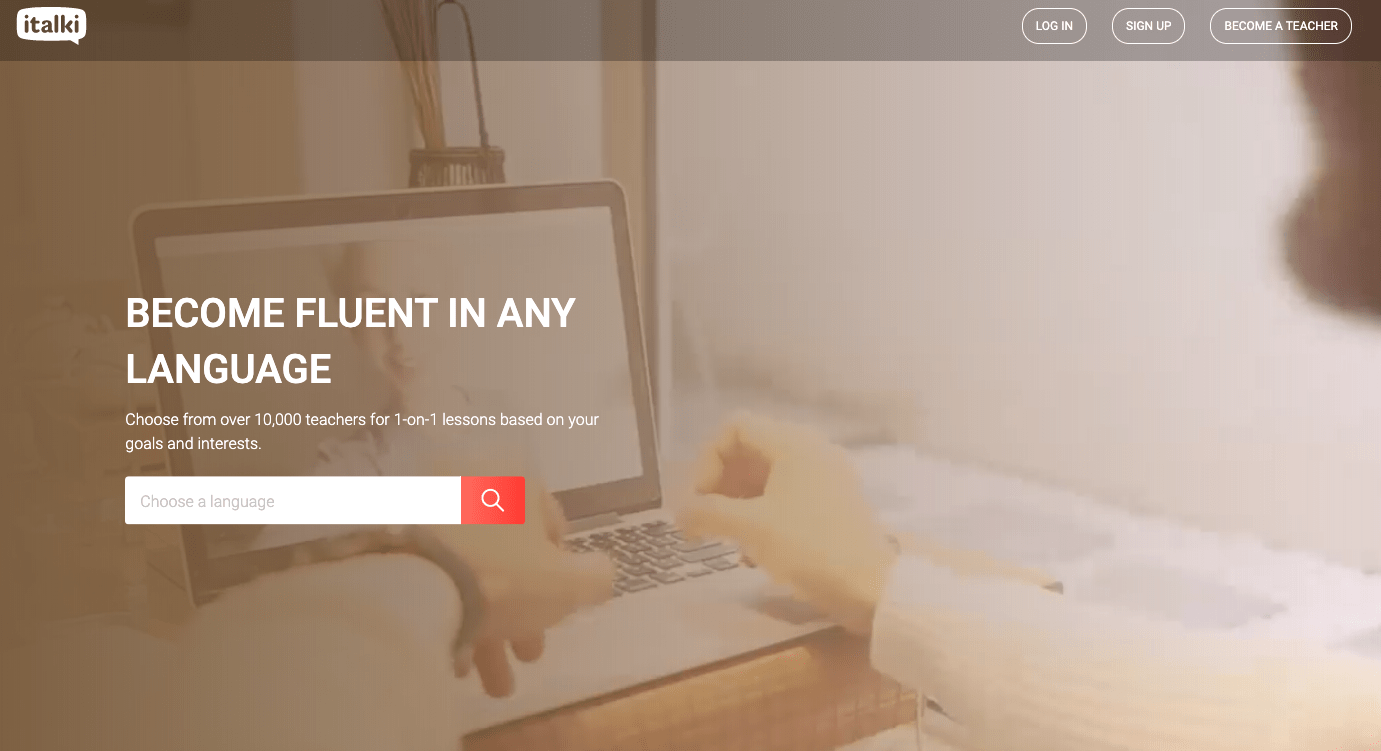 ---
#4. Watch Italian Teachers & Vlogs On Youtube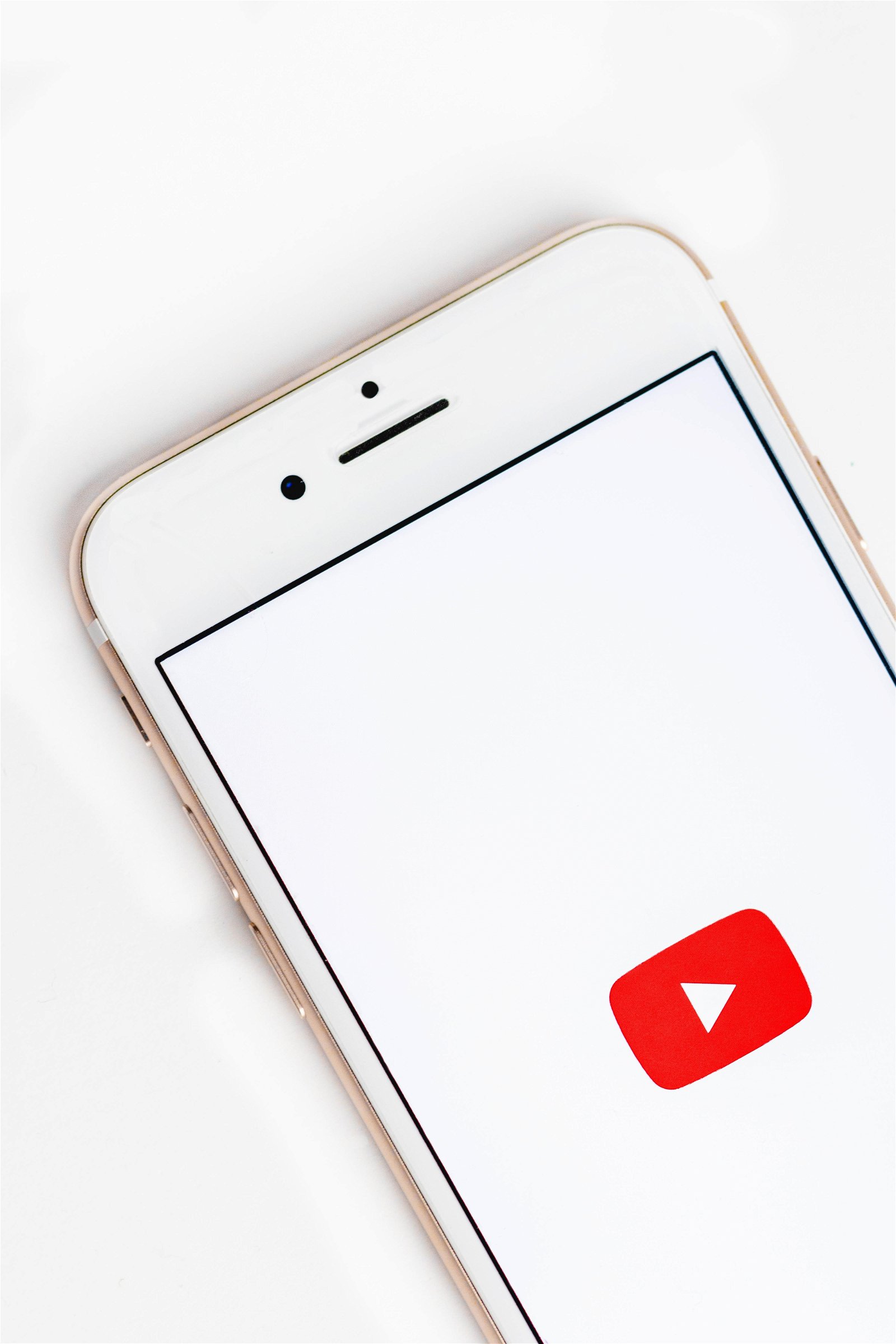 Youtube isn't just my favorite place to binge watch Beyonce videos. There are tons of awesome teachers bringing their talents to the 'tube, to make learning Italian even more fun.
My favorite videos to watch are of the day to day parts of Italian life. One of my favorite Italian teachers to follow is Learn Italian with Lucrezia. She makes easy to follow Vlogs about daily life in Italy, as well as informative videos about all aspects of grammar and vocabulary.
Video content is one of the fastest growing methods for language learning, because many of us are visual learners. Having a more personal presentation really helps cut down on distractions for me while I'm learning, and the shorter form content makes it easily digestible for beginners.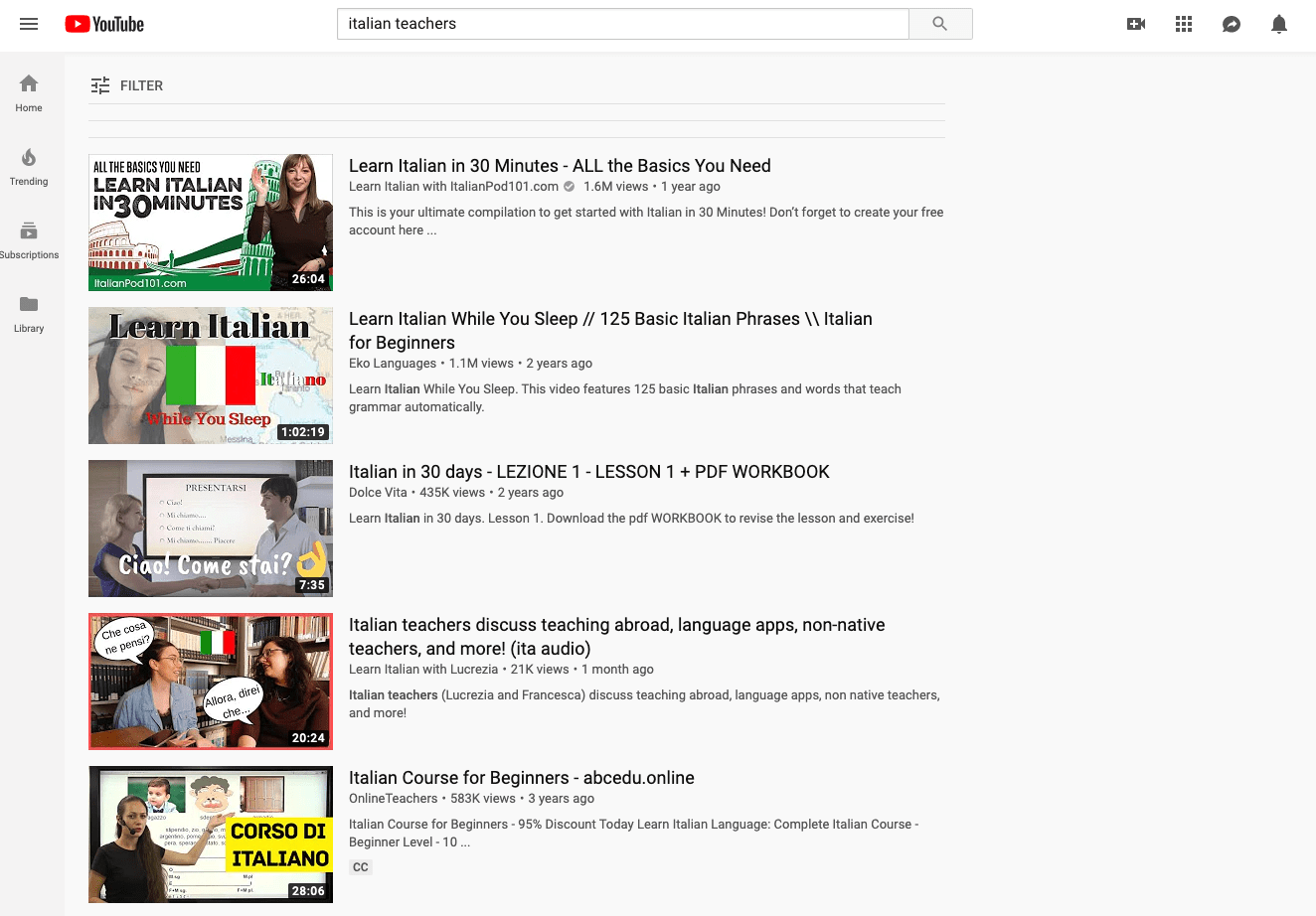 ---
#5. Listen To Italian Artists And Podcasts On Spotify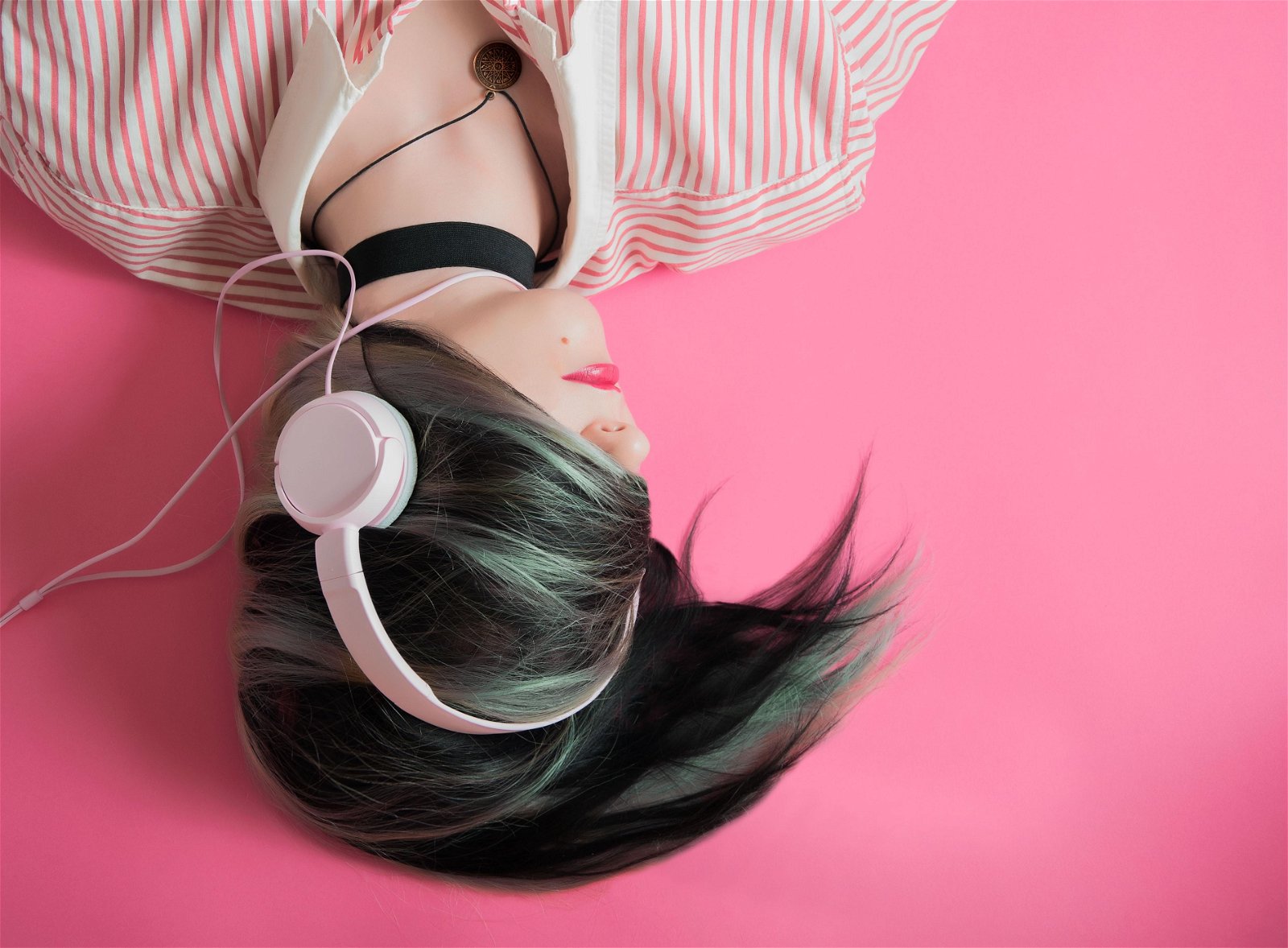 I love having background music while I work, and Spotify makes it easy to queue up a playlist with one click.
That's why one of my favorite ways to learn Italian, is by listening to new artists and podcasts on their web app. It's free of ads (unlike the phone app version) and finding new songs takes just a few seconds.
You can quickly search the latest Italian artists, and when I hear something I really like, I can easily save the song for later. Just be prepared to find yourself in a google black hole reading the lyrics from time to time!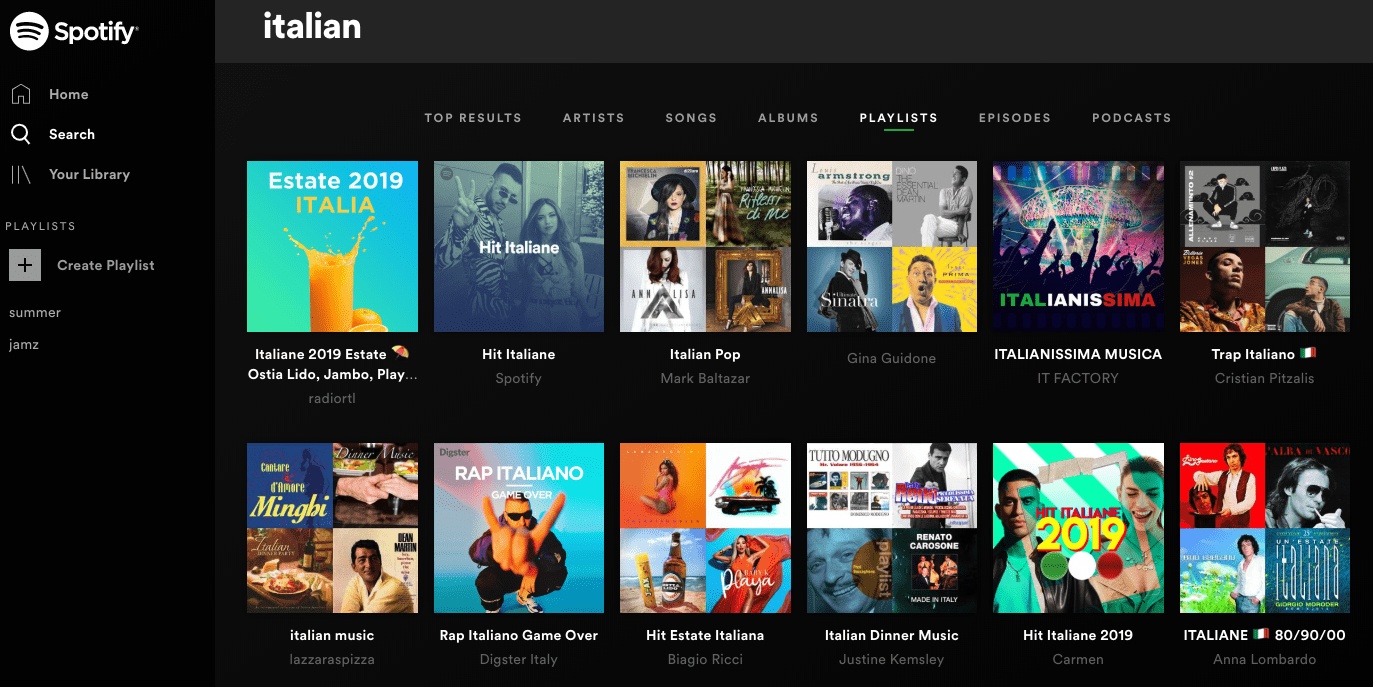 ---
#6. Follow Italian Content Creators On Instagram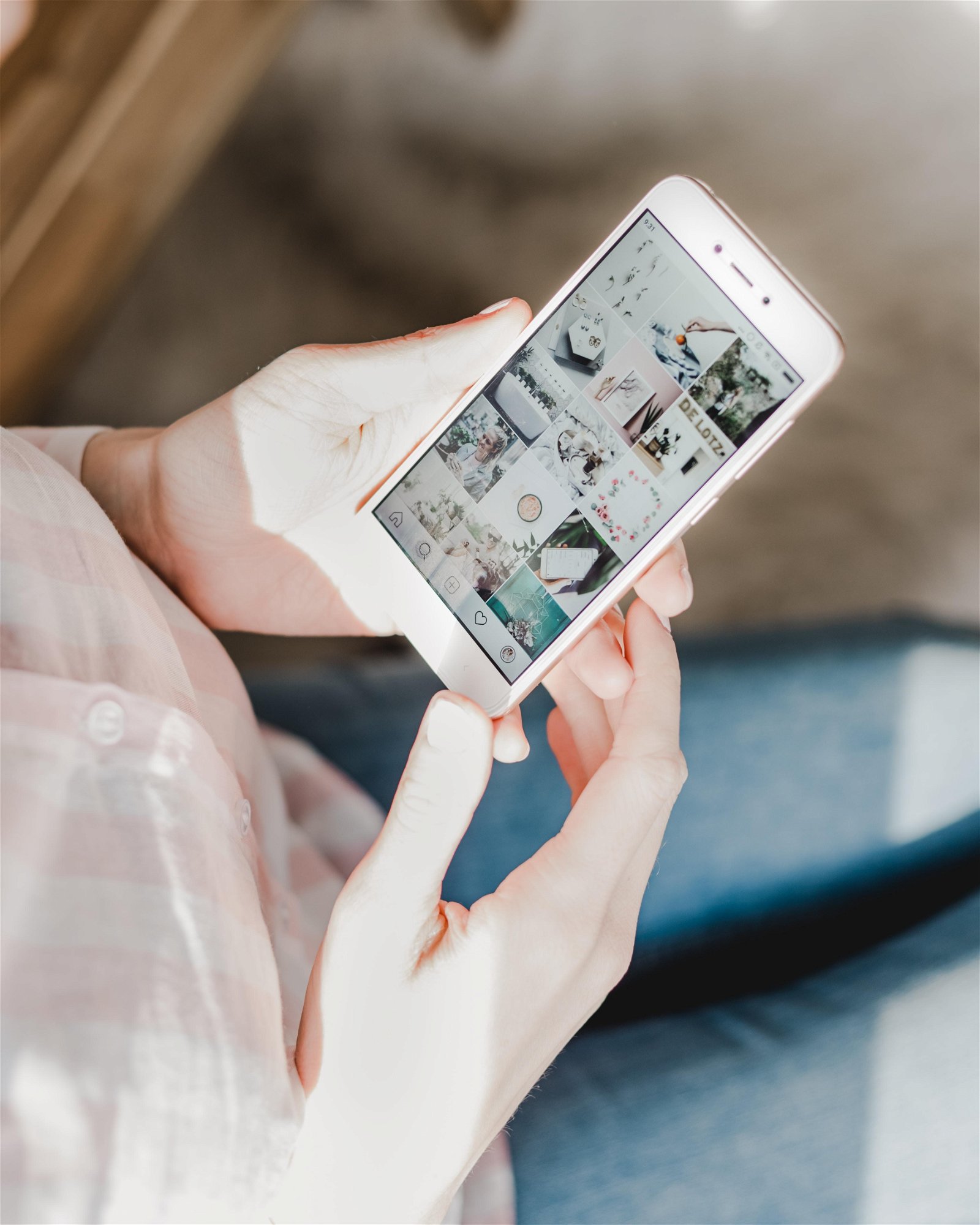 Instagram can big one of the biggest time suckers of your life, huh? But if you're using it to learn a language, at least you can say some of that time was totally put to good use, right?
If you're into following certain types of accounts, like travel bloggers, home designers, or even car enthusiasts- find some who speak Italian! Read their captions, and watch their stories and you'll be surprised how much easier it gets to understand them!
This is one of my favorite ways to learn Italian because I get to look at the same type of content I already love. I follow Italian food bloggers, photographers, and interior designers and I can't even count how many new phrases and cultural tidbits I've picked up this way.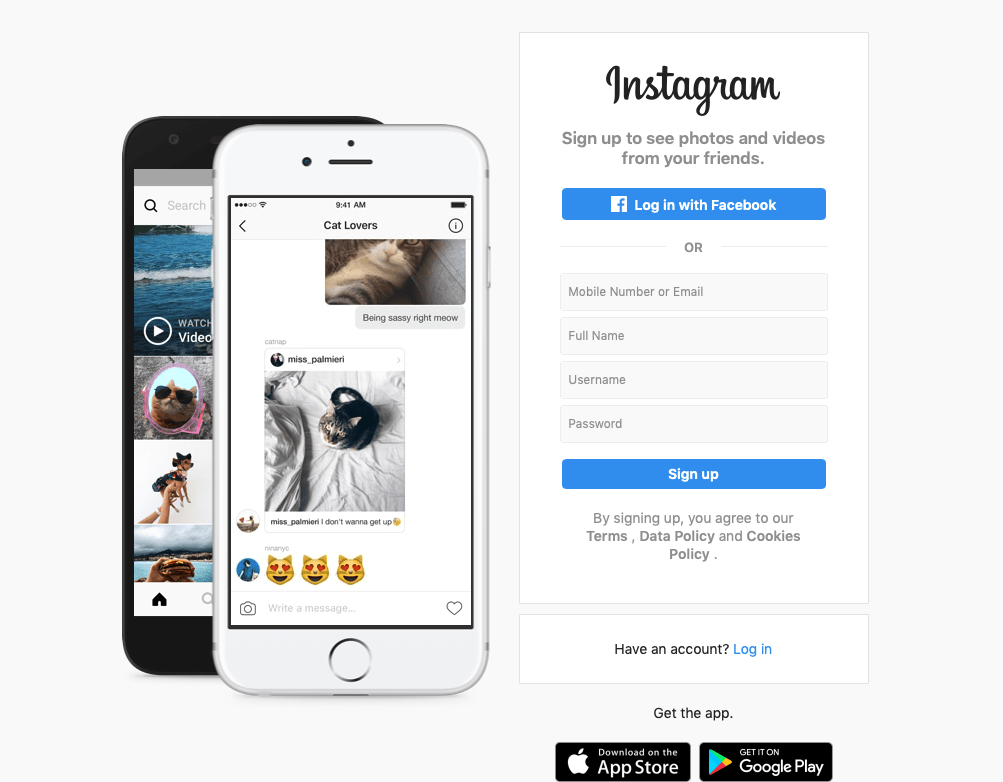 ---
#7. Apps Like Duolingo Or Busuu Are Great Ways To Learn Italian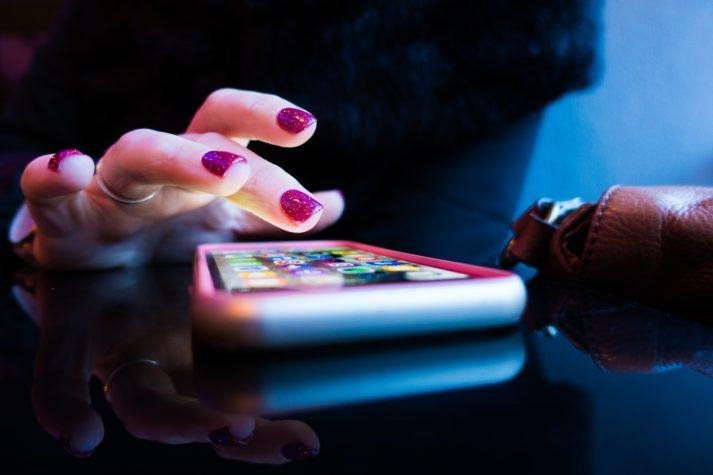 When I first started learning Italian, the Duolingo app was really helpful way to dip my toes in the water.
You can choose what types of exercises you like, from listening, to speaking, to writing. All the content is organized in a logical and easy to follow way, that makes learning Italian feel like a game.
Busuu is another language learning app that's similar, but has an option to get feedback from native speakers. You can use both on your phone or computer, and even set reminders to practice for a few minutes daily!
Both Duolingo and Bussu have totally free versions, but you can also upgrade to get premium features without advertisements.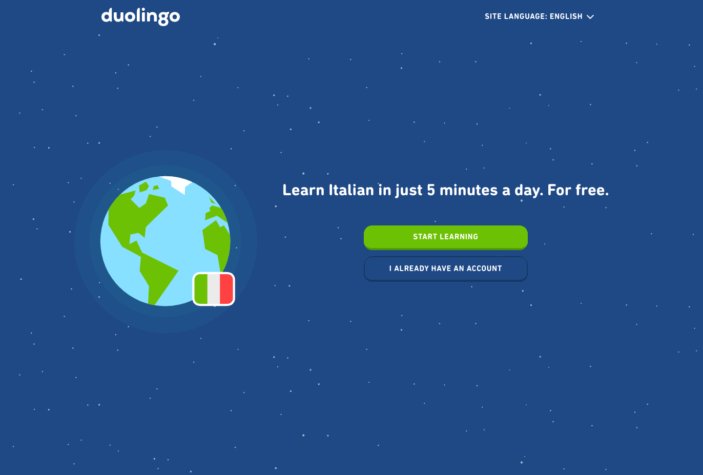 ---
A Few Extra Tips For Learning Italian
Here are a few extra tidbits to keep in mind when trying to learn Italian: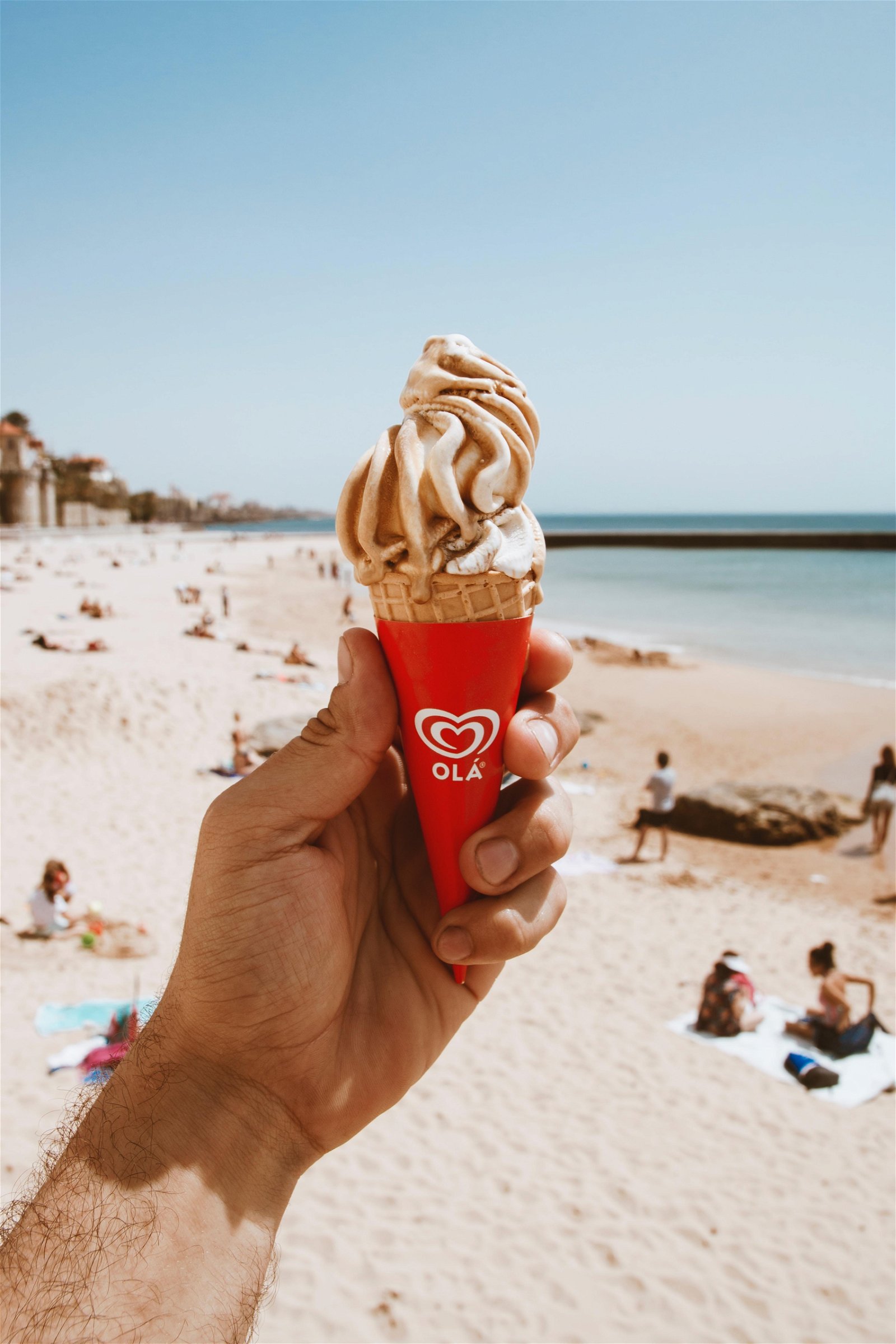 #1. Be extra patient with yourself. Maybe this goes without saying, but the phrase "Rome wasn't built in a day" really rings true here.
The truth is- there are no hacks to learn a language instantly! It often frustrated me to feel like my progress was too slow- but when I tried to study too much too quickly, I became totally burnt out. It really helps to set a realistic goal for yourself, and try not to lose patience when it gets tough!
#2. Listen to non native speakers too! Of course I always wanted to learn from Native speakers, because they're less likely to make mistakes. But something I learned a little late in my Italian journey- is that it's really inspiring to hear non native speakers too.
I follow a few American expats living in Italy on instagram, and hearing them speak Italian really helps reinforce the idea that becoming fluent IS TOTALLY POSSIBLE!
#3. Combine Your Interests with Your Passion For Learning Italian. Since Italian is spoken in few places, it's really language to learn only if you have a real passion for it! So it makes sense that you should bring your other passions into your language learning efforts.
Vegetarian? Italians really have mastered meatless cuisine that doesn't taste like rabbit food! Like rap music? There are actually some pretty hilarious Italian rap artists on the scene. Passionate about architecture? You won't find any more swoon worthy photos than those taken in Italy. Find a way to let your life's passions bleed into your language learning efforts, to keep you intrigued while you're learning!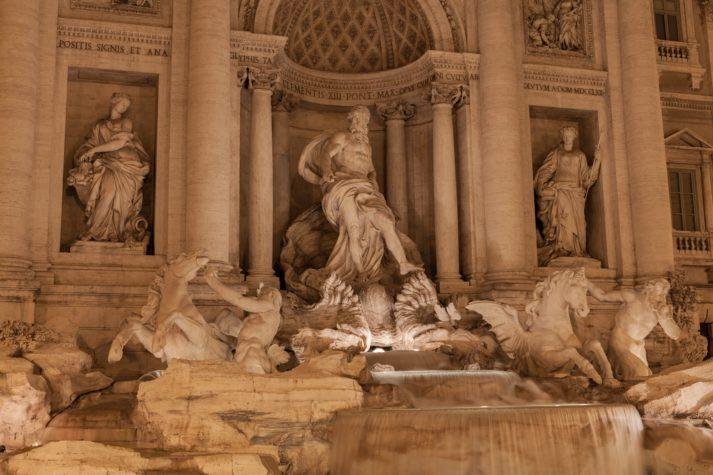 I hope you enjoyed this rundown of fun and free ways to learn Italian! And keep in mind, you can use these tips to learn any new language!
It's been a long path for me over the years to fluency, but it's been super satisfying to see my progress every time I visit my family in Italy.
If you are learning the language yourself, I would love to hear what methods are working for you! Drop me a line in the comments below, and tell me your favorite ways to learn Italian.
And if you are heading to Rome for a vacation anytime soon, be sure to check out some of my latest travel tips like 7 Can't Miss Sights In The Villa Borghese Gardens Of Rome.