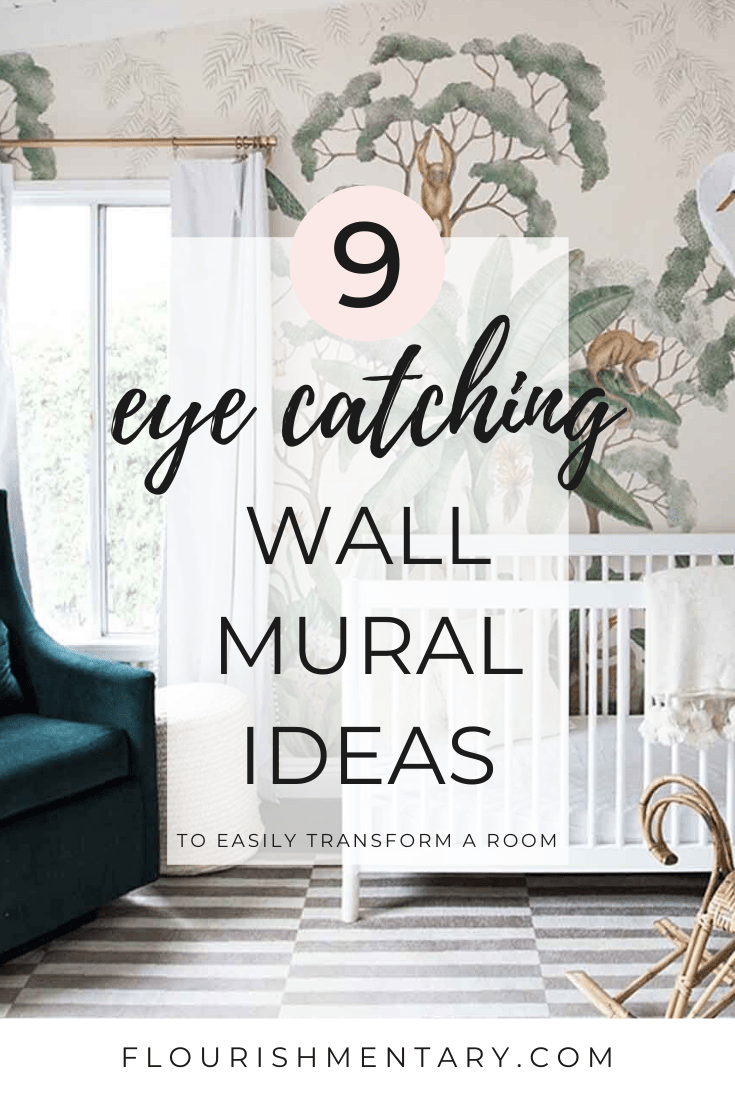 Who doesn't want a room that would make you stop mid scroll? Eye catching murals are one of simplest ways to take a boring space to the next level. That's why I've rounded up 9 of the coolest wallpaper mural ideas you can use to easily transform any space in your home!
Sound like a bit of a commitment? Try one of the gorgeous removable wallpaper murals that will give you the same dramatic look. They'll just be easier to change later. ?
I'll show you some stylish 'of the moment' options, and the best places to find these styles. Keep reading to see the most transformative wallpaper murals you can get your hands on right now!
1. Tropical Leaf Print Wallpaper
Banana and Tropical leaf prints are more stylish than ever, so why not use it to fill a blank wall in your home?
Designs like the Wallshoppe Removable Tropical Leaf Print from West Elm are a great way to give your home a chic, warmer weather vibe!
Tropical Leaf Wallpaper Mural Ideas:
---
2. Dark Floral Wallpaper Mural
Dark, and oversized florals are a great update on a classic style. The oversized "Moody" look means this wallpaper won't appear too feminine, but is still ultra stylish.
This large floral wallpaper mural from Lulu and Georgia will make a big statement above the bed, in the dining room, or in even in a powder bathroom. Don't be afraid to go bold in a small space!
Dark Floral Wallpaper Ideas:
---
3. Landscape Mural Wallpaper
Monochromatic colors make one of the best wallpaper mural ideas. Why's that? Because they quickly give your home that sophisticated edge you've always wanted. And the best part? It pairs well with pretty much any other decor colors you've got going on!
Wall murals like this landscape wallpaper from West Elm, have a vintage texture that is sure to delight your eyes, everytime you see it.
Gray Landscape Wallpaper Mural Ideas:
---
4. Parisian Street Wallpaper Mural
I can almost smell the macarons now! This playful Parisian street wall mural wallpaper is sure to get a ton of compliments, and have you craving a walk along the Seine.
And if you're also a huge fan of the French apartment vibes, don't miss my round up of 5 Decor Secrets To Steal From Parisian Apartments.
Paris Inspired Wallpaper Murals:
---
5. Waves Wall Mural
There's something instantly calming about watching waves roll in, and this waves wallpaper mural is as soothing as it gets.
The soft colors make it a perfect fit for coastal theme rooms, kids rooms, or living spaces. All the fun of the beach, without the pesky sand!
Beach Wallpaper Mural Ideas:
---
6. Chinoiserie Wallpaper Mural
A scenic chinoiserie wallpaper mural is another fabulous way to make a statement on your wall. These chic patterns are timeless, and the color options are endless.
This removable Chinese style wallpaper from Lulu and Georgia is gorgeous in both Citrine and Jade. But if you're into this look for the long haul, consider traditional chinoiserie wallpaper to fill an entire space!
Chinoiserie Style Wallpaper Mural Ideas:
---
7. Library Bookshelf Wall Mural
Watching Beauty And The Beast as a kid always had me dreaming of my very own home library! But this bookshelf wall mural will have you do a double take, because it looks like the real deal.
Of course this is one of my favorite wallpaper mural ideas, because you can have the bibliophile look without ever having to dust the bookcases!
Library Bookcase Wallpaper Mural Ideas:
---
8. Marble Wallpaper Mural
Having your own stone wall isn't so complicated when you use one of these chic marble wallpapers. They add an abstract beauty that will be the perfect showstopper in your home.
If you're into more colorful designs, you can get even more drama with a multi color marble design, or a cool geode rock print.
Marble Wallpaper Mural Ideas:
---
9. Jungle Wallpaper Mural
My favorite of all these wallpaper mural ideas ideas has to be this Jungle print! It's fun, colorful, and adds the perfect touch of whimsy to any space.
This jungle wallpaper features monkeys, birds, and tropical trees. It's perfect for a colorful bathroom, nurseries, and would great in a kids playrooms. Your little monkeys would definitely love it!
Jungle Wallpaper Mural Ideas:
---
I hope you enjoyed this round up of wallpaper mural ideas to give your room a instant makeover.
Remember, the great thing about a feature wall mural, is that will give your room an instant focal point. You just may never want to take your eyes off of it!
Have you tried creating a mural wall at home using wallpaper? If so, let me know how it turned out! And if you're looking for more simple ways to decorate, check out these 10 simple tricks to add more character to your home. Thanks for reading!