As we prep for our move to Los Angeles in the coming months, I've been super pumped about moving into a new apartment. And of course, with a new apartment, comes a new bathroom to decorate!
Small space design is always a fun adventure, but the challenge really becomes apparent when you've got tight quarters in the bathroom. Rather than go with the same old tips like "use a pedestal sink to increase floor space", here are some EASY ideas for small bathrooms that will make it look bigger! These tips don't require any major renovations, and can be done with even a modest budget.
Ready to get your tiny bathroom makeover on? Look no further than these 3 great tips, that'll help you get the most out of your little space!
Tip 1. Double Shower Curtain It Up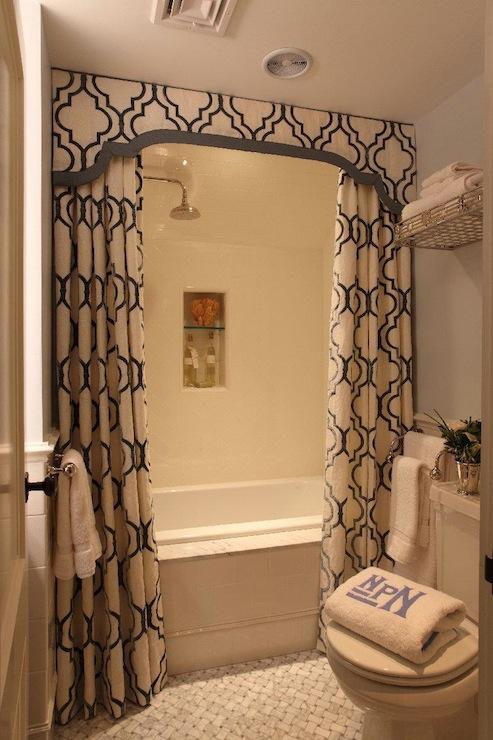 Why This Works:
You've probably heard the tip to hang a curtain above the window frame to make the room look bigger. Why not try the same technique with your bathroom shower? This is one of the best ideas for small bathrooms because the look of double curtains gives an instant upscale effect, and positioning them floor to ceiling will draw your eyes up. And you guessed it- that will make your little bathroom look bigger than ever!
All you'll need to pull off this look is an adjustable shower curtain rod (opt for a curved one for even more added space), and two of your favorite shower panels. For a custom look, you can use two clear shower liners to use on the inside, and then buy a few yards of your favorite fabric to use on the outer area. Finish off with some classy curtain tie backs, and you've added an instant touch of chic to your tiny space.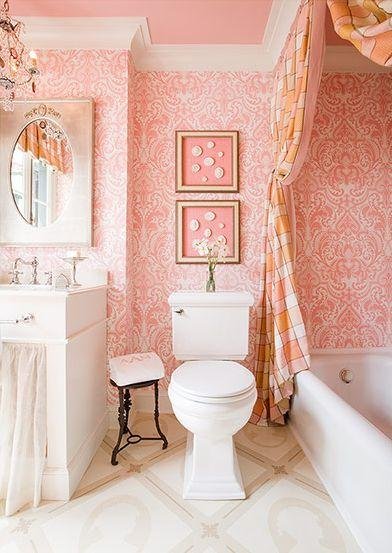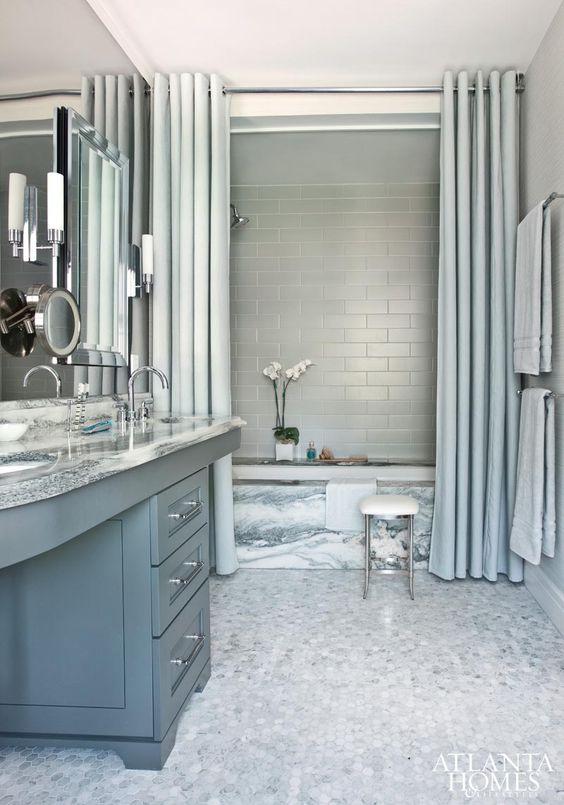 Tip 2. Over The Toilet Storage Is Your Best Friend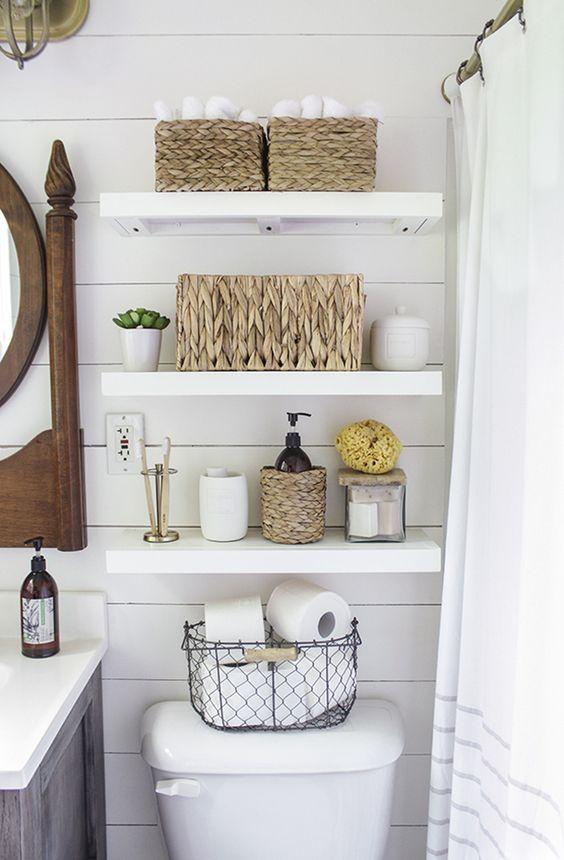 Why This Works:
You'd be surprised how many people fill this area with a simple towel rack, or some framed photos, but this prime real estate can be a storage gold mine in a tiny bathroom! And sure, the widely popular storage cabinets that slide over your toilet are easy, but closed off cabinets can make the space feel cramped.
Instead, opt for floating shelves, that go all the way up to the ceiling. This is another one of the best ideas for small bathrooms, because it draws the eye up, and open shelves create an open feel! When styled right, this is the perfect space to show off your cute, but functional decor. Use small bins to organize hand towels, or everyday bath products. Store your cotton balls and swabs in cute apothecary jars, and top it off with a cute framed photo, or small plant to personalize the space!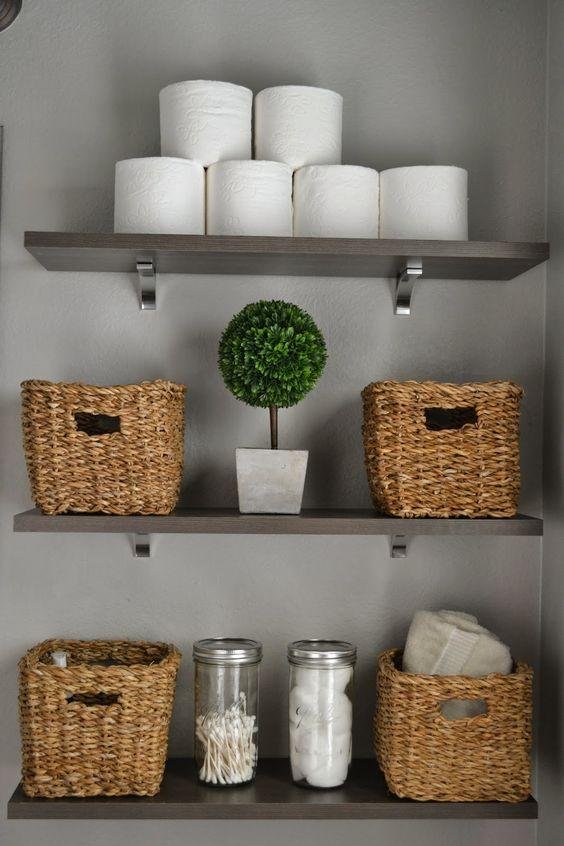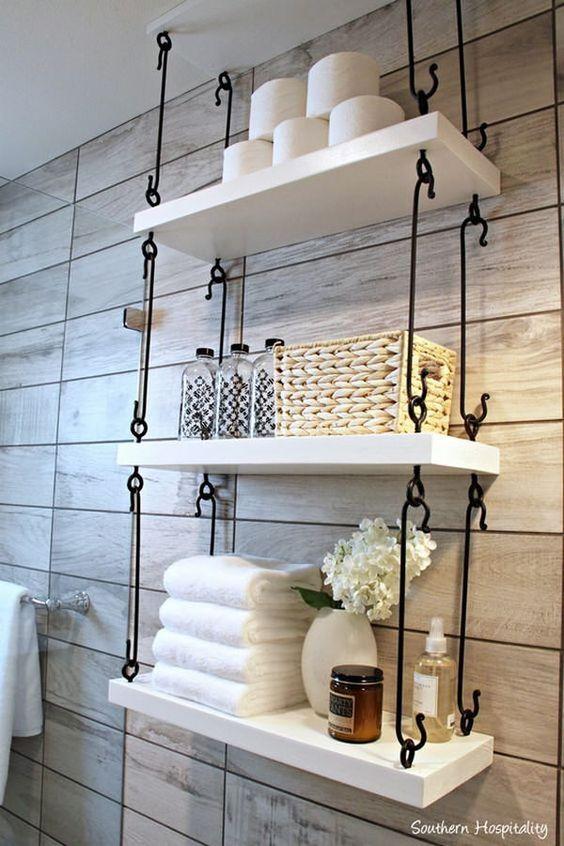 Tip 3. Fun Wallpaper + Unique Mirror = Perfection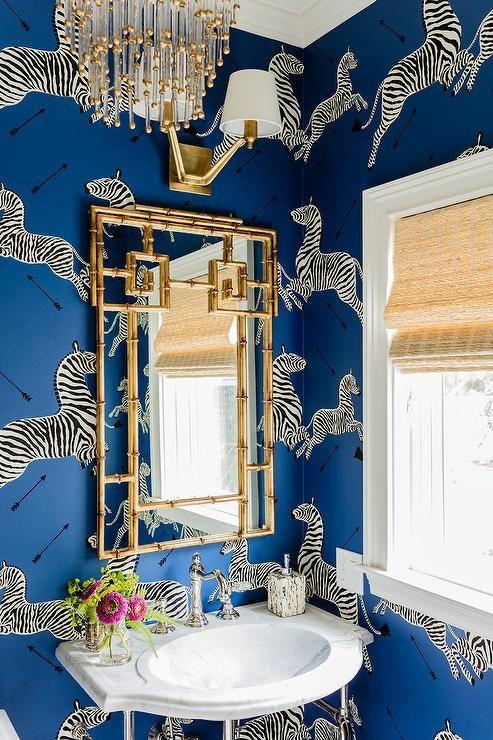 Why This Works:
Creating a focal point in your bathroom is easy with this fresh trick. All you need to do is choose a bold wallpaper to use above your sink, and pair it with a unique mirror. If you're renting, you can also choose from a wide variety of removable wall decals and removable wallpapers that give a similar effect, without all the hard work.
Although some say don't go bold in smaller rooms, opting for a bright fun pattern can really brighten up a tiny space. It will give your small bathroom a cheery look, and create an easy place to the eyes to rest. You don't have to cover the whole space either, just an accent wall above the sink can accomplish this look perfectly. Simply choose a wallpaper with a fairly large print, and a unique mirror that compliments the lighting fixtures for an overall polished look.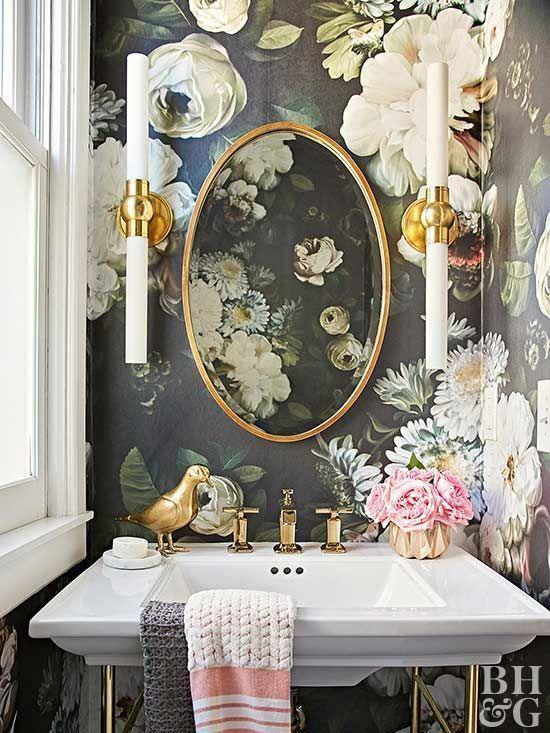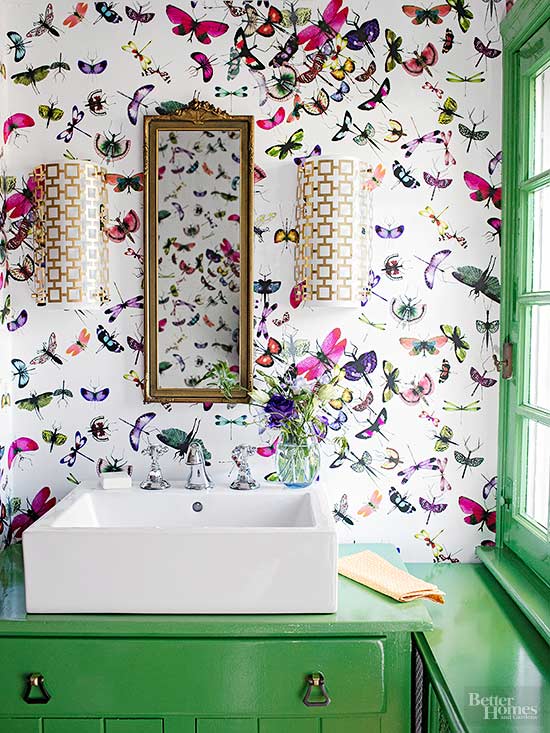 And there you have it, 3 easy ideas for small bathrooms that'll make it look bigger! These chic touches will invigorate your space, and breath some fresh air into a tiny living area. Have you ever tried out any of these tips in your own mini bathroom? If so how did it go? Let me know in the comments below!
And if you want more interior style inspiration, check out my suggestions for 'Stylish Alternatives To Minimalism'!