Updating a home can be an expensive project, in terms of time, money and sanity. But it doesn't have to be. With a few smart updates, you can breathe new life into your home without undergoing a major remodel!
Spare your piggy bank and your peace of mind with my tips on how to update a home without remodeling:
Create Open Space In Your Home
Opening up spaces is one of the easiest ways to make any room appear larger and more inviting. Consider getting rid of bulky furniture, moving things around, or painting bigger pieces in light colors so they 'disappear' into the background. Mirrors will also give the illusion of more open space while reflecting natural light throughout your living area.
---
A Fresh Coat of Paint is Always a Good Idea
One of the simplest and most cost-effective ways to update your home is painting your walls. I know you're thinking "duh!" but here's something you may not have considered.
One of the big trends this year is using darker, moody colors. I'm a big fan! I've just finished repainting my home office in a dark green color which makes the space feel more "focused" and decidedly more modern.
One big tip that really elevated the room is to paint the built-in closet doors the same colors as the wall. Heck, I'd even paint an imposing piece of furniture the same color as the wall! Just make sure you use good quality paint (avoid the cheapest grade from Home Depot or Lowe's) and set aside enough paint (and time) for at least two coats.
---
Let There Be (Better) Light
Lighting can have a big impact on the look and feel of a room. Replacing old light fixtures with modern, stylish ones can instantly update the space. Consider adding dimmer switches for a more versatile lighting option (it's pretty easy to do).
Task lighting, such as under-cabinet lights in the kitchen, can also make a big difference. In the bedrooms, add "horizontal" lighting (i.e. floor lamps or trendy wall-mounted LED lighting fixtures). Light that comes from the walls, as opposed to the ceiling, doesn't create harsh shadows on your face and makes spaces feel cozier.
Pro tip: if you're buying LED bulbs, make sure to check that they have a CRI score of 90 or more. CRI is the Color Rendering Index, and it basically determines how well the bulb creates light that's "neutral", meaning without any weird color cast. If you've ever been in a room with low-CRI LEDs, you'll know they make everything look greenish, and it's pretty awful.
---
Handle it with Hardware Upgrades
Switching out old, dated hardware for new, modern pieces is an easy and inexpensive way to update your home. This includes things like cabinet knobs and pulls, door handles and even light switch plates.
A metal finish that complements your home's style can really elevate the feel of a room. Brass in particular is super popular lately, but try not to overdo it. Another really trendy option is matte black, which is more modern and sleek (I love it).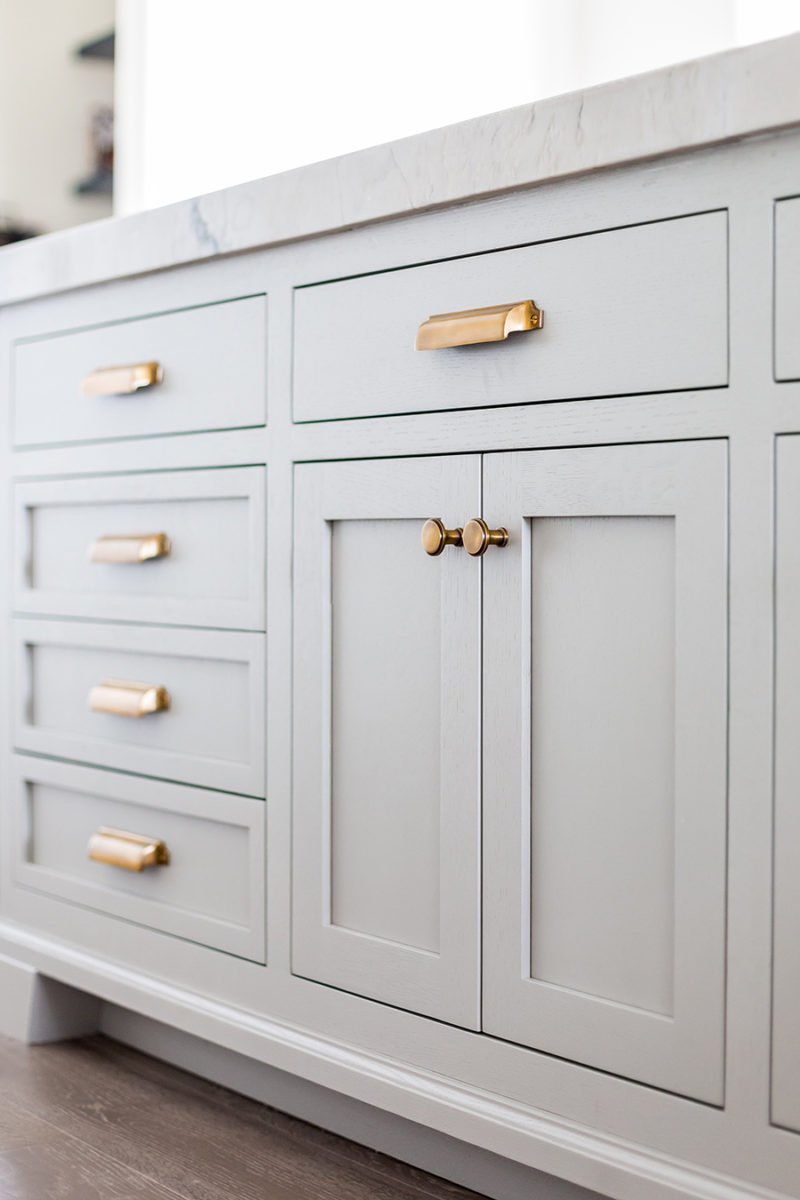 ---
Bring the Outdoors In with Plants
Bringing plants into your home is a great way to update it without remodeling. Plants not only look great, but they also improve air quality and provide a calming atmosphere. Consider hanging planters or installing shelves to display your plants, or use them as decor on coffee and end tables.
Large plants, like a Bird of Paradise, instantly make any room better! There's a slew of new companies that deliver large plants in attractive pots for not very much money. Make sure you select the right type of plant for the amount of light that it will receive in the space and then—don't forget to water it (guilty!)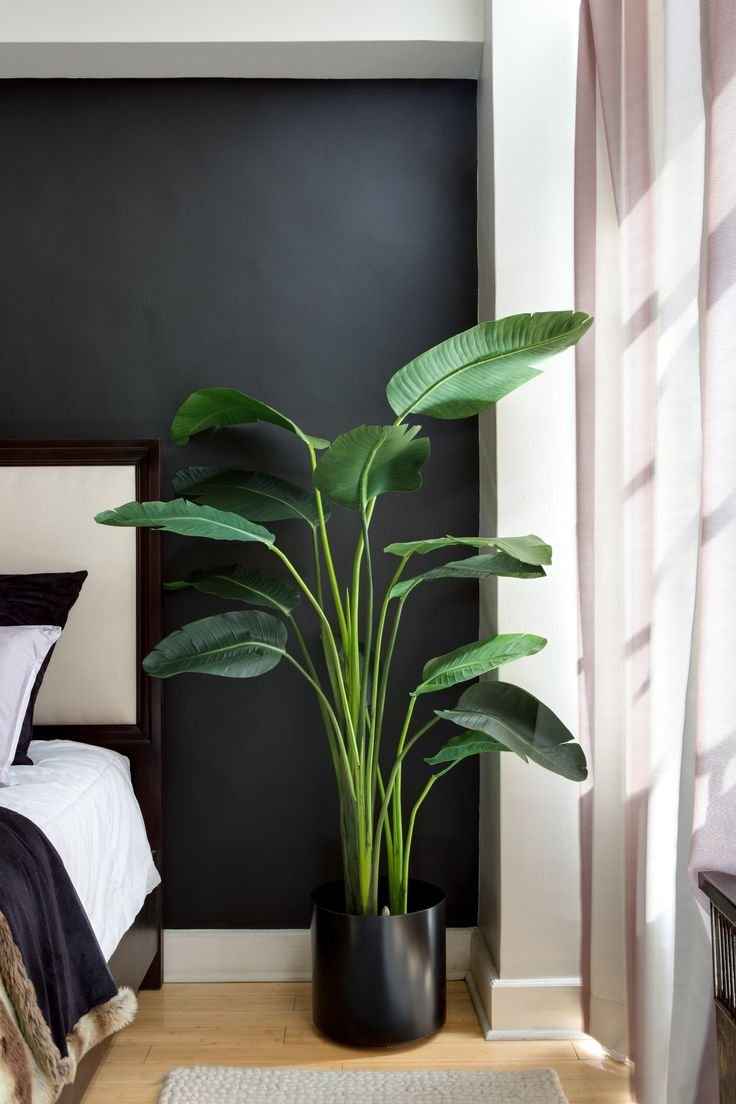 ---
Dress Up Your Windows
Window treatments can make a big impact in a room. Replace old, outdated curtains or blinds with modern options, such as roller shades or Roman shades. Choose your curtain color while choosing your wall paint if you're going to repaint.
Pro tip: make your room feel bigger by getting longer curtains and hanging them close to the ceiling. It makes such a big difference!
---
Sink or Swim with Fresh New Fixtures
While this is more on the involved end of things, replacing a sink is not terribly hard. And a new sink can make a big impact in the kitchen.
Replacing a stamped stainless steel sink with a cool farmhouse style sink can do wonders for your kitchen. Just make sure you measure everything three times before purchasing, and choose a finish that complements the appliances and other elements in your kitchen. When in doubt, remember that stainless steel is the easiest finish to clean and won't show scratches as badly as painted/coated sinks.
The bathroom is an easy win: replacing faucets, shower heads, and towel bars is super easy and can really give it a fresh, new look.
---
Install a Backsplash
A backsplash can make a big impact in a kitchen or bathroom. There are now tons of very nice tile patterns that are relatively cheap. And you can install them yourself for additional savings.
One thing to note, everyone I have met who has undertaken this project told me they wished they'd hired a professional, so maybe budget for one, or use some of those "peel & stick" backsplashes.
---
Give Your Floors a Facelift
Do you have hardwood floors in your house? Rent a floor sander and go to town!
Make sure you use the appropriate finish to re-seal them when you're done. Also, using those squeegee-looking things to push the varnish around looks like a lot of fun!
If your floors are in bad shape, consider laying a new flooring material, such as engineered hardwood or luxury vinyl. The new materials that they have today are a far cry from the old, crappy, peeling-at-the-corners vinyl, and I highly recommend you look into them.
The easiest option is to use peel & stick floor tiles. You'd be surprised at how good some look (see pic below!) and you can do it by yourself in an afternoon or two.
Pro tip: do a dry lay first to make sure you like the placement, and grab a "laminate roller" from your hardware store to ensure every tile adheres to the floor completely.
---
Upgrade Appliances
If your appliances are outdated, consider upgrading to more modern, energy-efficient options. Not only will this improve the look of your kitchen, but it will also save you money on your energy bills in the long run.
Stainless steel finish is always my go-to because it doesn't show scratches as badly, and it complements many types of decor fairly well.
---
Counter Culture: Add Style to Your Kitchen
Replacing old, worn out countertops with new ones can make a big impact in a kitchen or bathroom. Choose a material, such as granite, quartz, or laminate, that fits your budget and works with your cabinets.
The cheapest option is often butcher-block and I've grown to love it. Another option is to epoxy over your old counters, but that's pretty involved and possibly not that much cheaper, so be warned!
---
Decorative Accents
Decorative accents, such as throw pillows, vases, and wall art, can add color and texture to a room.
I find it's best to sit down and devise a look-book for the space and then buy everything at once (possibly getting a discount), than grabbing things piecemeal and ending up with a look that's not cohesive.
Check out the handy guide on how to style throw pillows by size below:
---
The Door to a Better Home: A Front Door Refresh
The front door is one of the first things that visitors see when they come to your home. Updating it with a fresh coat of paint, new hardware, or even a new door altogether can make a big impact on your home's curb appeal.
Two important things: if your house is old, before sanding old paint, use a lead tester to make sure you're not dealing with old lead-based paint, which is highly toxic (in that case you want to take the right precautions or call in the experts). Additionally, it's vital to choose paint that is rated for an outdoor environment and that is fairly UV-resistant.
---
Wall Art: A Picture Perfect Addition
Wall art can add color, texture, and interest to a room. Choose pieces that complement your home's style and display them in groupings for a cohesive look. Consider using a mix of framed artwork, canvas paintings, and tapestries for added texture.
Etsy has a ton of really cool pieces for not a lot of money, and I always feel good about buying from small mom and pop operations instead of grabbing generic wall art from Hobby Lobby.
---
Roll Out the Rug
A rug can add color, texture, and warmth to a room. Choose a rug that "really ties the room together" for any space that needs a little extra warmth and texture.
Amazon, Target and other big stores' apps have the option to do the AR thing where you can see the rug in your space, using your phone's camera, and it's surprisingly useful when choosing a rug for your rooms.
Here's a handy guide on rug size & placement you can use as well:
---
Conclusion: An Update That's Easy on the Wallet (and Your Sanity)
Updating your home doesn't have to involve a major remodel. With a few simple updates, such as repainting, updating lighting, and adding decorative accents, you can breathe new life into your home.
Remember that, while you can take on these projects over time, it's best to sit down and think through everything at once, so that you may create a design that's cohesive and "thought-out". Start with a color palette, or a specific room, and work your way out from there.
I hope you found these tips useful! Let me know in the comments if you have any other ideas on how to update a home without remodeling!