The kitchen is the heart of the home. It's where we cook, eat, and spend time with our loved ones. But often times, the way we decorate kitchen countertops can feel like an after thought.
Most people only use their countertops to prepare food and store their appliances, but decorating your countertops can do so much to make your kitchen feel extra cozy and inviting!
And the best part? You really don't have to sacrifice an ounce of functionality to do it!
Here Are 10 Simple Tips to Decorate Your Kitchen Countertops Like a Pro:
1. Start From Scratch
As far as I'm concerned, I think every decoration project should start with as clean a slate as possible. Start by removing everything from your countertops and give them a good cleaning.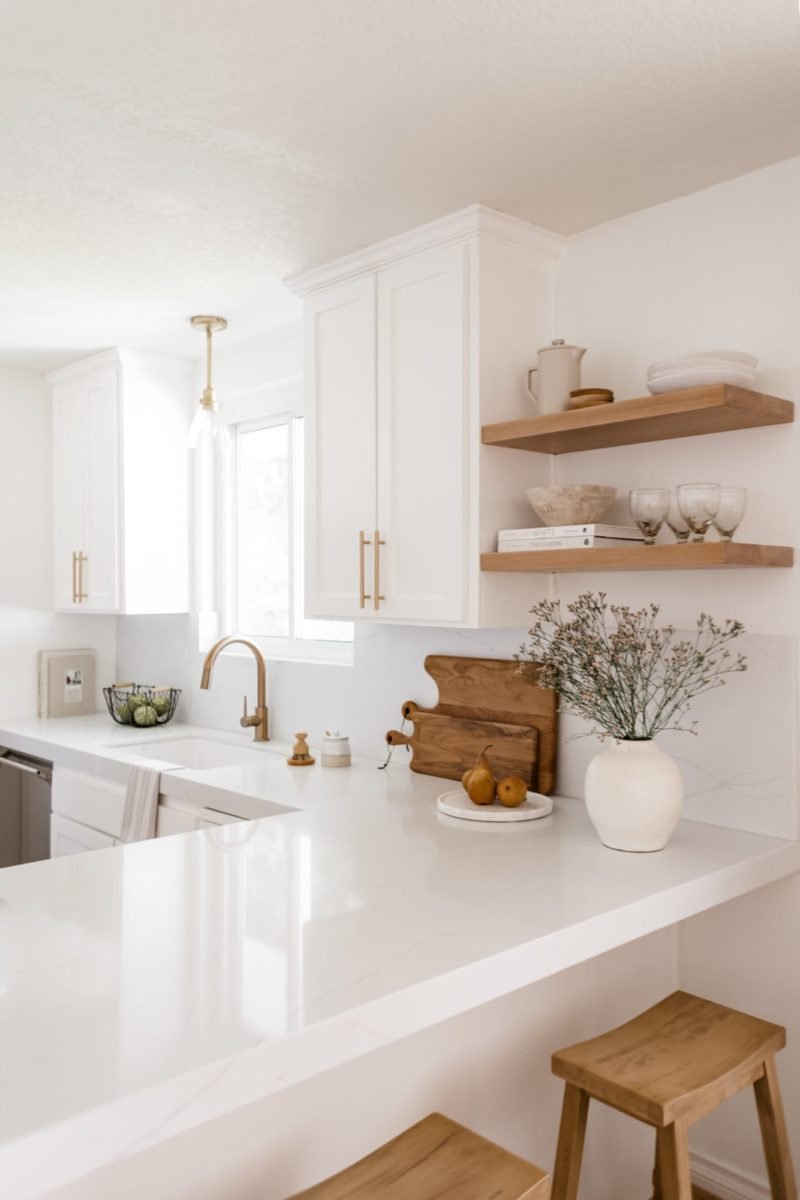 ---
2. Only Keep the Essential Appliances
Appliances are usually an eyesore in the kitchen, so I recommend going through this simple system for each appliance to improve things. If the answer is 'no' to even just one of these questions, find a spot to put the appliance out of sight:
Do I use it every day?
Things like your coffee maker or toaster may not be very attractive but they see so much use that hiding them would be a royal pain.
Do I have a spot I can store it easily in?
If you use your airfryer weekly, it may be worth clearing out some space in a cabinet above or below where you usually set it, so that you won't be tempted to just leave it out.
Can I use it to decorate?
Let's face it, most appliances are ugly. But, if you are willing to replace your current appliance and spend a bit more money, you can usually find some attractive alternatives.
The idea is that you can use the appliance as part of your decor, especially if it fits with your personality. Bake often? Proudly display that cute stand mixer.
Love coffee? Don't hide that fancy coffee grinder! Just make sure to tuck the cords neatly behind the appliance (cords are always ugly!)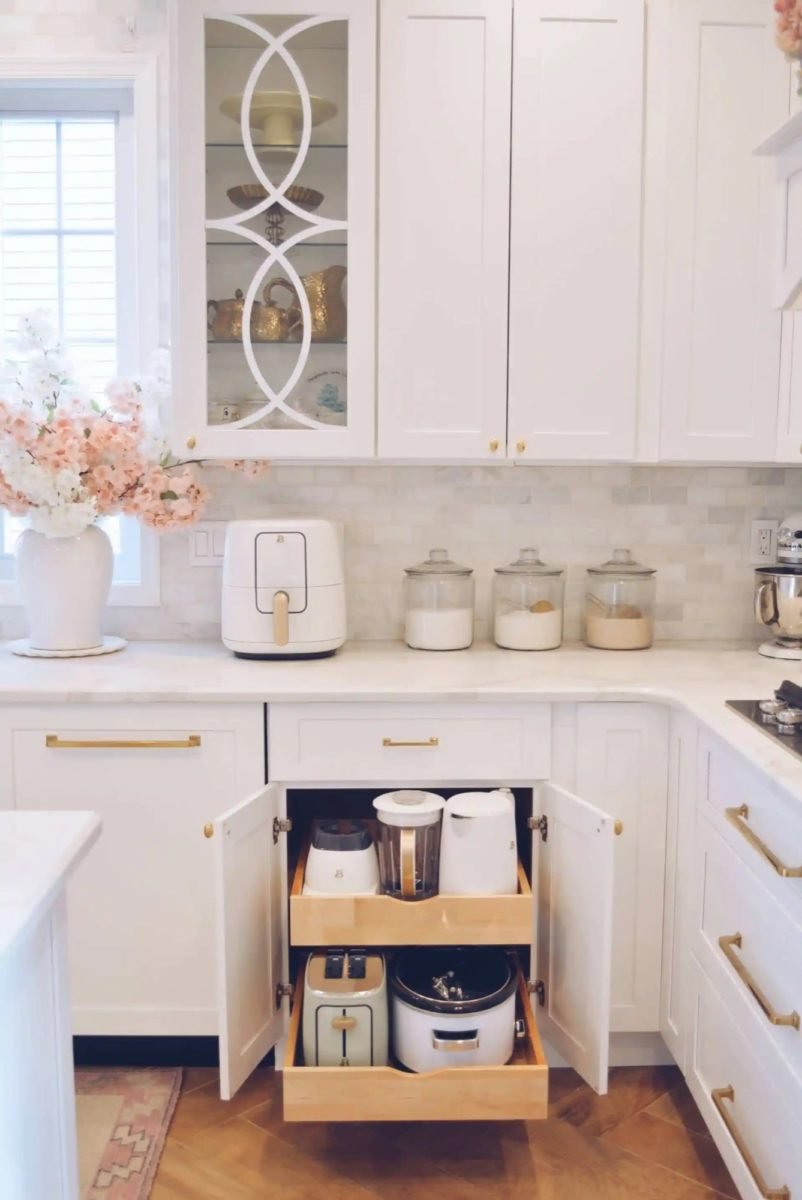 ---
3. Add Plants
Plants are a decoration hack that works pretty much everywhere, so why not use them in the kitchen? Add unique stems and plants in strategic places to play with texture, height and color.
Small potted plants are great or, even better, why not have some herbs in your kitchen? That way, you can add a touch of green while also having fresh condiments for your dishes. Win/win.
If you don't have lots of natural light in your kitchen, you could even have purple grow LEDs under the cabinet where you want the herbs to grow.
Don't want to use up valuable counter space? Hang the plants from the ceiling beside your cabinets!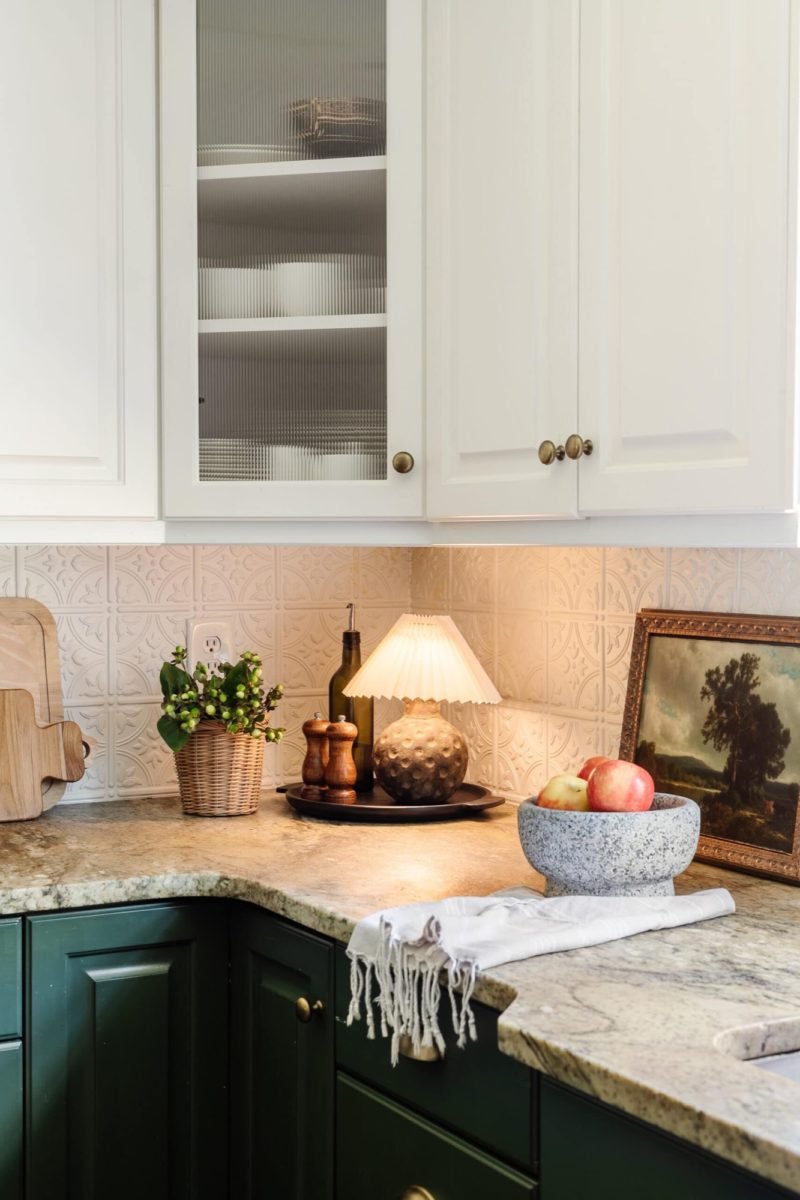 ---
4. Canisters and Jars Galore
Smart storage is all the rage, and it really does help to have your kitchen staples like coffee, sugar and flour at hand.
These days, there are so many attractive choices for containers and jars that you can let your imagination run wild!
Check Etsy for unique, handmade storage solutions that can make your kitchen feel more old-world chic.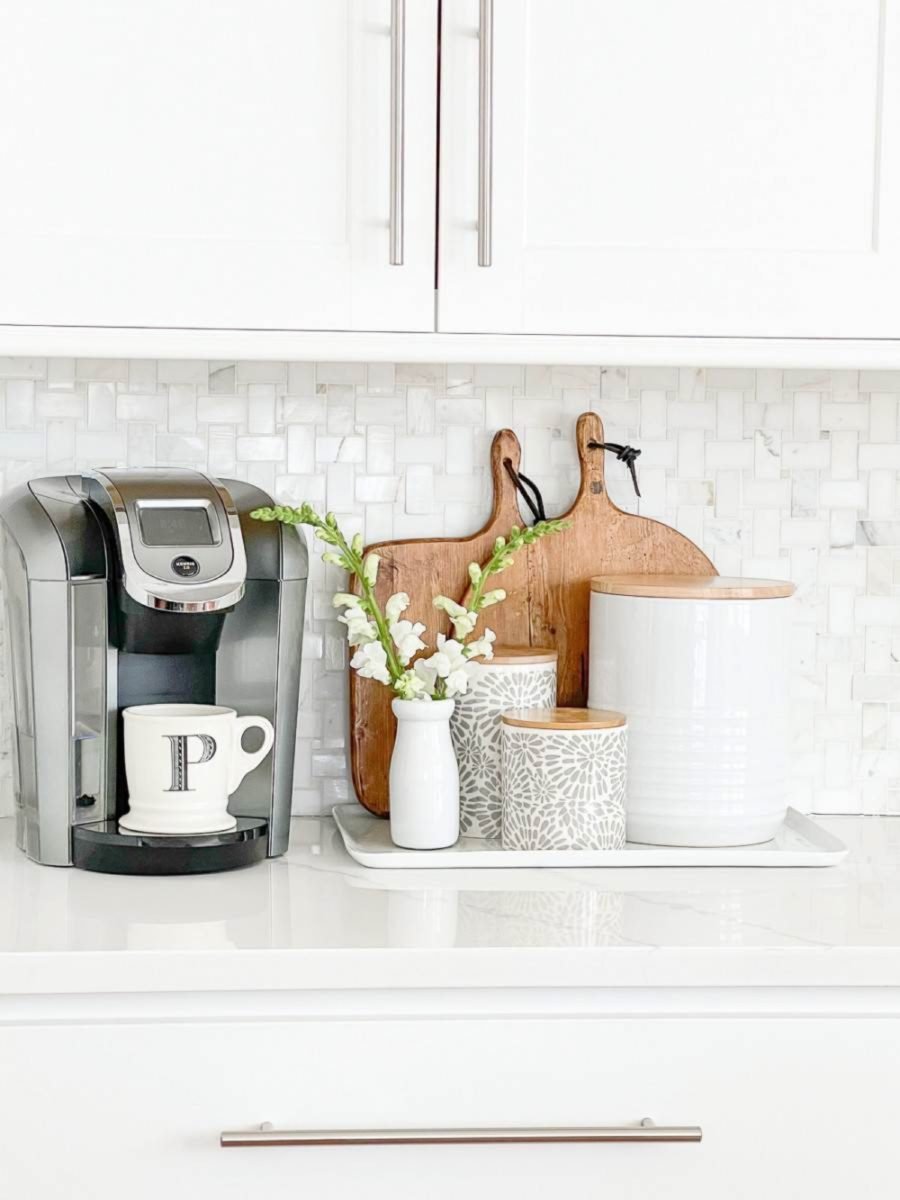 ---
5. Display Some Cookbooks
Do you love cooking? If so, chances are you have a cookbook or two. Cookbooks, especially from the past few years, are really beautifully printed and can totally double as decoration pieces.
Tuck a few cookbooks into a deep countertop corner, or display a single one open to the page of your favorite recipe!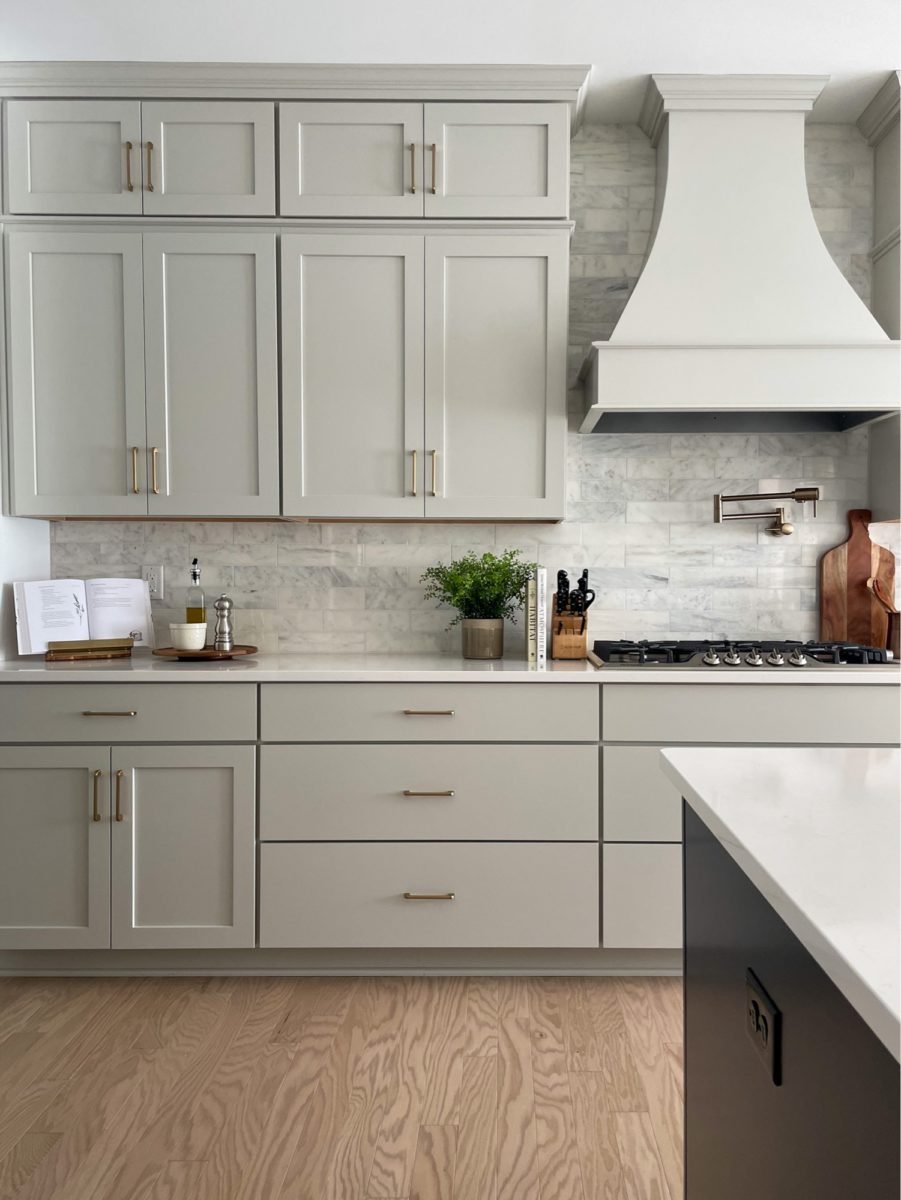 ---
6. Lighting is Everything
Adding under-cabinet lighting to highlight your countertop decor is a great way to elevate your kitchen's look, and make the room feel bigger. Plus, it's very nice to have extra light when preparing food.
You can decorate your kitchen countertops with small lamps which are very on trend. Additionally you can place a decorative pendant light above your sink or kitchen island to create a focal point!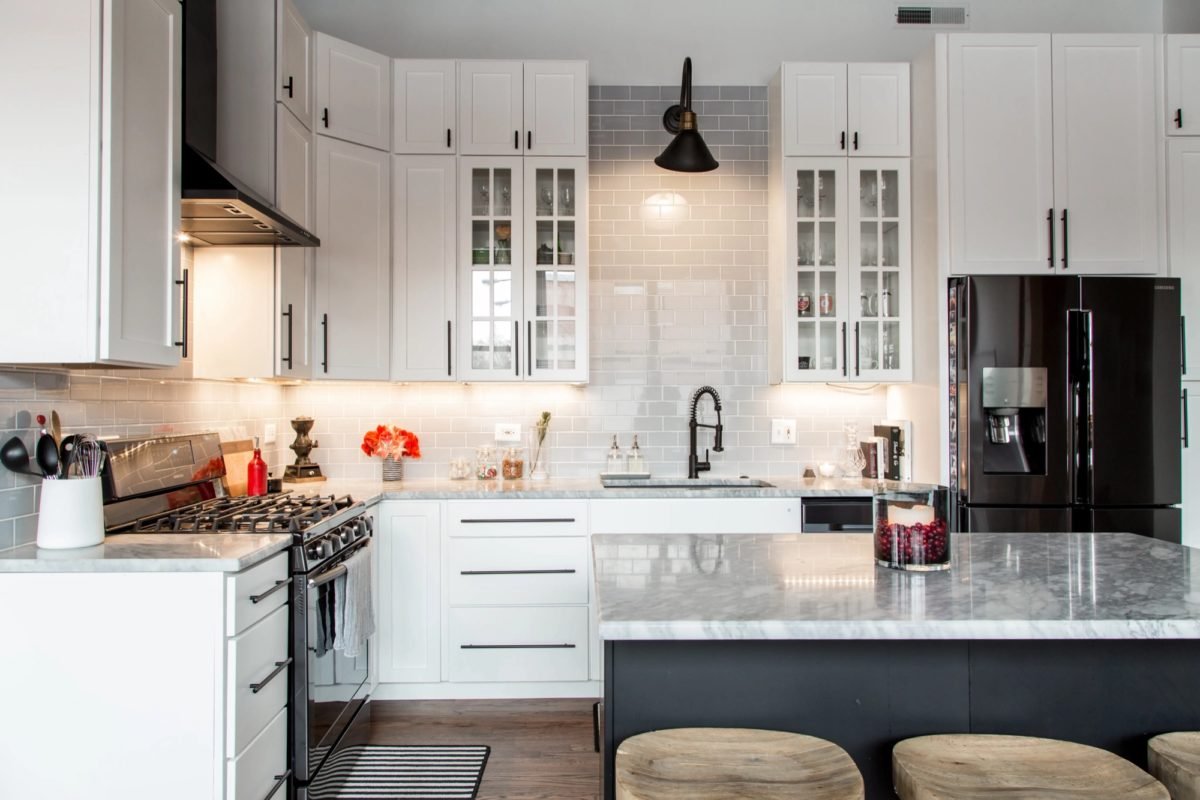 ---
7. Baskets and Trays to Organize
Baskets and trays can create a sense of organization and add visual interest to your countertops.
They also offer a chance to play with textures, which ties directly into…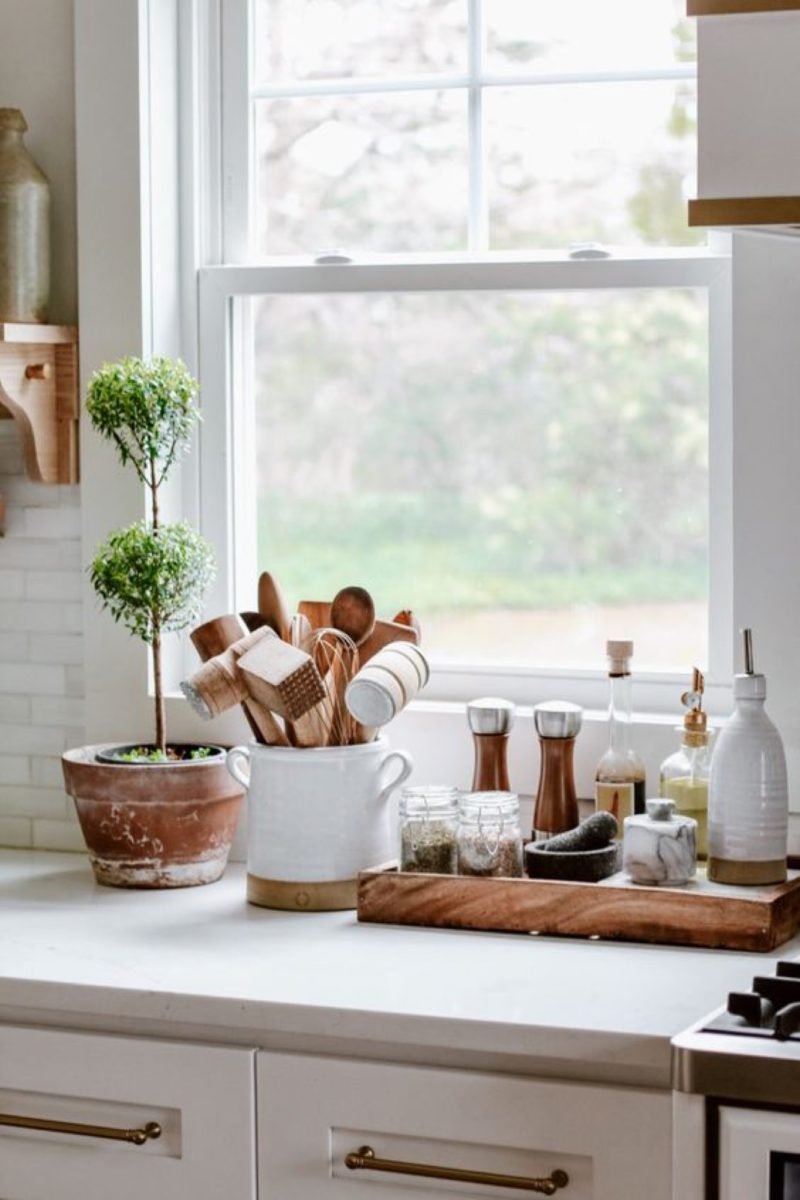 ---
8. Mix and Match Textures
Combining smooth surfaces like a granite countertop with rougher textures like wood or metal can create a balanced and interesting look.
Using natural materials next to stainless steel appliances, for example, can soften the feel of the space and create a cozier atmosphere.
Again, Etsy is great for this and don't be afraid to make a statement.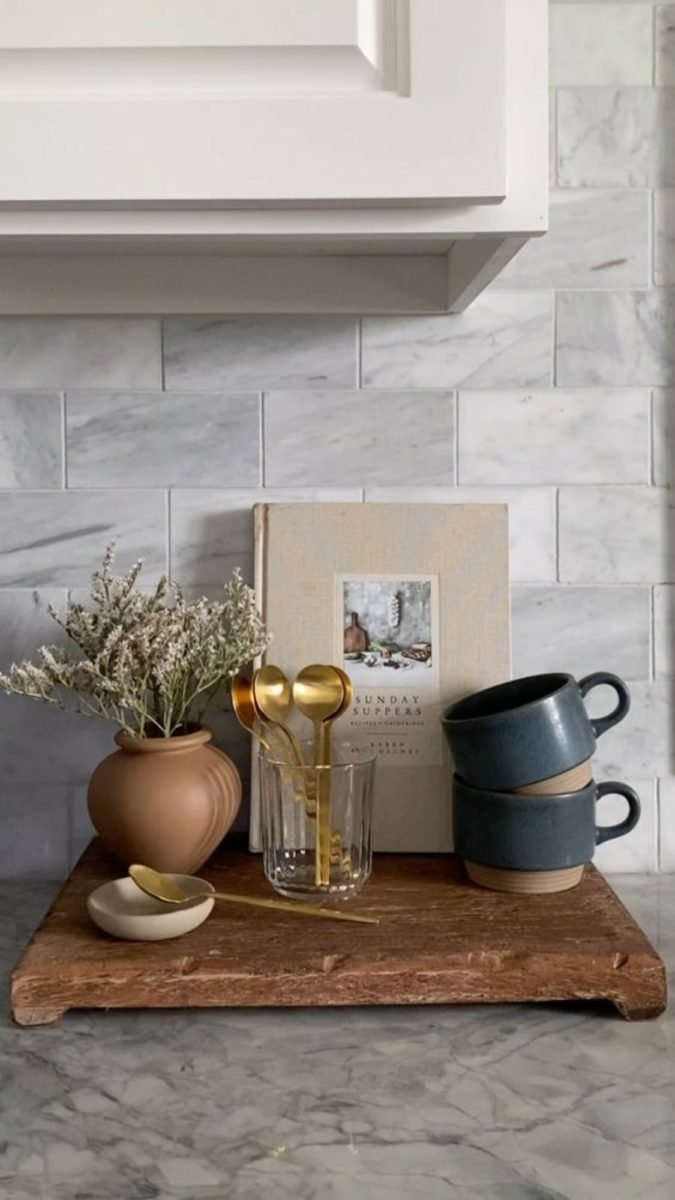 ---
9. Pottery Statement
Hand-made, imperfect pottery is my new obsession. It's functional and cozy, while elegant at the same time.
Choose a piece that's got beautifully glazed colors and matches other accents in your space. A vase for freshly-cut flowers, or some stylish salt and pepper shakers can really elevate your kitchen's countertops.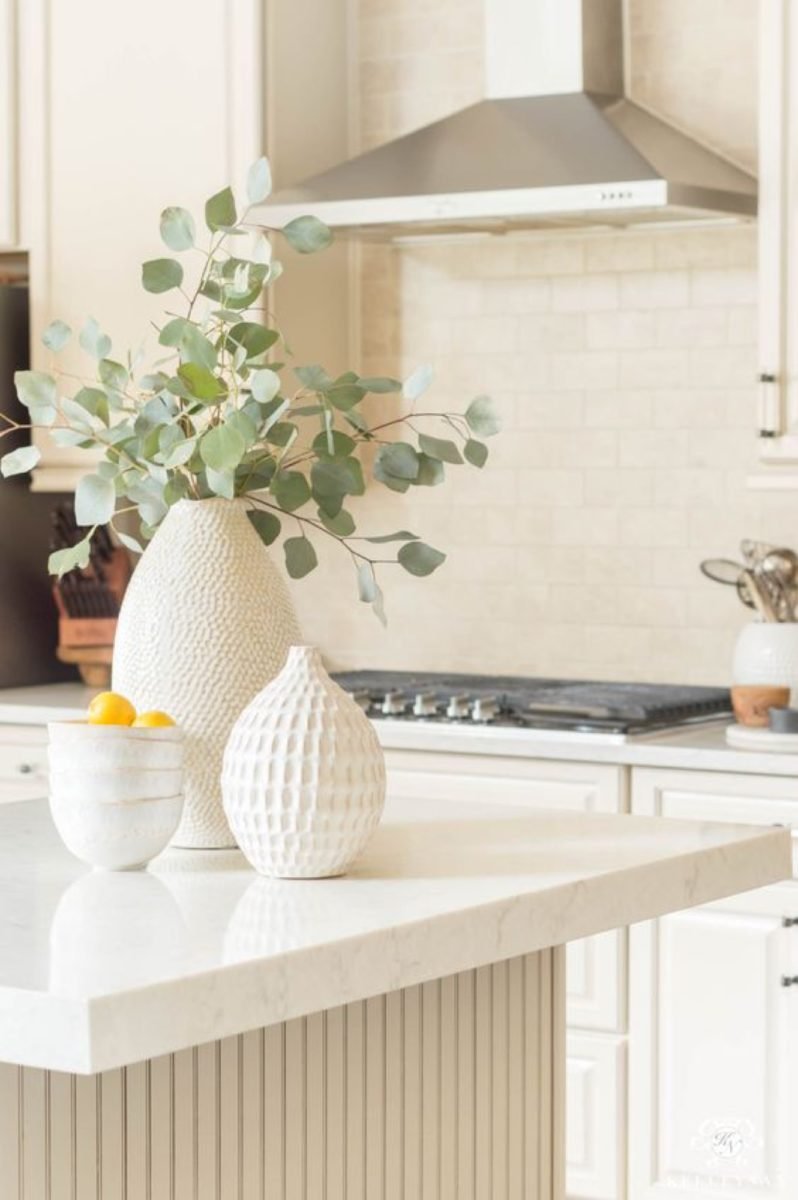 ---
10. Refinish the Countertops Themselves
It seems like countertops are one of those design elements that are the most subject to trends. Meaning that they often end up looking stale and dated.
Because of this, nothing can quite make the same difference in your kitchen as new countertops. If you have the budget, why not shop for brand new countertops?
Or, if you're on a budget, there are now incredible epoxy products that can get you really close to the look of marble and granite without breaking the bank.
Just make sure to do your research, measure your quantities properly and be prepared with all the tools you need to do a good job.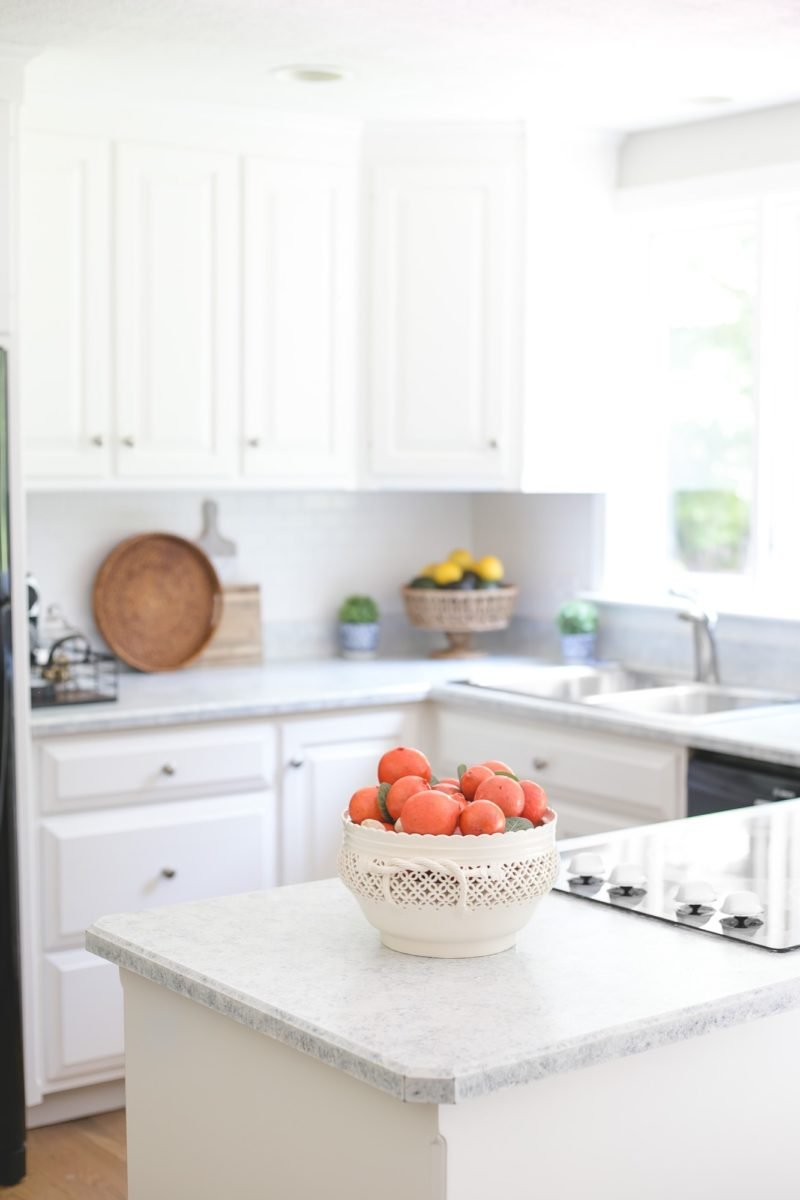 There You Have It
I hope you enjoyed these 10 easy tips! How do you decorate your kitchen countertops at home? Do you have a favorite tip or idea that didn't make it into this list?
Let me know in the comments below your fav ways to decorate your counters in the kitchen!
Thanks for reading!