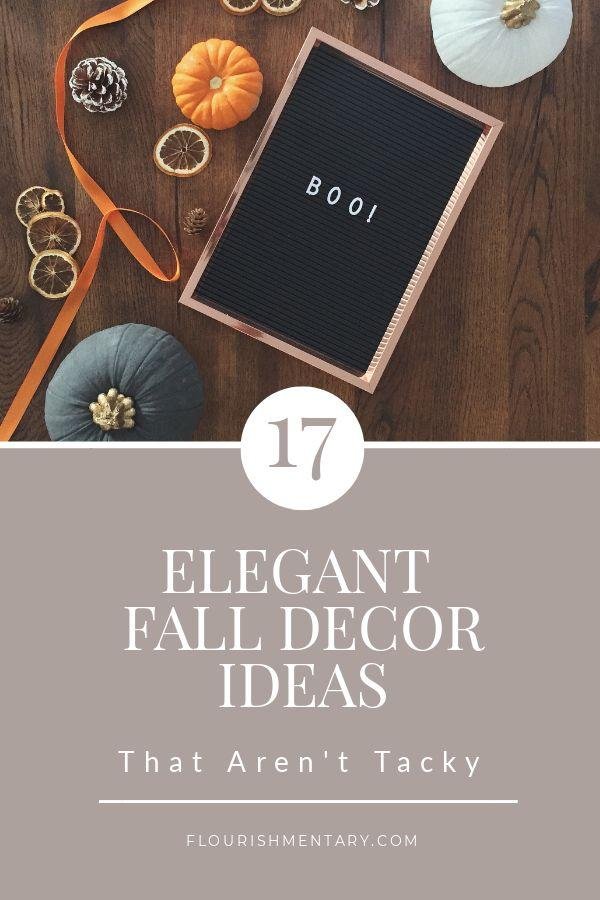 Fall is just around the corner, and you know what that means! It's time to show off your love for the cozy weather, with some pretty fall home decor!
If you're like me, you really want your fall decorations to actually fit in with the rest of the room. This year, I set out to find plenty of ideas for fall home decor, that aren't tacky. These simple ideas are sure to look great with elegant interiors!
So it's time to toss out the orange plastic pumpkins, and get inspired by these elegant fall home decor ideas that will turn your space into an autumn wonderland.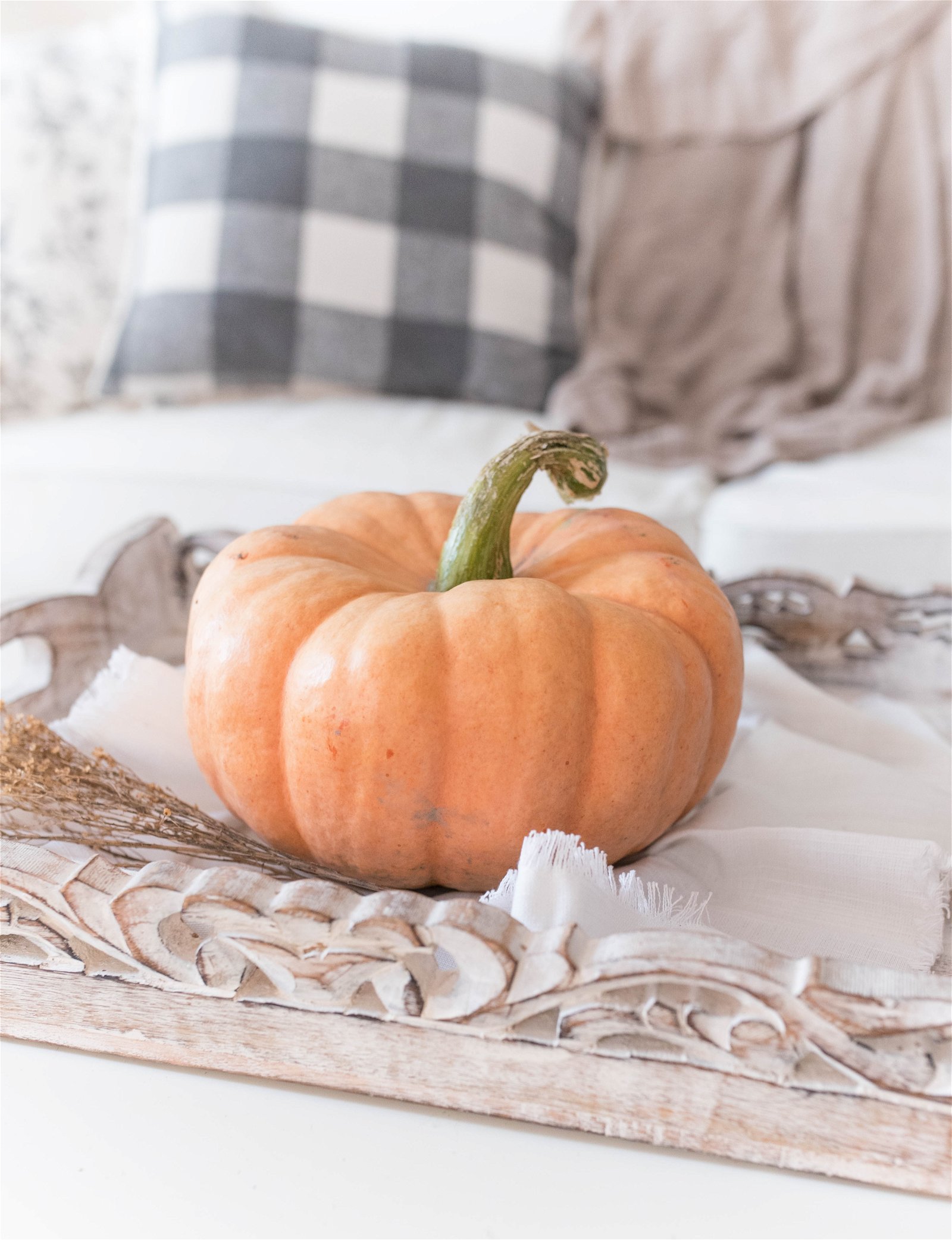 Pretty Fall Home Decor Ideas For Pumpkins
#1. Elegant Velvet Pumpkins
Velvet pumpkins are oh so adorable for fall! The soft buttery texture, and muted shades make them a perfect fit with any decor style.
You can easily DIY them at home, or find them for sale at craft stores on Etsy.
---
#2. White Pumpkins
Simple more of your thing? Look for all white pumpkins to bring in a touch of fall, that will still look great with your neutral home decor.
---
#3. Chalk Paint Pumpkins
It's not just for refinishing your greatest thrift store finds! Chalk paint pumpkins area a great way to get a soft and elegant look with your fall home decor.
---
#4. Mercury Glass Pumpkins
Mercury glass has always been a favorite of mine, so I swoon for these adorable pumpkins! They have a charming vintage sheen, and you can find them at your local Pottery Barn, or DIY them at home!
---
#5. Chinoiserie Pumpkins
If you missed the memo on #blueandwhiteforever, just know that chinoiserie pumpkins are one of the most unique and memorable ways to go with fall decor. They're a nod to the classic ceramics, and there are plenty of ways to paint or decoupage them with fantastic results!
If you like this look, be sure to check out these fabulous ideas for decorating with blue and white Ginger Jars, and get inspired to style your pumpkins.
---
Fall Home Decor Ideas For Decorating The Fireplace
Fireplaces are usually the focal point of the living room, so it's a great place to style will fall home decor. If you don't have a mantle or fireplace, shelves are another great place to use these fall decor tips!
#6. Farmhouse Style Fall Mantle
These farmhouse style mantles are simple yet stylish, and really welcome in the cooler weather!
---
#7. Elegant Fall Mantle Ideas
These fall mantle decor ideas are elegant and romantic, with the perfect hint of color!
---
#8. Halloween Mantle Decor
Of course fall wouldn't be fall without the spookiest holiday! These Halloween mantle decor ideas are unique, and totally original!
---
#9. Colorful Fall Mantle Decor
If the rest of your home is colorful, why the need to change it up now? I love all these colorful mantel decor ideas with cheerful banners that put you in the fall spirit!
---
Fall Front Porch Decor Ideas
Your front porch is the perfect place to welcome guests in with a touch of autumn. Here are a few fun ideas to get an elegant vibe with outdoor fall decor.
#10. Simple White Fall Porch
They're unfussy and simple, but white pumpkins look great with florals and give the front porch a sophisticated look.
---
#11. Rustic Fall Front Porch Ideas
These ideas work really well with farmhouse inspired decor, and will have you daydreaming about hayrides!
---
#12. Fall Wreaths For The Front Door
Wreaths aren't just for the winter holidays! These fall front door decor ideas are simple and stylish.
---
#13. Cute Fall Front Porch Mats
How cute are these fall front porch mats? They'll keep your boots clean, and put a smile on your face everytime you see it.
---
Fall Entryway Decor Ideas
You entryway is another fabulous place to style with fall home decor. Here are some elegant ideas to bring the cooler weather indoors.
#14. Fall Home Decor For Entryways With A Bench
Entryway benches are a staple of many foyers, and they are the perfect place to use some cute fall pillows!
---
#15. Entryway Table Decor For Fall
If you've got a console table in the entryway, there are plenty of elegant ways to style them for fall. Try making your own fall decor signs, and throwing in some of your fav painted pumpkins!
---
Fall Dining Room Decor Ideas
The dining room is the heart of the home, and is one of my favorite places to use fall decor. Here are some elegant ways to style a gorgeous fall table.
#16. Fall Centerpieces For The Table
A simple centerpiece is all you need to welcome in the cozier temperatures. Bring in some small pumpkins and foliage to make the cutest DIY fall centerpieces!
---
#17. Fall Table Setting Ideas
Hosting a fall get together? These elegant fall tablescapes are anything but run of the mill, and I can totally smell the pumpkin pie already!
---
I hope you enjoyed this roundup of elegant ideas for fall home decor!
Whether you DIY fall decor at home, or use your favorite decor store finds, have fun decorating for the cooler weather! And just hope us Angelenos get a touch of the fall before it's December already!
What are your favorite go to's for elegant fall decorating? I'd love to hear some of your favorite ways to style for the autumn season! And if you found this pin helpful, please give it a share on pinterest, or join along on the Elegant Fall Decor Ideas board!