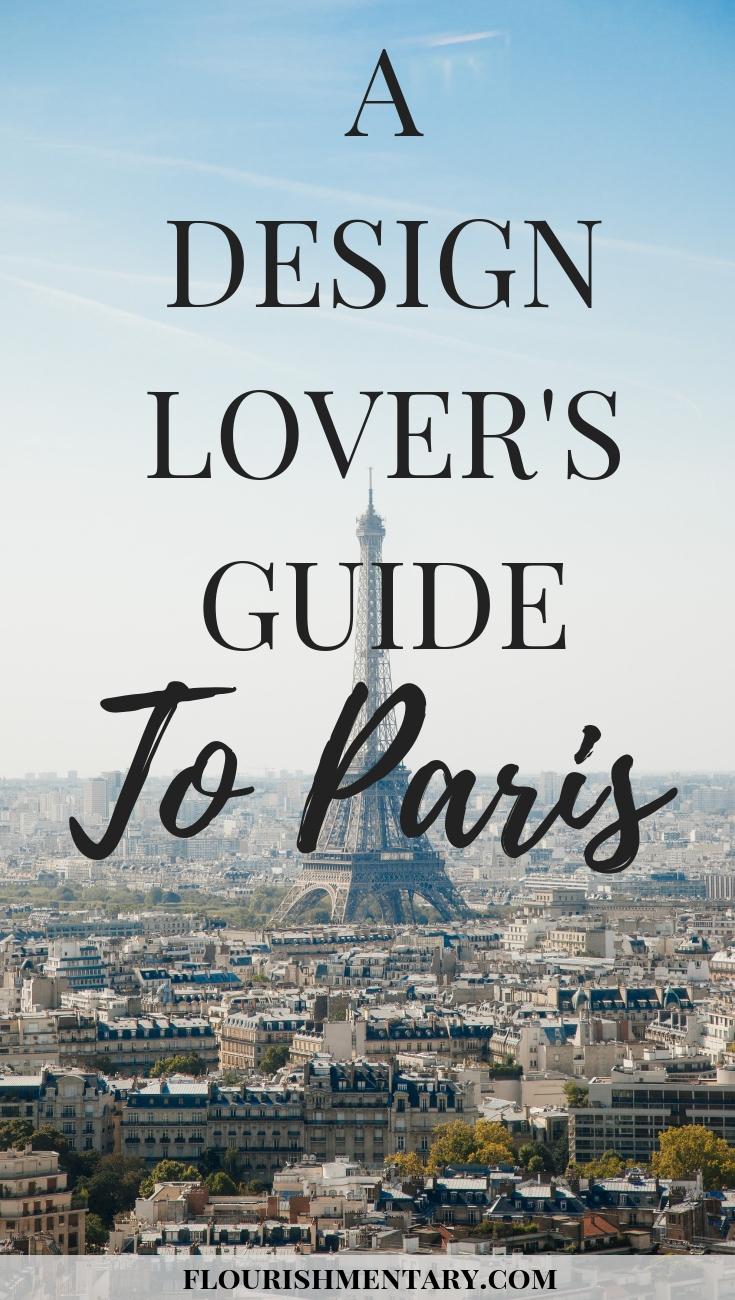 Paris is filled with incredible design. The styles may span across hundreds of years, but the vibrance of the city gives each locale a certain "je ne sais quoi".
So which locations are the best to visit in Paris for design lovers? I've asked a panel of expert designers, writers, photographers, and Paris lovers which design destination is their favorite.
These 12 spots (in no particular order) are made up of historic sites, shops and restaurants with a unique style. They are fantastic places for design lovers to add to their list when visiting in the city of light!
I hope you enjoy this "Design Lover's Guide To Paris", and a warm thank you to the lovely contributors! Merci beaucoup!
1. Hotel Claude Passart
Rue Chapon Paris III
"This place expresses the sum total of my knowledge," the designer says in a 2004 interview with Architectural Digest.
"The hotel Claude Passart is a typical example of these magnificent buildings built in the neighborhood of the Marais, in Paris, during the 17th century, between courtyard and garden. This hotel particular was built on several medieval plots in 1619-1620, by Gabriel de Soulignac, "Maître Maçon à Paris" and architect of the Guise family, for the notary and secretary of King Louis XIII (from 1627 to 1649), named Claude Passart. The last heavy restoration campaign was conducted in 2010-2011 and has just ended. It was to consolidate the structure of the wing on the street that had been weakened over time. After acquisition of two new lots, which Juan Pablo Molyneux has just restored (October 2011) to the original volume of the Hotel Claude Passart, creating an entrance hall and a library on two levels."
For more photos of the glorious interiors by the famed designer, check out the interview in Architectural Digest.
2. Restaurant Le Derrière
69 Rue des Gravilliers, 75003 Paris, France
"The interior feels like a spacious mid century modern parisian home. It has different cool decorated rooms and one hidden secret (you have to go to find out). They have a modern french kitchen and it's a great dinner spot in a very hip neighbourhood. At the entrance you'll find a cool mixed tile floor"
3. Place de Vosges
View this post on Instagram
Place des Vosges, 75004 Paris, France
"The Place des Vosges originally Place Royale, is the oldest planned square in Paris, France. It is located in the Marais district, and it straddles the dividing-line between the 3rd and 4th arrondissements of Paris. It was a fashionable and expensive square to live in during the 17th and 18th centuries, and one of the central reasons of the fashionable nature of Le Marais for the Parisian nobility." ¹
4.  Saint-Germain-des-Prés
 6th arrondissement of Paris
"Amanda and I first traveled to Paris together in Spring of 2016 on a 3-day "layover" between spending time in London with friends and exploring Portugal on the back end of the trip. Typically our travels include a pretty detailed itinerary (as you can see from the Highlights on our account)but for this leg, we opted for what we called the Bourdain approach.
We booked a charming studio flat in the Saint Germain neighborhood, and planned to do nothing but eat, drink, and wander with the only aim of embracing whatever we found around the next corner.The shops and the cafes were fantastic, and the cobblestone streets and the typical buildings were exactly what you we hoped our Parisian experience to be. At night we would wander further, popping into any small cafe or wine bar we found, sometimes playing with beautiful jazz music.
We loved the old charm of St Germain and it's perfectly central location – easy walking distance to the Louve & Notre Dame, but also just perfect for getting a little lost in the streets. Thomas Jefferson once said, "a walk about Paris will provide lessons in history, beauty, and in the point of Life" and I could not agree more"
5. Hotel de la Paiva
25 Av. des Champs-Élysées, 75008 Paris, France
"During the Second Empire, the Hotel of la Païva was one of the most luxurious houses of the french capital, a symbol of the dazzling success of her owner, the ostentatious revenge of a jewish polish lady that rose from the gutter to the gilded panelings of the high society, thanks the help of  her impeccable skills in the art of courtesanery. Blanche de la Païva hated women, thus her Salon only welcomed the most influent literary men of the time, and they all gathered around her "Théo", aka Théophile Gautier. A "men only" tradition that still lives on as the hôtel now belongs to the very masculine Traveller's Club, but fortunately one can discover it during private tours"
6. Shakespeare and Company Bookstore
37 Rue de la Bûcherie, 75005 Paris, France
"Shakespeare and Company is an English-language bookshop in the heart of Paris, on the banks of the Seine, opposite Notre-Dame. Since opening in 1951, it's been a meeting place for anglophone writers and readers, becoming a Left Bank literary institution.
The bookshop was founded by American George Whitman at 37 rue de la Bûcherie, Kilometer Zero, the point at which all French roads begin. Constructed in the early 17th century, the building was originally a monastery, La Maison du Mustier. George liked to pretend he was the sole surviving monk, saying, "In the Middle Ages, each monastery had a frère lampier, a monk whose duty was to light the lamps at nightfall. I'm the frère lampier here now. It's the modest role I play."²
7. La Tuile à Loup
35 Rue Daubenton, 75005 Paris, France
Via Stacey Bewkes Founder & Author of Quintessence
"La Tuile à Loup in Paris is a must visit for any design and interiors aficionado. Celebrating the legacy of timeless French craftsmanship, the handmade and l'art de vivre, owner Eric Goujou travels throughout France, selecting the best, primarily ceramic, artisans to feature in his Paris shop. With a mission of preserving those crafts which might otherwise disappear, Eric presents provides the very best quality, service and authentic originality!"
8. Napoleon III Apartments At The Louvre
View this post on Instagram
Avenue Daumensil, Paris, France
"The Napoleon III Apartments are an exceptional record of Second Empire decorative art. The state dining room features an imposing table and étagère sideboard in black-stained wood with gilt bronze decorations. The painted ceiling (a luminous sky traversed by exotic birds) is by Eugène Appert."³
9. Maison de Victor Hugo
6 Place des Vosges, 75004 Paris, France
Via Majell del Castillo of Rue Margaux
"It's tucked in the corner within Place de Vosges, a historic spot in the Marais and now beautiful park. Each room was carefully decorated and laid out as to show the major periods of his life: before exile, during exile, and after exile."
10. Old Prop Houses
On Rue Basfroi, Lanzani and Defrise
"I recommend the old prop houses on Rue Basfroi, Lanzani and Defrise. They are more professional insider type places where stylists and designers rent props for tv, film and photo shoots. But they are the ultimate cabinet of curiosities."
11. Merci Concept Store
111 Boulevard Beaumarchais, 75003 Paris, France
"I really like Merci concept store (they often have nice collaborations as for example MerciMuji pop-up exhibition going on right now). There is also pretty coffee shop there! I also like MADE.COM showroom (British brand created by 3 frenchies), and the Muji stores I love as well".
12. Galerie Vivienne
5 Rue de la Banque, 75002 Paris, France
I am rounding out this guide with the most beautiful of the vintage "Galeries" remaining in Paris.
The Galerie Vivienne built 1823, and the store fronts of the shops remain largely unchanged since then. It is remarkable to see the level of craftsmanship throughout the space, particularly its large scale shop doors, and impressive glass ceiling. Some of the most prestigious shops in Parisian history from art galleries to children boutiques are still happily housed in this historic space.
Thanks for checking out this "Design Lover's Guide To Paris", and I hope you have your sites set on these lovely destinations for your trip!
For more ideas of what to do in Paris, (including a tour of the Grand Galeries) check out my new post: "The Best Things To Do in Paris" for tips on how to spend a relaxing few days in the french capital! Bon Voyage!