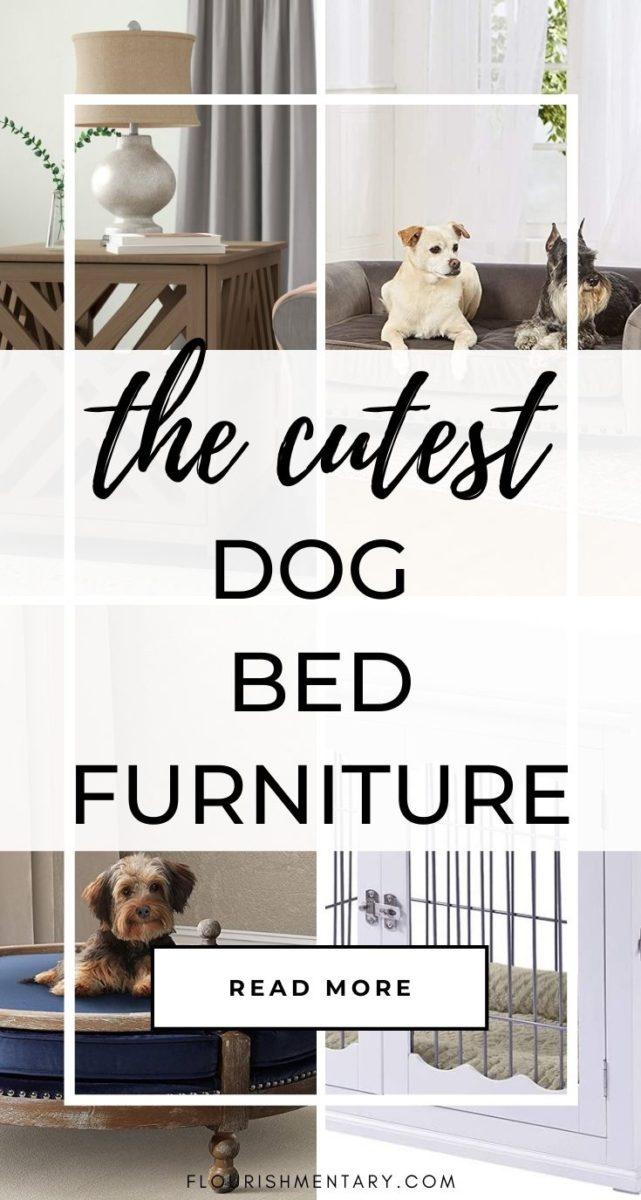 We all love our snuggly friends, but for some reason where they sleep is usually an afterthought. I was inspired by some custom dog houses I saw at a recent property showing, and realized cute dog bed furniture has sure come a long way since I got my pet.
I'm guilty of using a dog crate for my mini schnauzer Gigi that more closely resembles a jail cell. With a recent move, we decided it's time for to upgrade her to a dog crate that looks like furniture to sleep in at night, and a dog bed couch for daytime lounging.
Here are some of the most elegant and good looking dog couches and dog crate furniture ideas I came across. These won't look like an eyesore in your home and your pet will look forward to snuggling up in these beautiful dog beds!
Cute Dog Bed Couches
My dog likes to be a little elevated when she sits, so I love the idea of these cozy dog bed couches and pet sofas.
This one by Tov Furniture has a lovely nailhead finish and beautiful handmade velvet upholstery. It's perfect for smaller and medium sized pets, and bonus: it's washable and waterproof!
---
The french country bedroom lover that I am, knows that this dog bed is never going out of style. It's a great option for both small and medium sized pets (up to 25lbs) and the memory foam cushion will be ultra cozy.
---
Enchanted home makes adorable dog bed furniture and this one is roomy enough for two pets! The modern gray upholstery is easy to spot clean, and it has a small storage pocket to keep pet toys!
---
This adorable round dog bed couch has a weathered finish that would look right at home with french country and rustic style decor. It's large enough for heavier pets, and has a washable waterproof removable pillow.
---
This pint sized dog sofa is perfect for small pets, and it's one of the most affordable options. I love that it comes in a ton of different colors, and it's great for toy and miniature breeds to snuggle up in.
---
The sophisticated pet bed with a faux leather finish will make your pet feel like royalty. I really love the tufted finish, and that it's a perfect size for small pups, all the way up to large 80lb dogs.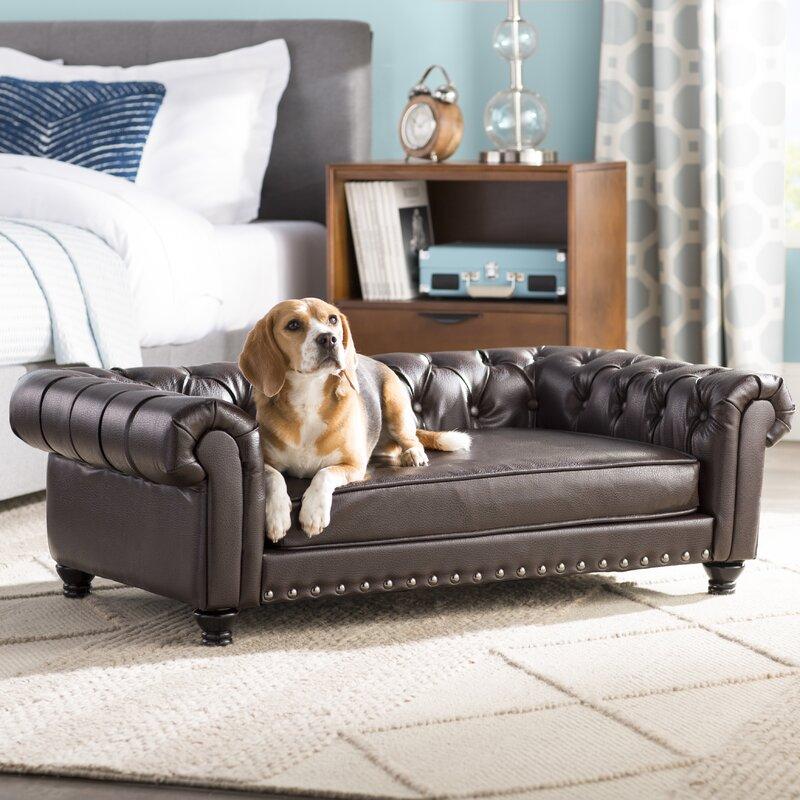 ---
Stylish Dog Crates & Kennels
Until now it's been hard to find a stylish dog crates that goes with your furniture. That's why with a lot of these clever dog kennels, are actually furniture themselves.
Check out these stylish dog crates that can be used as end tables and console tables. I've got my eye on one to use in our living room!
This modern diagonal door is very stylish and makes this dog crate really look like a useful piece of furniture. I love the neutral gray color, and that it could be used beside the couch as an end table.
---
This charming dog crate from unipaws has a scalloped edge on the door that gives it a lot of charm. I love that it comes in two different sizes, and also comes in a darker finish to complement your existing decor.
---
This unique mid century modern inspired dog crate reminds me of a retro speaker cabinet. The walnut finish gives it a high end finish, and it comes in small, medium and large sizes and a white finish.
---
If customization is important to you, you'll be blown away by all the options you have with this Credenza pet crate. With over 24 color options for the finish, you can create the perfect design to fit your decor. I love that this pet crate is roomy, and would fit perfectly behind my couch or as an entry table.
---
This simple yet stylish black dog crate table is affordable, and perfect for small and medium sized dogs. I love that the closed bottom means you'll hide the pet bed and toys, so it will always look tidy in your house!
---
The lattice design on this dog crate table fits well with both traditional and modern decor, and looks great in both the taupe gray and espresso finish. I love the enclosed sides that give it a higher end look, but still gives your pup plenty of natural light.
---
---
I hope you enjoyed this guide of cute pet furniture that will actually look great in your home, and that your pet will want to sleep in!
I can't wait to see how our dog Gigi likes her new dog bed, and I hope you have fun picking out something for your furry friend too!